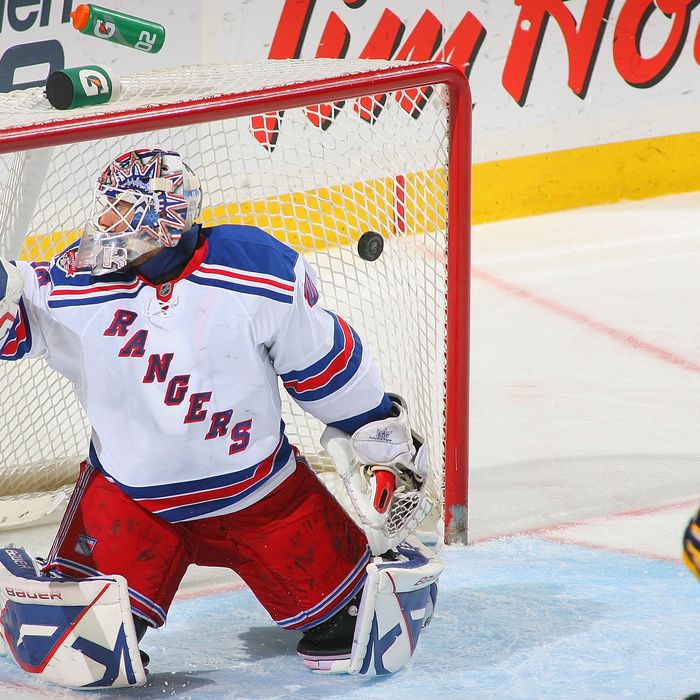 Photo: Rick Stewart/2011 Getty Images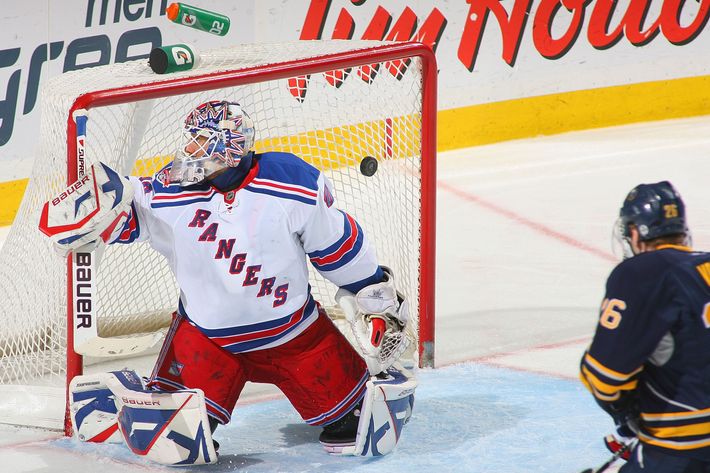 Forty-eight hours ago, the Rangers had a comfortable seven-point lead on ninth-place Carolina, were tied in points with sixth-place Montreal, and had a realistic shot at finishing as high as fifth in the Eastern Conference. The Rangers had notched an impressive road victory in Boston over the weekend, their eighth win in ten games. And as recently as yesterday, some wondered if the Rangers might make a serious run in the playoffs. And nothing that's happened in the past 48 hours changes what the Rangers have done over the past two and a half weeks, or for that matter, over the past six months. But what has changed, in a scary way, is the standings near the playoff bubble.
While the Rangers were losing 1–0 in Buffalo last night — more on that game in a moment — Carolina was thumping Montreal for their second win in as many nights. And so Montreal — who'd won the night before — remained in sixth place with 89 points. Buffalo caught the Rangers, and by virtue of one more regulation/overtime win, moved into seventh place with 87 points. And the Rangers slid to eighth — still only two points behind Montreal, but suddenly just three points ahead of Carolina. (The Sabres, Rangers, and Hurricanes each have five games left; the Canadiens have four.) Just days ago, it looked like the Rangers would be playing for seeding; now they'll have to play for their postseason lives.
And one hopes that, with the Hurricanes nipping at their heels, they'll play with a desperation that was lacking last night, at least through most of the first two periods. They generated some chances, yes, but even with Ryan Miller out with an injury, they couldn't score, at least not a goal that counted. (Artem Anisimov technically got a puck past Jhonas Enroth, but it was rightfully disallowed because Ryan Callahan made contact with Enroth while cutting through the crease.) As is often the case, the Rangers applied plenty of pressure late, particularly in the final four or so minutes, closing out the game with one final furious push in the closing seconds. But as is also often the case, it was too little, too late.
And so four days after an excellent effort resulted in a razor-thin 1–0 victory over Boston, a lackluster effort last night resulted in a 1–0 loss in Buffalo. With every point so important now, games and seasons can swing based on just about anything, be it a shot ringing off the post or a team making the most of its one power-play opportunity, as Buffalo did last night. (If nothing else, it reinforces the importance of disciplined play, a concept the Rangers have grasped so well of late.)
With five games to go, the Rangers once again find themselves in a scoring drought, one that at least hasn't cost them too much lately: They've scored three goals in four games, but earned five points in that span thanks to two 1–0 wins and a 2–1 shootout loss. They've proven they can win close games, but allowing their defense some margin of error could make all the difference. (Perhaps it's here we pause to thank the hockey gods that Henrik Lundqvist's injury scare turned out to be nothing more than a scare.)
The Rangers — who've had a knack of late for bouncing back from ugly losses with strong efforts — play at Nassau Coliseum tonight against an Islanders team that would love to play the role of spoiler. In terms of points, it's the weakest opponent remaining on the Rangers' schedule — one they handled earlier in the month at the Garden. But it's also a team capable of scoring goals. Of course, the Rangers are capable of scoring as well. This would be an excellent time to start doing so again.