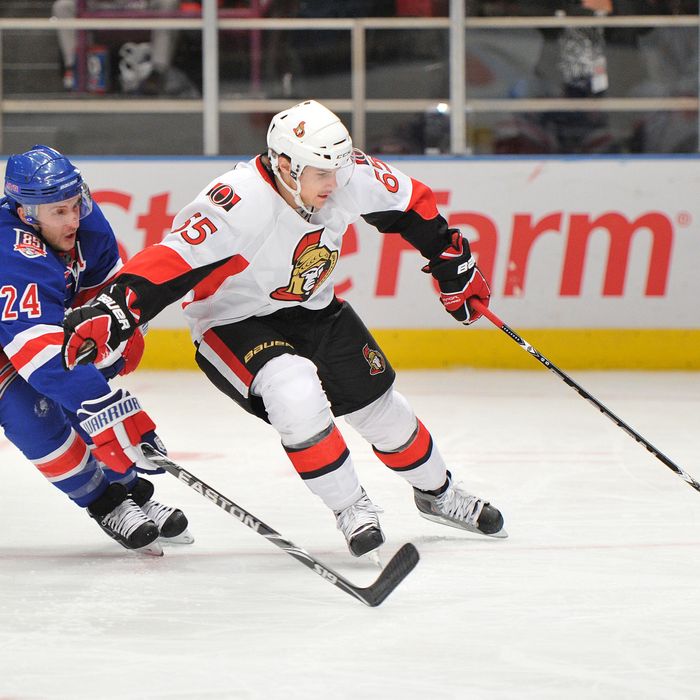 Photo: Christopher Pasatieri/2011 Getty Images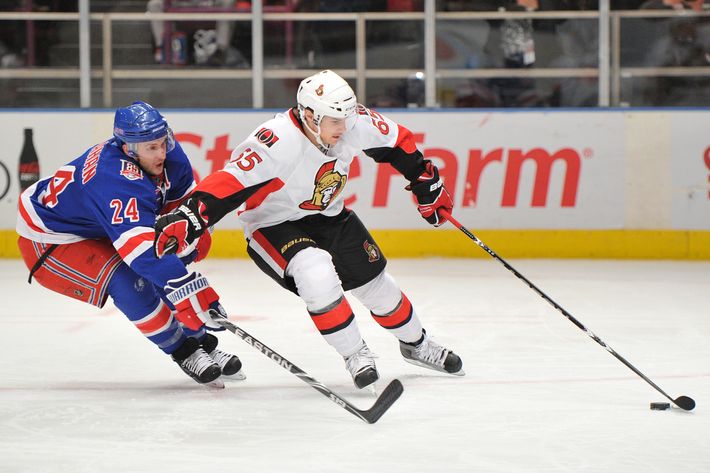 On a frustrating night of hockey that could have been a whole lot worse, let's address the positives first: The Rangers earned a point in last night's 2–1 shootout loss to Ottawa, moving to within two points of the sixth-place Canadiens, who were smoked last night in Boston. After two unspectacular periods of hockey, the Rangers played a much-improved third, scoring their lone goal of any kind on a terrific Brandon Prust shot off an even better feed from Marc Staal. Henrik Lundqvist, hours after getting knocked down in practice by a Staal shot, was sharp. And after Marian Gaborik's defensive miscue led in part to Ottawa's lone regulation goal, the winger played a strong third period on both ends of the ice, albeit without a goal to show for it. With seven games left to go, the Rangers now have a four-point lead over Buffalo, and a seven-point cushion over ninth-place Carolina (though each of them have two games in hand). And, hey, the Rangers — who'd won a season-high five straight games — were bound to lose eventually.
Of course, this is exactly the kind of game the Rangers had mostly avoided two nights earlier against Florida, another team out of the playoff picture. Because while both were low-scoring affairs, the Rangers for the most part controlled play on Tuesday night, no matter how boring the first half or so of that game might have been. Last night, however, the Rangers came out flat against a last-place Ottawa team, and though their strong third period earned them a point, their shootout specialists couldn't deliver in the skills competition. (A side note: We're generally in favor of the shootout, because ties are terrible and there's no denying there's a buzz in the arena when something's on the line in the shootout, but there's something bizarre about such a crucial point riding so heavily on the three Rangers who logged the least amount of ice time, particularly late in the game.)
In any case, every point is important at this stage in the season, though while we sincerely appreciate a team that has the ability to flip whatever switch is necessary to change the momentum of a game, we hope last night didn't signal a return to the dangerous fall-behind-and-rely-on-a-big-third-period game structure the Rangers had established earlier in the season, particularly with the team about to embark on a critical four-game road trip. The Rangers have been a good road team all season though, and on their last trip of the year, they'll face a full range of opponents: a pair of first-place teams (Boston and Philadelphia), one of the teams fighting for that last playoff spot (Buffalo), and one team — a rival — out of the playoff picture entirely (the Islanders). It begins tomorrow afternoon against the Bruins. Here's hoping their start to that game is better than their start to last night's.