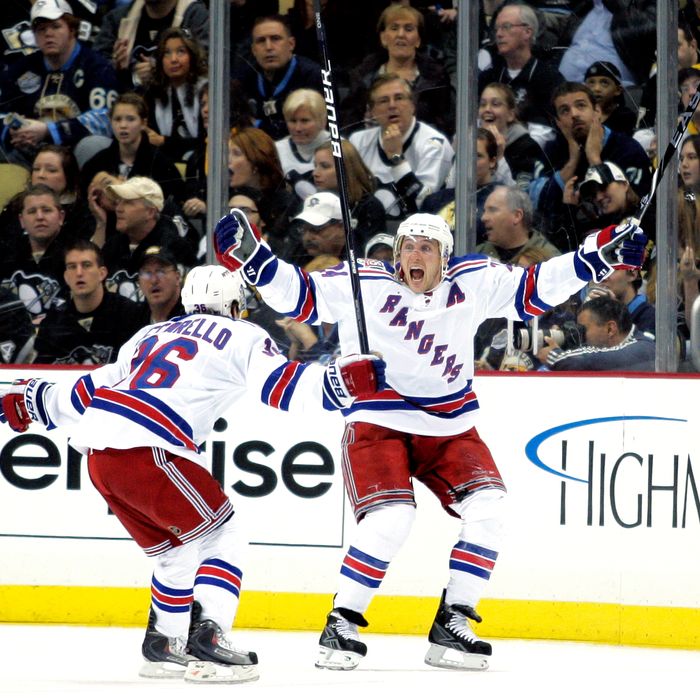 Photo: Justin K. Aller/2011 Getty Images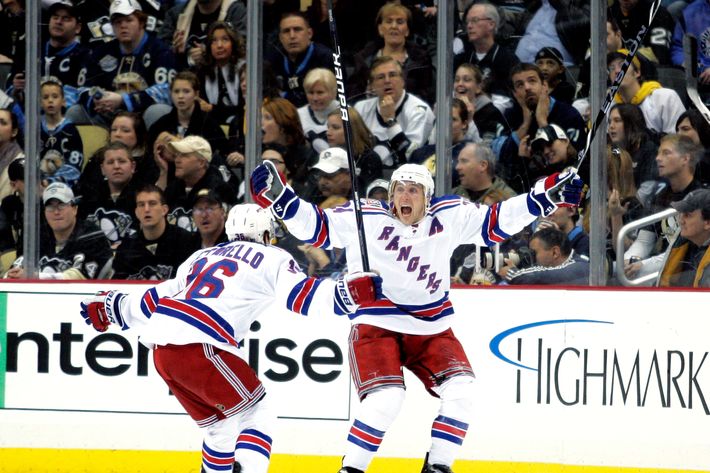 A year ago, that headline would have meant nothing: The Rangers were a team without any sort of identity, a team with just enough talent to compete for — but ultimately fall short of — a playoff berth. But this year's team established an identity months ago: hardworking, resilient, and capable of skating with, and often beating, some of the league's best teams. And after a post-All-Star-Game slump put their playoff spot in jeopardy, the Rangers once again resemble the team that endeared itself to the fan base over the season's first half.
The momentum swings in the third period alone of yesterday's win in Pittsburgh were dizzying: First, Matt Cooke's violent elbow to the head of Ryan McDonagh resulted in perhaps the easiest five-minute major call in the history of the sport. But the Penguins' stellar penalty kill over the first two of those five minutes limited the Rangers' chances and even netted a goal of their own to give Pittsburgh the lead. Then came Matt Niskanen's double-minor for high-sticking Ryan Callahan, which resulted in a lengthy five-on-three power play. (It'll never stop being weird to us that a team is correctly considered to have caught a break if its player starts to bleed after a high stick, resulting in the extra two minutes. This is very much unique to hockey.)
Anyway, with the game at a crossroads — and with every point so important — the Rangers would capitalize on the opportunity, first on a Marian Gaborik goal (scored, unsurprisingly, not when Gaborik was standing still at the point, but while he lurked near the crease, in position for a rebound), then eleven seconds later on Ryan Callahan's goal from a bad angle. Three times the Rangers have trailed in the third period in Pittsburgh this year, and three times they've won.
Combine that victory with an impressive 6–3 win over Montreal on Friday night, and the Rangers continue to roll at precisely the right time: They've now won six out of seven, with four of the six coming against teams currently in playoff position. With nine games left, it also provides them with a bit of breathing room: They're three points up on eighth-place Buffalo, and six points ahead of ninth-place Carolina, both of whom have a game in hand.
Of at least minor concern, however: On a day Henrik Lundqvist played despite a scary collision toward the end of the Canadiens game Friday night, Marc Staal sat out with what John Tortorella termed, as only a hockey coach can, a "body" injury. (This, at least, eliminates concerns over injuries of spirit or soul, we suppose.) In any case, it's believed that Staal sat because of a sore left knee — he'd twisted it back on February 23 — but according to Newsday's Steve Zipay, he was walking without a limp after yesterday's game. Which at this point in the season is promising news.