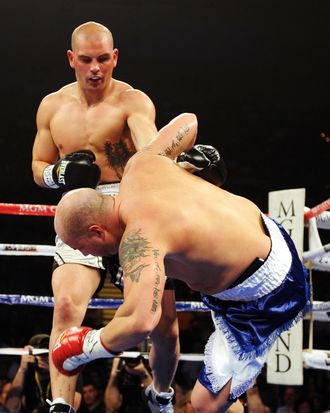 Photo: MARK RALSTON/2011 AFP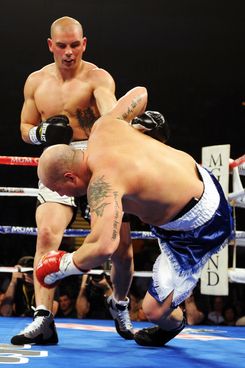 One time-tested way for promoters to generate buzz for prizefighters is to increase the quality of meat given to reporters before the bout. Chicken and pasta; they might show. Serve steak and dessert; they will come.
So it was evidence of the marketing juice behind Tom Zbikowski (referred to more often as Zibby than by his unwieldy last name) that yesterday's meet-and-greet with local scribes was held in the back room at the Palm on 50th Street. Zbikowski's calling card as a fighter, of course, is that he's also a football player. For the past few seasons, he's played safety for the Baltimore Ravens. But now that the NFL lockout has begun, he's been looking for a way to stay in shape, collect a few paychecks, and follow his other dream: to become a boxing world champion.
The NFL player turned contender is a storyline that's attractive to his promoters at Top Rank. Also appealing is Zibby's pedigree. "White, bright, and polite," says his father, echoing a boxing-ism. The plan for Zbikowski is to fight as often as possible, stockpile easy wins, generate more buzz, sharpen his skills, build stamina, and finagle a title fight. On March 12 he defeated someone named Richard Bryant by first-round TKO in Last Vegas in his second pro fight (and first since 2006). Tomorrow he fights at Boardwalk Hall in Atlantic City, and he's increased the caliber of his corner for this bout by teaming up with legendary trainer Emanuel Steward.
Zbikowski's opponent will be mixed martial artist Caleb "True Grit" Grummet, of Michigan, who has only fought one pro boxing match to a draw. The fight should be an easy win for Zbikowski, who was a Golden Gloves finalist as a kid, but his longer-term goals won't be as easy to accomplish. It's been five years since he's spent a significant time in the ring, and he's now planning to fight every two weeks to boost his record. Most pros fight two or three times a year — but the first step of the dreamy plan to put Zibby into title contention is for him to continue facing off against nonmenacing heavyweights while he gets into comfortable fighting shape. Then, once he's drained every ounce of fat from his body, he plans to drop twenty or so additional pounds to 190 and fight as a cruiserweight, where there is far less competition at the top. Because boxing has so many sanctioning bodies, there are often several world champions to challenge per weight class, and in Zbikowski's case that could turn out to be Don King's aging 38-year-old Panamanian champ Guillermo Jones. It's easy to imagine King salivating over making a fight with Zibby, who has so many fans in his native Chicago, and from his time as an all-American at Notre Dame, and of course his Ravens base.
The question is whether Zbikowski can get that far. Against seasoned fighters, a novice boxer can get a whooping. And Zbikowski isn't hard to hit: In his most recent pro fight, Tommy's family and his corner were furious with him for all the punches he endured, even when the fight lasted less than a round. Opponents have a way of finding him before they go down.
He's not concerned about the punishment. Playing in the NFL is "like being in a car crash every six days," he says, so what's a few stiff jabs in the mouth every two weeks? Still, sooner or later, he'll have to step up the competition. And one of the last white-bright-and-polite contenders suffered such severe brain injuries in his first bout on a big stage that the state prohibited him from fighting again. In 2004, "Baby" Joe Mesi was on a rampage, knocking out no-names and selling tickets in his native Buffalo. Then, against a world champion, Mesi was hit so hard in the late rounds (and by controversial punches) his brain bled in three places. Zibby accepts those risks. "In football, you're always one play away from a career ending injury. In boxing, it's one punch."
He also hopes that Steward, a Hall of Famer, will help get his skills up to a world-class level. But the downside of having one of the most respected trainers in his corner is that the trainer can't be around much. Steward is in high demand. At lunch, with three days to go before his first fight in five years, it didn't seem like Zbikowski had spent much time with Steward in the gym at all. Tommy was worried most about his fighting style. He boxes right-handed but thinks he might be more comfortable as a southpaw. He moves better that way.
"Would Manny let you fight southpaw?" his father asked.
"He doesn't even know I can fight southpaw," Tommy said.
Dapper in a three piece suit, Steward came the table to apologize. He hadn't been told they had a workout on the schedule and hadn't brought his training gear. He also had to fly back to his native Detroit. He had to meet with his accountant. It's tax season. So he couldn't be in Atlantic City a day early to spend time with him. Not to worry, Steward said. The opponent was nothing, wasn't even a boxer. Before the fight, he and Tommy would reconnect.
"I'll probably see you at the weigh-in," Steward said.