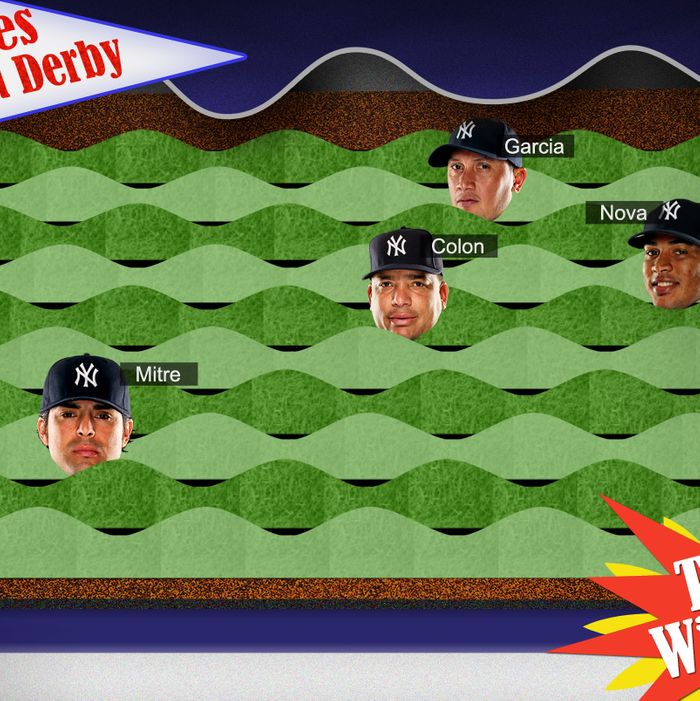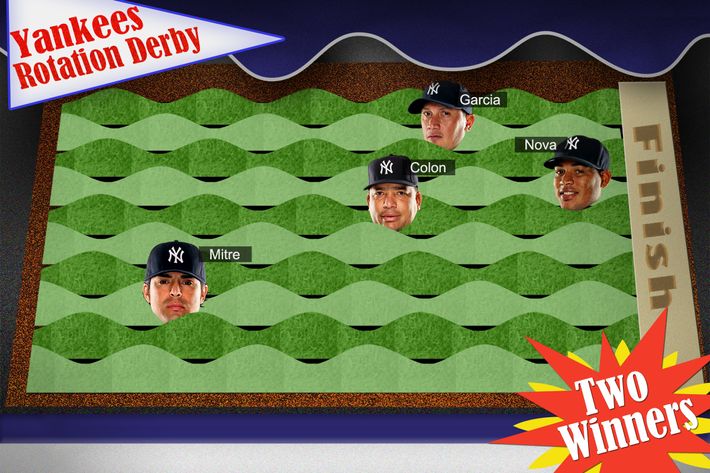 From now until the Yankees settle on their five-man rotation, we'll be taking a weekly look at who's leading the race for the two spots behind CC Sabathia, A.J. Burnett, and Phil Hughes. This week: With just one week until Opening Day, the battle for the fifth spot gets interesting.
1. Ivan Nova
Nova hasn't pitched since throwing six innings of no-hit ball against Baltimore last week, but his status as the front-runner hasn't changed. His numbers, once again, through four outings: fourteen innings, eight hits, two walks, two earned runs, and seven strikeouts. Factor in that Nova was considered a leading candidate for one of the final two spots entering the spring — and that the other candidates don't have many more chances to impact Joe Girardi's decision — and his spot in the rotation appears all but assured.
2. Freddy Garcia
3. Bartolo Colon
Truth be told, Garcia's struggled in his last couple of big-league appearances: In a start Saturday against Toronto, he allowed five runs in six innings, and over his last two outings, he's given up nine runs in eight-and-two-thirds innings. (In six innings today against the Lehigh Valley Iron Pigs in an off-day minor-league outing, he allowed one run and four hits.) Colon, meanwhile, has impressed: In his most recent outing, he struck out five in six innings of one-run ball. And in fifteen innings this spring, he's struck out a team-high seventeen batters, surrendering four runs and walking just one.
But Garcia's 2010 season may ultimately prove to be the deciding factor, at least if you read into Joe Girardi's words a bit. Said the Yankees manager yesterday: "Bart didn't pitch last year so if you start talking innings, will there be a point where innings catch up to him during the course of the season," adding, "That's somewhat of a concern when you have a guy coming off injury who hasn't thrown a lot in the last two years. You have to project in your mind how many innings you feel they can give you. If he is on our team, where does he fit best?" Garcia, of course, threw 157 innings for the White Sox last year.
Yankees brass will soon have a "long meeting" to figure out their rotation, and while Mark Feinsand wrote this morning in the News that "those two poor performances have reduced [Garcia] from front-runner to fringe candidate," the Post today called him "the favorite to land the final rotation spot." The question, now, becomes how much the Yankees will base their decision on performance this spring, and how much they'll factor in things like Colon's time off the mound. (A stat from Baseball Prospectus today: "Only three age-35-plus pitchers have managed to last as many as 100 innings as a starter after spending a season (or most of a season) away from the game, and two of those — Bert Blyleven and Pedro Martinez — are headed for the Hall of Fame.") Or to put it another way: Is giving the job to Garcia, who hasn't pitched in the majors since 2009, worth the gamble? (And how much would that risk be lessened if Garcia, in that scenario, also made the club, as a reliever?)
Should the details of their respective contracts come into play, here they are, via the Post:

Garcia has an out in his contract on March 29 if he isn't added to the roster. He will make $1.5 million in base salary with a chance to add $3.6 million via performance bonuses.

Colon's out date is March 31. He would bag $900,000 if he makes the club.
Garcia and Colon are working on minor league contracts….

Colon could be sent to the minors as an insurance policy and the Yankees have spoken to his agent about the possibility. Garcia said last week that he has nothing to prove at Triple-A.
4. Sergio Mitre
He's confident he'll at least make the roster, though his chances of starting the season in the rotation have all but disappeared: In his most recent outing Tuesday, he got knocked around by Baltimore, allowing five runs in three innings, not long after missing a few days with an oblique injury. (In eleven innings this spring, he's given up thirteen hits and seven runs.) Whether Mitre serves as the long man could depend on whether the Yankees choose to try the odd man out from the above three-man race in that role. For what it's worth, Girardi hasn't ruled out using Garcia, Colon, or Mitre in relief.