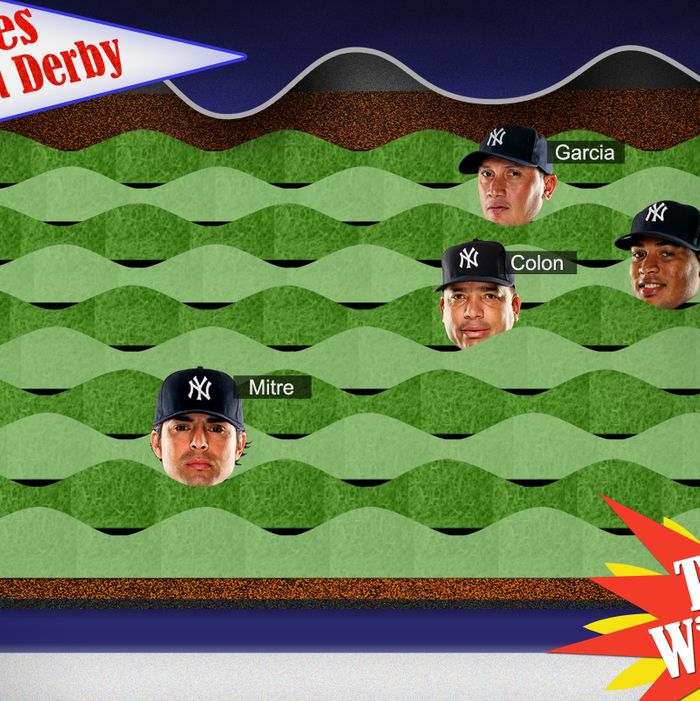 From now until the Yankees settle on their five-man rotation, we'll be taking a weekly look at who's leading the race for the two spots behind CC Sabathia, Phil Hughes, and A.J. Burnett. This week: Ivan Nova impresses, and the first candidates officially fall out of the running.
1. Ivan Nova
Nova gave up his first two runs of the spring last Friday against Toronto, but did he ever make up for it last night: After hitting the first batter of the game, he'd toss six no-hit innings against the Orioles, striking out four and walking none. (How efficient was Nova? He was scheduled to throw five innings, ended up throwing six, and still had to throw 20 more pitches in the bullpen after he exited.) Most importantly, he impressed Joe Girardi: "That's as good as it gets," said the manager. "It's the best pitching performance probably we've had in spring training." So what's Nova doing different than last year? He's learned a new grip on his slider from Billy Connors, for one thing. (He actually meant the pitch to be a cutter, though it behaves like a slider and he refers to it accordingly.) Said Nova: "My slider is like a new toy."
2. Freddy Garcia
Garcia was pounded by the Twins on Sunday — actually to be more specific, he was pounded by the Twins B-team — allowing his first four runs of the spring in two-and-two-thirds innings of work. (Girardi cited some long counts as contributing to Garcia's struggles.) Garcia — who's been considered a favorite to win one of the jobs — relied on his secondary pitches because his fastball wasn't effective and saw his spring ERA jump to 4.70 (albeit in just seven-and-two-thirds innings of work). Still, Girardi cautioned that "It's way too early," adding that "He's got more starts to go."
3. Bartolo Colon
Colon didn't make it into an actual game this week, but threw a simulated game on Tuesday. And he apparently looked pretty good: He threw six shutout innings, allowing four hits and no walks and striking out seven. And Colon — who entered the spring something of a question mark, since he hadn't pitched in the majors since 2009 — seems to be proving himself to his manager. Via the News, Girardi said he's been "pleasantly surprised" by Colon this spring, and was especially impressed by Colon's slider — a "pitch he didn't throw a lot of back in the day" — on Tuesday. (For what it's worth, CC Sabathia was impressed with his stuff as well.) With exactly two weeks until opening day, Colon appears to have made this a three-man race.
4. Sergio Mitre
Mitre had perhaps the worst week of any of the remaining candidates, and he didn't throw a pitch. He was scratched from his scheduled start on Monday night with soreness and stiffness in his left oblique area. The injury isn't consider significant — Brian Cashman called the level of concern "low" — but the timing couldn't be much worse. For what it's worth, Girardi said earlier in the week that he didn't expect the injury to affect Mitre's chances at winning a starting job, though at the time, it was thought that Mitre would next be able to pitch today. He won't, though his status is encouraging: He reported no problems after throwing in the bullpen yesterday, and Mark Feinsand reports that he "could be in a game by the weekend."
Officially eliminated: Prospects (and long-shots for a rotation spot) Hector Noesi, David Phelps, and Adam Warren were optioned to AAA Scranton-Wilkes Barre on Sunday, while Andrew Brackman was optioned there yesterday.