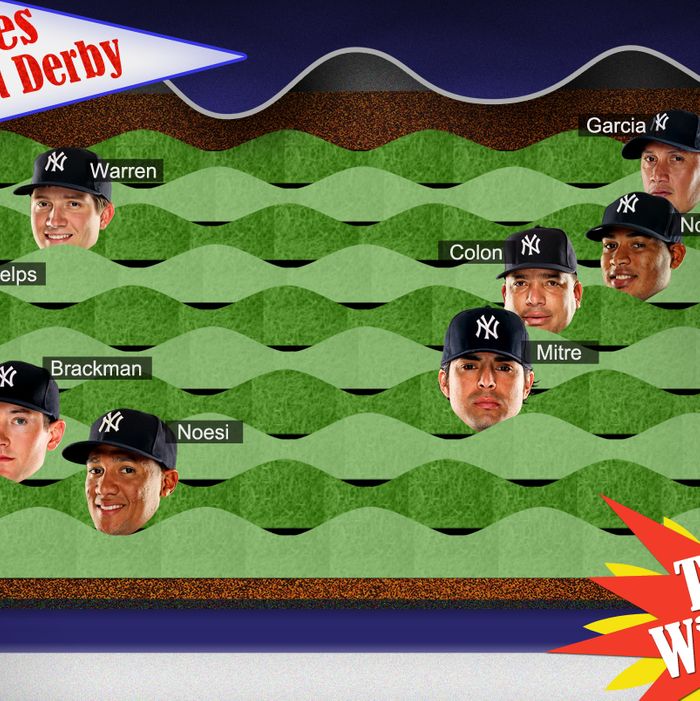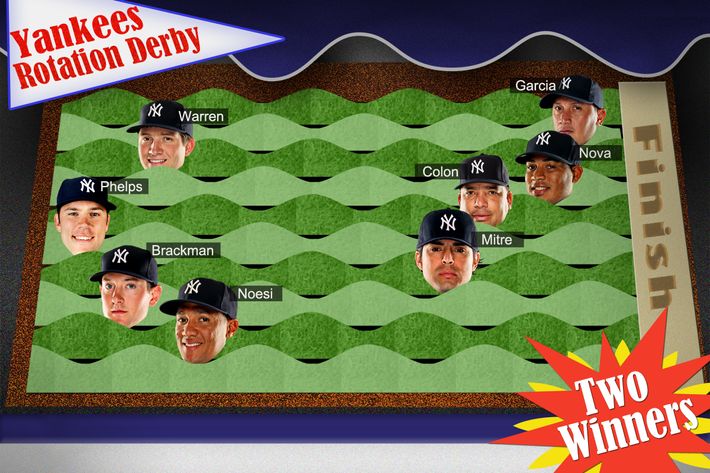 From now until the Yankees settle on their five-man rotation, we'll be taking a weekly look at who's leading the race for the two spots behind CC Sabathia, Phil Hughes, and A.J. Burnett. This week: The sample sizes grow, and the main candidates step up.
1. Freddy Garcia
Garcia retired all nine batters he faced on Tuesday, striking out two and throwing 32 pitches. (In fact, via Pete Caldera, he was so efficient he had to throw twenty more pitches in the bullpen.) A scout told the Post that Garcia — who was regularly throwing 88 mph to 89 mph on the gun — looked sharp in that outing, and that he "needs a harder breaking ball to lefties, but his changeup and command are plus."
2. Ivan Nova
Nova hasn't pitched since last Thursday, when he threw three shutout innings against the Rays. But it's a pretty tight race for the two top spots: Both Garcia and Nova have thrown five scoreless innings so far. Garcia's allowed two hits to Nova's three, and he struck out three batters to Nova's two. (Niether has allowed a walk, though Nova did hit one batter.) Nova is scheduled to pitch again tomorrow.
3. Bartolo Colon
It's a classy problem for Joe Girardi: of the four main candidates for the job, only Colon has allowed a run this spring. Colon threw three scoreless innings against Boston last Friday (allowing two hits and striking out five) but yesterday gave up two earned runs in four innings during which he surrendered four hits and struck out seven. (In nine innings of work, Colon has given up three earned runs and eight hits, and he's struck out twelve.) Girardi's assessment of Colon's most recent outing: "pretty good."
4. Sergio Mitre
Mitre threw three scoreless innings in his first start of the spring on Monday against the Orioles. His numbers though three outings: five innings pitched, no earned runs, five hits, no walks, and four strikeouts. (For what it's worth, Greg Golson kept his ERA perfect by throwing out a runner at home in Monday's game against Baltimore, who hit the ball hard off Mitre, but collected just three hits.) Said Girardi, prior to Colon's outing yesterday: "Right now, the four guys have thrown 20 innings, 14 strikeouts, one walk and one run. There's no separation yet." Still, according to ESPN's Andrew Marchand, Mitre's "candidacy is not strong."
5–8. Hector Noesi, Adam Warren, Andrew Brackman, and David Phelps
Noesi allowed a home run to Wilson Valdez of the Phillies Monday, the first run he's allowed in six innings this spring. Cliff Corcoran of Pinstriped Bible, at least, believes that since Noesi was sharp in his first two outings, he'll "continue to hang right behind the leaders (Ivan Nova, Freddy Garcia, and Bartolo Colon)." Warren threw two scoreless innings against the Orioles Monday, and while he's likely to start the season in the AAA rotation, Corcoran writes that he "appears to be salvaging his candidacy and might hang around longer than initially expected."
Brackman made his spring debut with a scoreless inning Tuesday against Atlanta, though it appears that at this point, his only chance to make the roster is as a reliever. Phelps allowed one run in two innings of work against Houston, though his chances of cracking the rotation appear even slimmer than Brackman's. According to Corcoran, he's "gone from dark-horse candidate to possible early cut."