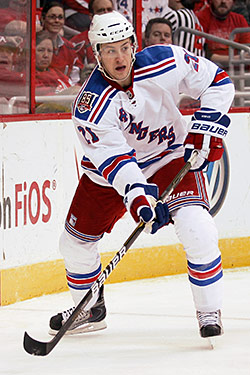 The quietest NHL trade deadline in years came and went yesterday, and the Rangers made just one minor move, trading a seventh-round pick to Toronto for depth center John Mitchell. On a day that Brad Richards could have probably been had for the right price, Glen Sather let the deadline pass without a blockbuster trade, holding on to all of the young players who've already had an impact in the NHL, as well as the ones they hope will make the jump to the Rangers in the future. For all the "Fire Sather" chants over the past decade, it appears the Rangers GM has a long-term plan.
As constructed right now, the Rangers will not win the Stanley Cup. They may not even win a playoff round (especially if they face Philadelphia or Tampa Bay, neither of whom they've beaten this year). But this isn't about 2011; it's about developing a core they can build around for years to come. And let's face it: They weren't going to contend for the Cup with Richards, either — and risked losing him after the season to free agency. (Perhaps they'll make a run at Richards in July, if the money works out.) Will every one of the Rangers' young players develop into an All-Star, or even an NHL regular? Perhaps not. But they can afford to wait and find out — to try and develop the next Marc Staal, even if it means watching another Petr Prucha fizzle out. That is worth the risk. Time, after all, is on their side.
And let's not forget: The team we'll all watch for the rest of the season remains thoroughly likable; they're a team with an identity, and they've shown at times that they can skate with quality hockey clubs. It's a rebuilding process, technically, but fans aren't being asked to endure a string of last-place seasons. This team must continue to mature — and, of course, they do still have a handful of veterans — but they'll do it while they fight for playoff positioning. Which isn't to say Sather won't look to outside the organization to fill holes on this team, but he didn't need to do that yesterday, at the cost of losing young players or high draft picks.
The biggest change in the roster, in fact, did not come as the result of a trade, but as the result of an unfortunate injury: Martin Biron's broken collarbone, suffered at practice just hours before the deadline. (Sather would say that the price to replace him at the last minute was too high.) Biron, of course, has been exactly what the Rangers had hoped for: a capable backup and then some, who's earned the trust of John Tortorella and allowed Henrik Lundqvist to rest more than in previous years.
Cam Talbot will now serve as Lundqvist's backup, and Sather said yesterday that he didn't expect Talbot — who's played in both the ECHL and AHL this season — to play more than a couple games. But, as the Times points out, even if Lundqvist plays in sixteen of the final eighteen games, he'll have played in 66 overall, fewer than in any of the previous four seasons. When Lundqvist is in net, the Rangers you watch in those final eighteen games will look a lot like the ones you'd been watching pre-deadline. Not that there's anything wrong with that.