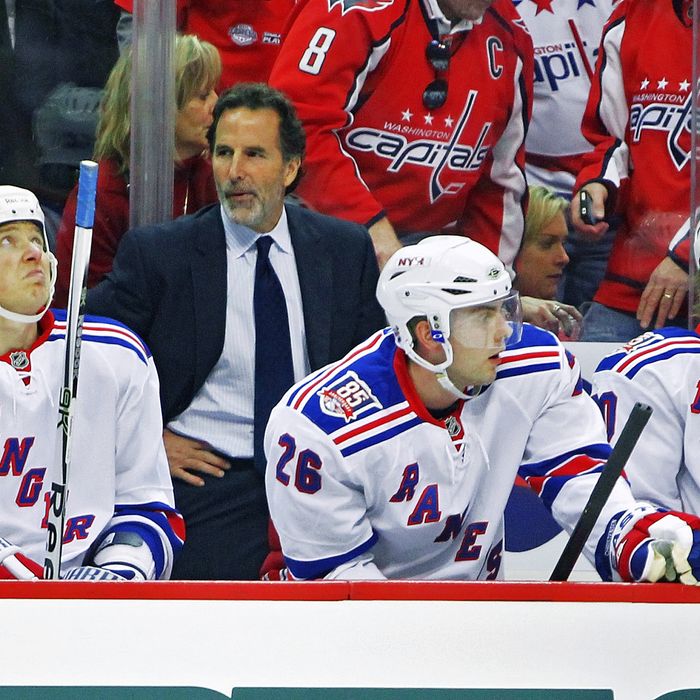 Photo: Len Redkoles/2011 Getty Images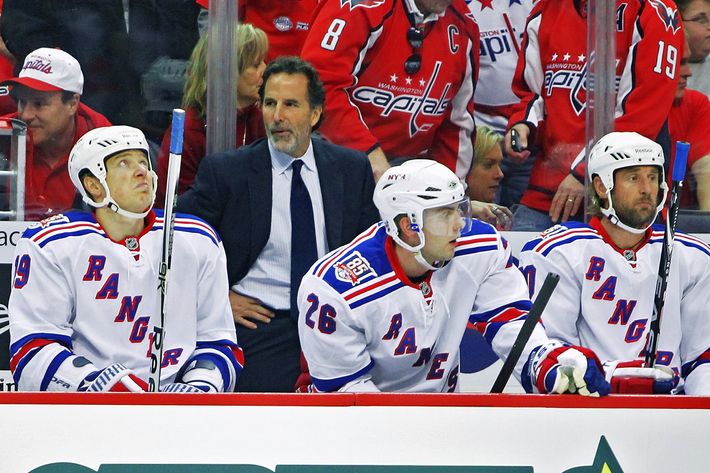 It's not correct to say that the Capitals controlled play in Game 5 on Saturday beginning with the first shift of the game, but it might be correct to say they controlled it beginning with the second shift. The scoreboard didn't accurately reflect how much the ice was tilted in Washington's favor during the 3–1 Caps win that ended the Rangers' season in five games, and it's clear now that momentum shifted for the last time in this series during the third period in Game 4, when the Capitals erased a three-goal Rangers lead. The Rangers won a game in this series, and led in the third period in two others, but at the end of the day, their season ended with a five-game series loss. When hockey scholars write the story of this year's postseason, they'll note that the Rangers had opportunities and didn't seize them, then note that this is the only first-round series in the East — and one of only two in either conference — that didn't go at least six games.
And so what to make of this year's Rangers team, and of this franchise going forward? This season saw the emergence of Michael Sauer and Ryan McDonagh as a young, reliable second defensive pair behind Mark Staal and Dan Girardi. It saw Ryan Callahan and Brandon Dubinsky — two homegrown players, each of whom (like Sauer) is due for a raise as a restricted free agent — set career highs in both goals and assists. It saw a rookie, Derek Stepan, among the five players on the roster to top twenty goals. And we could go on about the team's effective young core. The Rangers, to be sure, have something to build on.
Think of the Rangers as the anti-Knicks: Their supporting cast is in order, and then some. (After all, they still have one of the best goalies in the league, an All-Star defenseman in Staal, and, in Callahan, someone whose offensive ability is overshadowed by his gritty style of play.) But what they lack is a game-changing top line, and those are difficult to construct. The Rangers' identity this year was built around hard work and forechecking, but that's in large part because it needed to be. John Tortorella will be the first to tell you that they don't have the talent to truly compete for the Stanley Cup right now, and that these are the early stages of a process.
Marian Gaborik, of course, is being paid to be a game-changing scoring threat, though a year after scoring 42 goals, he netted just 22 in an injury-plagued season, including none in the final nine regular-season games and just one in the playoffs. And it's not exactly easy to find more game-changing scorers: Free agent Brad Richards, whom the Rangers might pursue, has tallied some impressive assist numbers, but turns 31 next month. And Glen Sather's track record of signing free agents, as opposed to his increasingly impressive trade record, is spotty. Plenty of this team's returning players should improve next year by virtue of being a year older, though the Rangers already know that Chris Kreider, their promising 2009 first-round pick, will return to Boston College next year. Taking the next step, from borderline playoff team to legitimate contender, will not be easy.
But let's not end on that note. This year's Rangers team, more so than the ones in recent years, was awfully likable — young and developing and usually fun to watch. (One wonders what they'll do with Chris Drury, a man Tortorella respects but one whose strengths are now limited to killing penalties and taking face-offs.) Elite forwards or an effective power play quarterback would make scoring goals a lot easier, but it's easy to respect the style of hockey that this team played. They caught a bad break when Ryan Callahan got hurt — in their most exciting win of the year, no less. And then they couldn't seize their chances to gain an edge on Washington. But as far as seasons that end in the first round of the playoffs go, this one was kind of fun. The future is bright. But is it bright enough?