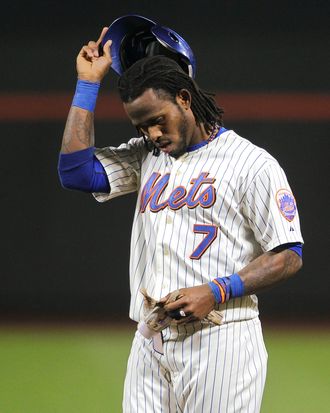 Photo: Nick Laham/2011 Getty Images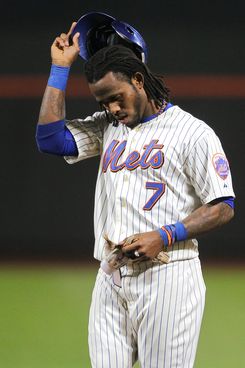 There are two ways — well, at least two ways — to read the lede of Andy Martino's Mets game story in today's Daily News. So here, first, is the outcome of last night's game: The Mets lost 6–1 to the last-place Astros, their eighth defeat in their last nine games and their eleventh in their last thirteen after starting the season 3–1.
Now, the first two paragraphs of that story:

Blah blah blah blah rain blah blah blah Niese blah blah Astros blah blah Mets got spanked. Blah blah, 6-1. We really don't know what else to tell you about this one. But we will try:

It was cold and wet at Citi Field, and the Mets flatlined for one minute shy of three hours against one of the worst teams in baseball. Actually, now the Mets (5-12) are worse than Houston - and the rest of the National League - as they slipped below the Astros (6-11). Could there be a less stimulating April ballgame than the one between these sorry opponents? The only appropriate word is blah.
On the one hand, you could read it as Deadspin did, calling it a "game story that speaks for every fan of the 2011 Mets," and that it's a sign that the Mets "have reached the summit of suck." (If you choose to count yesterday's "Boy, are Mets tickets cheap" article in the Times, that's the second such sign in two days.) After all, the loss — to a team with just five wins of their own heading into yesterday's game — dropped the Mets to 5–12, the worst record in all of baseball.
Or, you could read it as Craig Calcaterra did over at Hardball Talk, where he makes the case that Martino is taking the game story in another direction here, and that this sort of thing "is essential to the future of baseball beat reporting" since traditional game recaps "are all but dead." (We'd encourage you, before forming an opinion one way or the other, to read all of Martino's article. For better or worse, it reads like an informed blog post: reported and informational, but with liberal use of the royal we and an infusion, it would seem, of the writer's own take on the game.)
Unfortunately, no matter how you read the recap of the game, it's hard to interpret the game itself as anything but an ugly start to the Mets' homestand, and a continuation of an awfully disappointing start to the season. Blah, indeed.