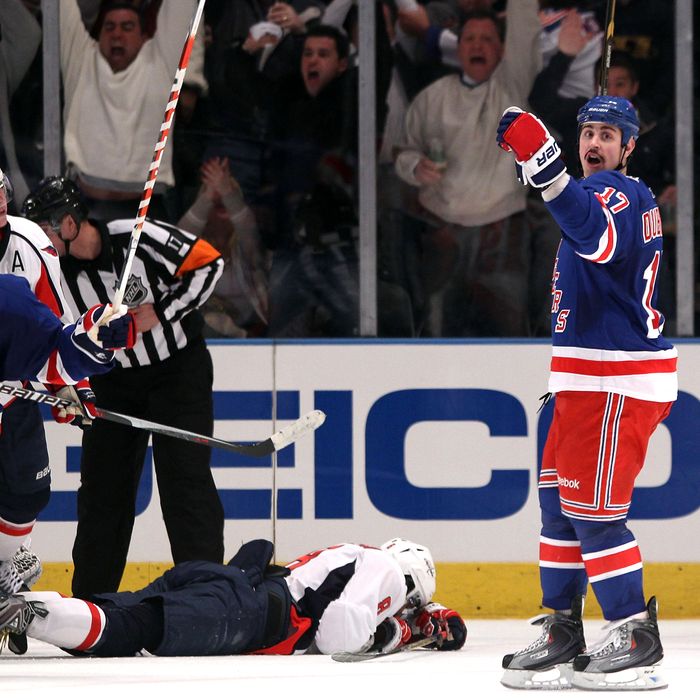 Photo: Bruce Bennett/2011 Getty Images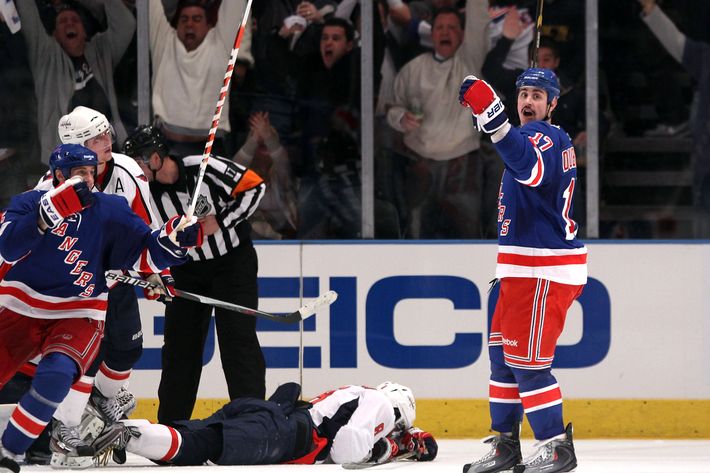 Twice during yesterday's Game 3, the Garden fell awfully silent: Once when Alex Ovechkin scored with just under a minute remaining in the second period, and again following Mike Knuble's power-play goal with 5:12 remaining in the third, with Marian Gaborik in the penalty box. Both goals tied the game, but somehow felt worse — the realization, perhaps, that one more mistake and one more Capitals goal could now mean a 3–0 series deficit and, for all intents and purposes, the end of the Rangers' hopes of pulling off the upset. These resilient Rangers almost answered that first Capitals goal with one of their own. And then they did answer the second one, saving the game, and, perhaps, their season.
Brandon Dubinsky's unassisted tally with 1:39 remaining broke the 2–2 tie, and it was something close to the perfect Rangers goal: a won battle along the boards — Dubinsky did the dirty work on the play, while Ruslan Fedotenko drew the attention of a second defender — a drive toward the net, and a what-the-hell "shot" that bounced off Karl Alzner (and maybe even Alex Ovechkin's stick) and in. It's the kind of goal that's ugly and pretty all at the same time. As the saying goes, you create your own luck, and Dubinsky — who'd been quiet through the first two games — created his own here. The Rangers' entire game plan hinges on winning those battles along the boards, and once they have the puck, if all goes well, they'll then try to get bodies in front of Michal Neuvirth and shoot from angles both good and bad. And all of that happened on this play. The Rangers, in a very real way, were rewarded for sticking to their game plan yesterday.
And that goal was hardly the only instance: The Rangers threw checks and blocked shots and got energy from the line of Brandon Prust, Brian Boyle, and Sean Avery. And their first goal, too, came on what appeared to be an impossible shot, off the stick of Erik Christensen on the power play. (That goal, though, was the only one they'd score on the power play despite seven opportunities, including 1:25 with a 5-on-3 advantage. And while the calls for the Rangers to "SHOOT!" aren't always warranted, we haven't seen nearly enough of Bryan McCabe's slap shot. To paraphrase Andrew Gross, his tentative play has at times been practically Rozsivalian.)
Speaking of shots from the point, the Rangers scored a goal off one yesterday when the rebound off a Marc Staal shot turned into a Vinny Prospal goal. The offense isn't exactly firing on all cylinders — Marian Gaborik is still without a point in this series, after all — but a game like yesterday's, in which they managed three goals, gives them something of a margin for error against a dangerous Capitals team.
In Games 1 and 2, the Rangers could take away some positives — a handful of moral victories that do little but serve as a confidence boost going forward. In the first game, they came within minutes of a victory despite allowing the Caps way too many quality opportunities. (Henrik Lundqvist kept them in that one; he's been the Rangers' best player to this point in the series, as he needs to be.) Then in Game 2, they played something closer to the type of game they'd like to play, starting strong and establishing their forecheck at times — the Prust-Boyle-Avery line stood out Friday, too — but couldn't overcome a second period in which they got scored on twice in 1:57 and attempted only five shots, a low figure even for a team struggling to generate offense.
But in Game 3, they played their most consistent game — 60 minutes, more or less, of the type of blue-collar hockey they want to play. And, of course, they still only won by a goal. This won't be easy — it's not supposed to be easy — but heading into Wednesday's critical Game 4, they can be proud not just of minor moral victories, but of a much-needed actual victory, as well.