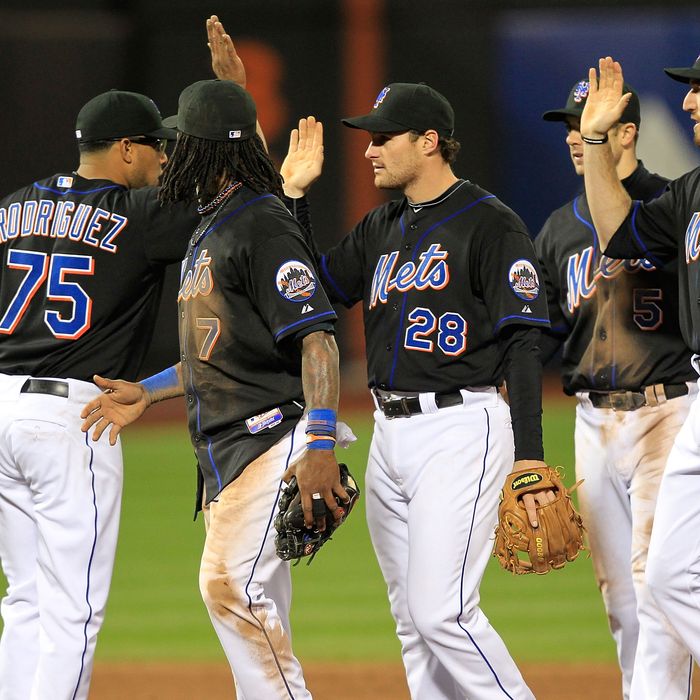 Photo: Chris Trotman/2011 Getty Images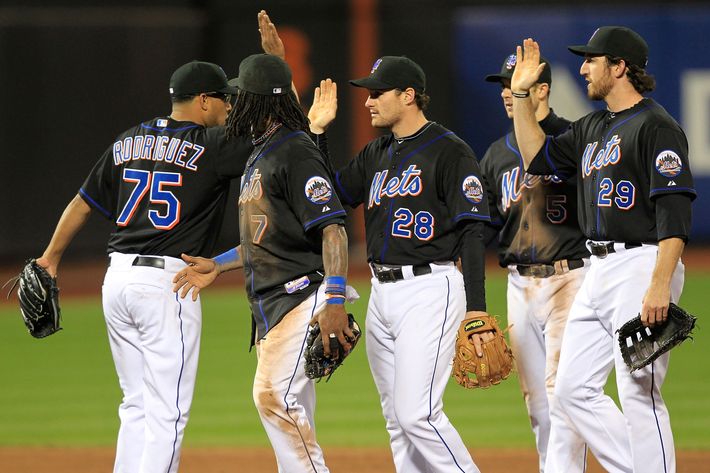 Here's about the best thing we can imagine someone saying about the Mets right now, from Jason Fry over at Faith and Fear in Flushing, writing about the team's off day today: "No Mets on Monday? Say it ain't so!" Because it wasn't all that long ago — it was, in fact, five days ago — that the Mets were finding a way to lose just about every night in a new, but somehow equally cruel, way, be it because of sloppy defense, or a bullpen meltdown, or a botched bunt attempt that turned into a critical ninth-inning double play.
But now, five days later, the Mets are suddenly hot, winners of four straight, sweepers of the Diamondbacks (is "sweepers" a baseball term? Let's say it is), and, for now at least, just another team trying to win early-season ball games, as opposed to one in danger of becoming little more than a punch line before the calendar turns to May.
Not to get too ahead of ourselves, of course: As we wrote last week, the Mets (no matter what you think of their roster as presently constructed) weren't likely to play .278 ball for long. So perhaps this is something of a correction, an inevitable hot stretch after a cold one that went on way too long. (And even after the four wins, they're still in last place in the East, at 9–13, a game and a half behind Atlanta.)
But since Jason Bay's return, the Mets haven't lost, and they swept away Arizona this weekend thanks to a solid Mike Pelfrey outing on Friday, a three RBI day for Bay himself on Saturday, and a two-homer day for Wright yesterday (among other things, of course). So perhaps the worst of the worst is over, now that their dreadful stretch of twelve losses in fourteen games has been replaced by a much more pleasant four-game winning streak. But with no game on the schedule, today won't bring another Mets win. Today, the schedule cools them off.