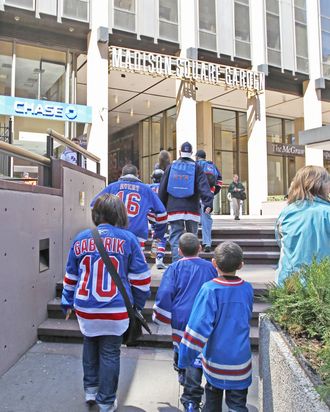 Photo: Bruce Bennett/2011 Getty Images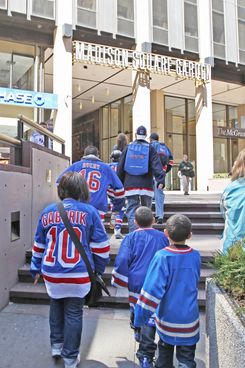 No matter what Bruce Boudreau's Capitals do during this postseason, we're pretty sure we'll remember his 2010–11 season as the one during which his memorable, foul-mouthed run on HBO's 24/7 prompted us at one point to ask our copy editor whether the word shitbums should be hyphenated. (The verdict: no!) But Boudreau is again making headlines with some less-than-flattering words about Madison Square Garden in the wake of his team's 3–2 loss in Game 3 of the conference quarterfinals.
Here's Boudreau talking to Washington's 105.9, via Dan Steinberg:

"Well, the one thing, its reputation is far better than the actual building," the coach said. "I mean, it's nothing. The locker rooms are horrible. The benches are horrible. There's no room for anything. But the reputation of being in Madison Square Garden is what makes it famous. Also, our building's a lot louder, too. So I mean, they can say what they want, but it's not that loud in there."
The part about the locker rooms and benches? The renovation — excuse us, transformation — of the arena should take care of that. But what to make of the dig at Rangers' fans, and the noise level inside the building? Perhaps, as Jesse Spector suggests on his blog today, it has something to do with the general lack of air horns and cowbells at the Garden, at least compared to the scene at the Verizon Center. But if he's basing his thoughts on yesterday's game, he's right that the Garden can get louder than it did during Game 3, or at least, louder than it did for certain stretches of the game. But perhaps yesterday's relative quiet can be explained.
First, it's worth noting that "quiet" really is a relative term here: You may have been able to hear a pin drop when Alex Ovechkin tied the score with under a minute to go in the second period, but it got plenty loud when Brandon Dubinsky scored the go-ahead goal a period later. Perhaps not as loud as it did during the third-period comeback against Boston during the final week of the regular season, but awfully noisy nonetheless.
That said, we've got a three-part theory on why the Garden didn't reach maximum volume levels yesterday:
1. The crowd, whenever the score was tied, was understandably nervous. As we wrote this morning, the Rangers at those times could have been a single Caps goal from a 3–0 series hole. We're pretty sure the relative lack of noise for stretches of yesterday's game can mostly be attributed to this point.
2. People waving playoff rally towels can't clap. We're not sure what percentage of a hockey arena's noise comes from verbal cheering and what percentage comes from clapping, but people waving towels can't clap, and clapping makes at least some noise. That's just some straight science.
3. We're pretty sure the Garden's capacity has gone down temporarily, at least a little. Construction walls have gone up in the back of parts of the 300 level, and though yesterday's official attendance was listed as the usual sell-out figure of 18,200, it certainly appeared that seats had been lost but not added elsewhere. We reached out to the team, and here's what a Rangers spokesperson told us: "As part of the ongoing Transformation of Madison Square Garden, a handful of seats have been impacted by construction work in the Arena. Fans in those seat locations have all been relocated to comparable seats for the remainder of the season."
Is that handful — the spokesperson wouldn't specify exactly how many constituted a handful — a significant enough number to make a difference in crowd noise? Probably not. But none of these things should matter Wednesday, now that the Rangers have a chance to even the series, and now that Boudreau has provided the fan equivalent of bulletin board material. Be loud on Wednesday, Rangers fans. Bruce Boudreau will surely be listening.