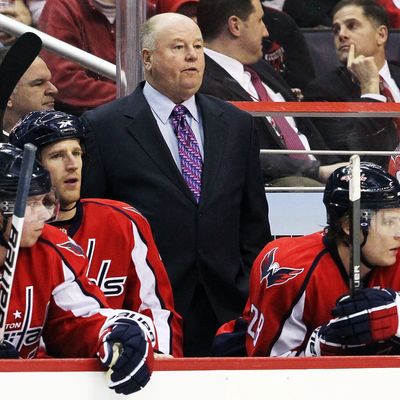 Photo: Jim McIsaac/2010 Getty Images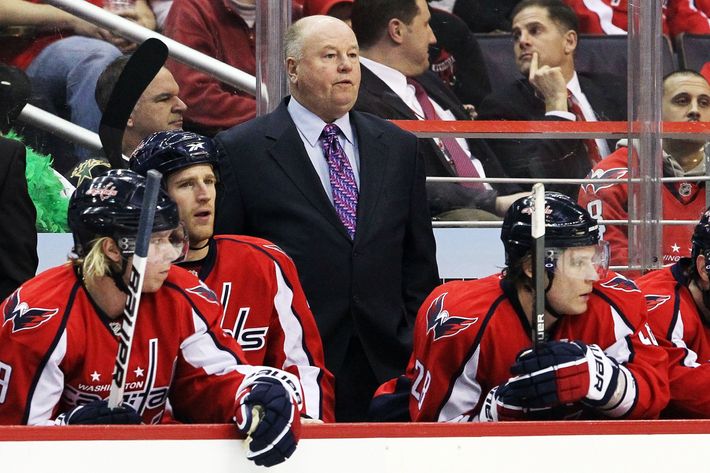 Capitals coach Bruce Boudreau has channeled Rex Ryan before, back when — just months after Ryan cursed so much during the Jets' run on HBO's Hard Knocks that his own mother complained — Boudreau's own foul mouth captivated viewers on the network's terrific 24/7 series. But after the Caps dropped Game 3 of their series against the Rangers on Sunday, Boudreau took another page from the Rex Ryan playbook — the one that explains how to make yourself the story and take the attention off of your own team.
Ryan, of course, is a master at this, as evidenced by the Jets' playoff run earlier this year, during which he spoke of how their game against Peyton Manning's Colts was "personal," and about how he needed to out-coach Bill Belichick in order for the Jets to beat New England. And so similarly, Boudreau surely doesn't mind that much of the chatter during the two days between Games 3 and 4 focused on some things he said in the wake of Sunday's loss, as opposed to the reasons his team lost the game.
Calling out Rangers fans (or, more accurately, stating that "it's not that loud" inside the Garden, and that the Caps' building is louder) is just talk, mostly. It's attention for Boudreau, and while the Garden crowd will surely roar tonight if only to prove him wrong, there's a pretty good chance it would have been plenty loud inside anyway, what with the Rangers able to tie the series tonight. But as Puck Daddy points out today, there's more still to all of Boudreau's talk: By expressing his displeasure with some Rangers' hits — most notably Marc Staal's contact with Mike Green just as Alexander Ovechkin scored on Sunday — he's working the refs, "a time-honored tradition whether you're winning or losing a series." If you can get attention and a couple of calls, that's even better right?
In the eyes of the Colin Campbell and the NHL, what Staal did wasn't worthy of punishment. But it's the on-ice officials Boudreau will be concerned with tonight. John Tortorella — surely recognizing what Boudreau was up to — responded by saying that "we have confidence in the league, we have confidence in the officials that they won't be influenced by all the whining going on here right now." (That's a pretty brilliant quote when you think about it, in that it says nice things about the league and its refs while simultaneously insulting Boudreau. Well played, Torts.)
So the end result, most likely, is just a lot of talk — something to distract from how the Caps gave the Rangers seven power plays (not that they did much with most of them), and for the most part, allowed the Rangers to succeed playing the blue-collar game they're most comfortable with. The Caps know they'll need to be better, whether everyone writes about it for two days or not. And, assuming Staal, or Brandon Prust, or anyone else isn't afraid to play the body now that they've been called out by Boudreau — and we're comfortable saying that they won't be — none of Boudreau's talk should matter much to the Rangers' players, except that they can expect to hear a little more energy in the roar of the crowd when they take the ice tonight.
The Rangers now know what can happen in the playoffs if they play 60 minutes of physical hockey, forechecking and getting pucks (and bodies) to the net. And of course, said physical play needs to also be disciplined play, lest they give Washington too many chances with the man advantage. They played their best game of the series on Sunday, a game they won by just a goal, and a pretty fluky one at that. To even this series up, they'll need to play their best game again.
Oh, and if there's any doubt that the Garden can get loud — against the Caps, no less — we direct you to this video from the first round of the postseason back in 2009. Not exactly the same circumstances as Sunday's game, but still, Boudreau must have heard this, no?