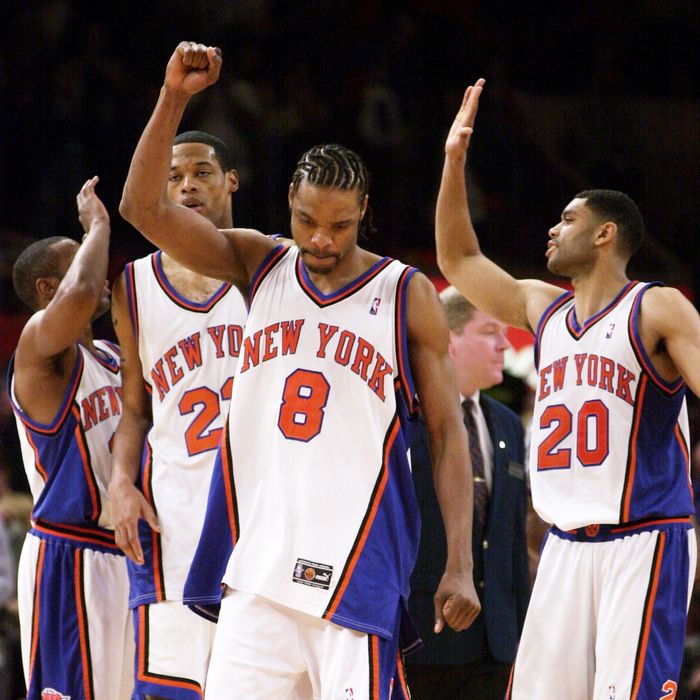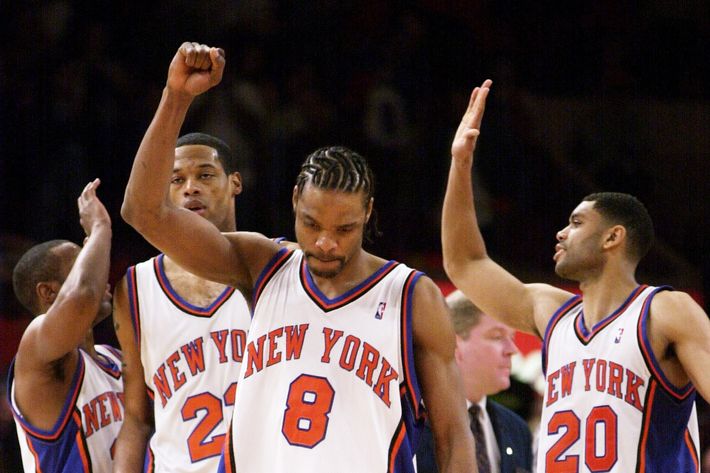 With nineteen seconds left during Game 2 of the Knicks-Celtics, with the Knicks up by one during a timeout, we turned to a friend we were watching the game with and said, "God, can you imagine how nuts the Garden will be if this series is 1–1?" He scolded us: "That's exactly what I said with twelve seconds left [in Game 1]. And I jinxed them. You just did the same thing." The Garden will be a madhouse tonight, but it will be tinged with legitimate fear: A loss tonight, and Game 4 won't have nearly the same buzz. The Knicks have learned a lot about themselves in the first two games, and they've impressed plenty of people. Now it would be helpful to go about the dirty business of winning an actual game.
Certainly, it is not ideal for a team playing its first home playoff game in seven years to be so riddled with injuries — particularly considering how healthy the Knicks were coming into the playoffs — but them's the breaks. Chauncey Billups is looking increasingly unlikely to play, and Amar'e Stoudemire sat out yesterday's practice with his back issues. (He was at the team shootaround this morning.) The Knicks are not near 100 percent. And they weren't expected to put up too much of a fight in this series even when they were 100 percent.
But a series does not take place in a vacuum, which is good, because otherwise everyone's hair would look all weird when each game was over. The Celtics' weaknesses have been apparent this series — it's unlikely the Heat are feeling particularly worried right now, no matter what happens here — and the Knicks, despite the two losses, still are more confident (and seemingly less desperate) than any team down 2–0 should be. The losses in Boston were tough to take, but they were certainly not demoralizing: The Knicks could very well be up 2–0 in this series. This does not seem like an impossible task.
A loss tonight, though, makes the closeness of the first two games irrelevant. A loss tonight turns the Knicks into the 76ers or the Pacers, just an undermatched team waiting for the inevitable elimination, a wild, tumultuous year ending in a whimper. The Knicks need to win tonight. They don't need to win this series. But they need to win tonight.
It feels like forever since the Knicks have won a home playoff game, but it hasn't been forever: It has been ten years. It has been exactly ten years; on April 22, 2001, the Knicks beat the Toronto Raptors 92–85 in Game 1 of the Eastern Conference quarterfinals, thanks to 23 points from Allan Houston and thirteen from Latrell Sprewell. What has happened with the Knicks in the ten years between that night and tonight would have seemed impossible to anyone in 2001. Isiah. Stephon. Anucha. Dolan. The Knicks have a chance to put the end punctuation point on that era tonight, in front of a frenzied crowd pleading to lose its mind. This is going to be a historic night in Knicks history. In about eight hours, we'll find out what kind of historic it'll be.