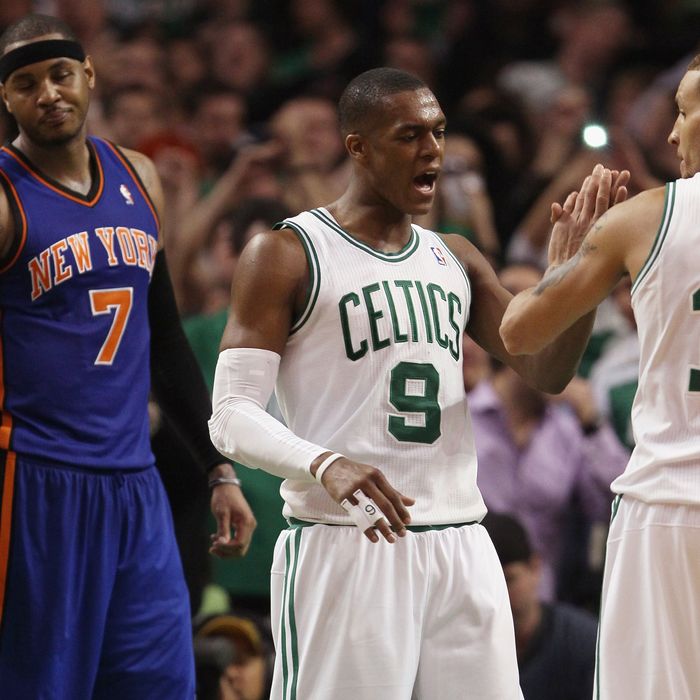 Photo: Elsa/2011 Getty Images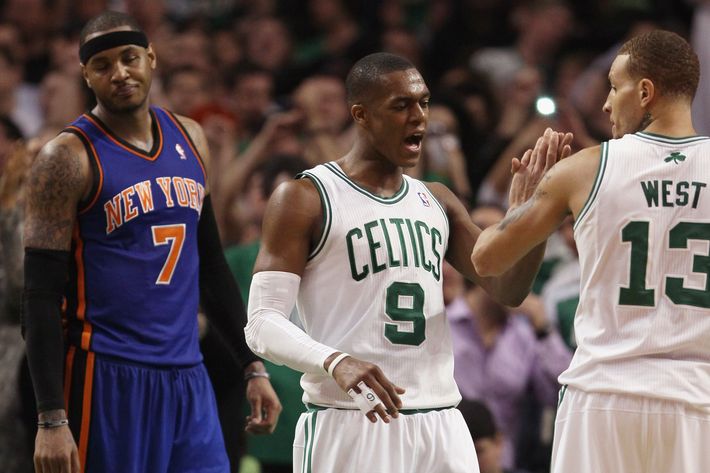 It is to the credit of both NYC-area tabloids that they did not go the route of the ordinarily sane and smart Adrian Wojnarowski of Yahoo, who used his column this morning to hammer Carmelo for giving up the ball to Jared Jeffries during the Knicks' last possession. We know, and we're sure Carmelo knows, that this is part of the deal: Every decision you make, as the superstar, is analyzed and dissected, especially if it's the wrong decision. But Carmelo didn't make the wrong decision. Carmelo did precisely what he should have.
Wojnarowski writes that "when the ball leaves your hands for Jeffries, what he does with it is your responsibility. That's how it works," and this is true, that is totally how it works, if the sport you are talking about is bowling.
Sebastian Pruiti at NBA Playbook has a terrific breakdown of the play and shows how Carmelo actually saw a defensive mistake by Kevin Garnett that allowed Jared Jeffries to be in the ideal place for a game-winning bucket: in between Garnett and the rim. He simply (infuriatingly! horrifyingly!) turned his body the wrong direction. If he turns left, he has an easy layup, or at least as easy as any Jared Jeffries layup. But he turned right, right into Garnett.
It's frustrating, sure. But it happens.
Perhaps there is a universe in which this is Carmelo Anthony's fault. But it is not this one. Just last game, the world was criticizing Carmelo for putting up an impossible shot in the final seconds. This time, he found a streaking wide-open guy, right under the basket. If he had put up a crazy shot under a triple-team and missed wildly — and triple teams tend to cause you to miss wildly — he'd be hammered for that. We know this is supposedly some sort of entrance requirement to the Hall of Superstar Super Friends, this notion that you must do everything super perfect and super impossible to gain entry to the Great Hall. But come on.
The Knicks lose by 25 points without Carmelo last night, at least. He had a legendary night, a night that told us more about him than anyone knew, more than perhaps even he knew. Anthony wasn't just scoring; he was finding the right man to pass to, grabbing rebounds, playing a team game, elevating everyone around him. Now he's supposed to somehow lose penis-measuring points for not chucking up some ridiculous shot in the closing seconds? Last night was the Carmelo you want, one who, as Free Darko once put it, "sees the floor like a logic puzzle." This is the Carmelo who can bring the Knicks a championship, someday. This is something that should be encouraged. This is something that can last.
Can we please stop playing the "Who Is Most Like Jordan?" faux alpha-male game? Only Kobe Bryant thinks that's a real game anymore.That is a very tiresome game. We have had enough of that game. Last night, Carmelo made an evolutionary step forward in his game, becoming the distributor and floor general, rather than just the scorer. This is a good thing. Let the man have it.