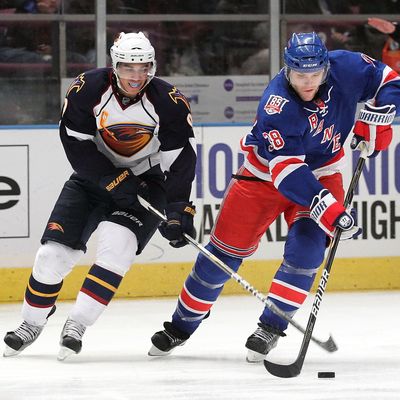 Photo: Al Bello/2011 Getty Images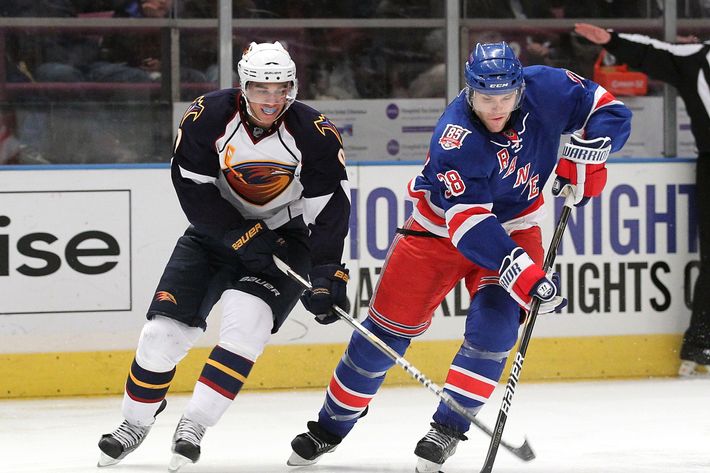 You could learn a lot about the Rangers' current situation by looking at the Madison Square Garden video board last night. For instance, prior to the game, instead of the usual dramatic-music highlight montages, it flashed player quotes from after Monday night's game over Boston. The arena that night rocked and roared, and the Rangers skated away with their biggest victory of the year. The intentions were clear: If the Rangers (and their fans) could somehow recapture some of that energy — just bottle it up for use over the next few weeks — well, then look out.
Hanging over all of this, of course, was the news of Ryan Callahan's broken ankle — and if reminders of Monday's game weren't quite inspirational enough, out hobbled Callahan, on crutches and to chants of "Cally, Cally," to help present the Steven McDonald award to Brandon Prust. As one fan texted to the scoreboard well before the opening face-off, the Rangers would now try to "rally for Cally." Except that the Rangers did not rally, for their captain-in-waiting or for anyone else, and somehow looked flat for the latter two thirds of game No. 81, a crushing 3–0 loss to Atlanta.
After a perfectly fine first period, the Rangers made mistake after mistake, and Atlanta, playing for pride, if not a playoff spot, took advantage. There was the Rangers' inability to clear the puck out of their zone on the first Thrashers goal, 7:42 into the second period. Then there was Andrew Ladd skating right around Dan Girardi on their second goal, fifteen seconds later. (Amazingly, this may not have been Girardi's biggest blunder of the period: His inexplicable cross-ice outlet pass a couple minutes later was intercepted by Dustin Byfuglien, leading to a mini two-on-none and a great Henrik Lundqvist save.)
And then, in the third period, the nail in the coffin: Eric Boulton's goal on a rush up ice in which Marian Gaborik, well, we're not really sure what Gaborik was doing. It's not like he made no attempt to back-check — he made the effort to skate back, at least — except then he let up at the last second, which is kind of the most important part of these sorts of things.
In more general terms, the Rangers and their new line combinations never quite got into the blue-collar style of game they're most comfortable with, instead attempting to carry the puck into the zone and along the boards — something the Atlanta defense was more than happy to let them do before inevitably squeezing the puck-carrier out. Their passes weren't crisp. And when they had scoring opportunities — and they did have a couple — they couldn't cash in.
Now, the Rangers no longer control their own destiny, and while statistically, they're still in good shape — hockey-reference.com calculates their odds of making the playoffs at 89.1 percent — their playoff hopes now depend, at least in part, on what Carolina does tonight and tomorrow. And the way the 'Canes have been playing — just two losses in their last nine, one of which came in overtime — that's a little scary.
So just like last year, it'll come down to the final weekend of the regular season. The Rangers' magic number remains at three points, and they'll play game No. 82 tomorrow afternoon against New Jersey. Carolina, meanwhile, plays tonight in Atlanta, and then hosts Tampa Bay tomorrow night. (And Buffalo, currently in seventh place but yet to clinch, plays at home against Philadelphia tonight and on the road at Columbus tomorrow.) Let the scoreboard-watching begin.