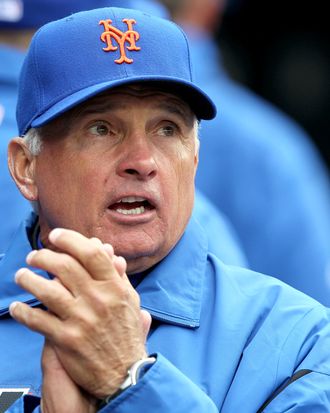 Photo: Al Bello/2011 Getty Images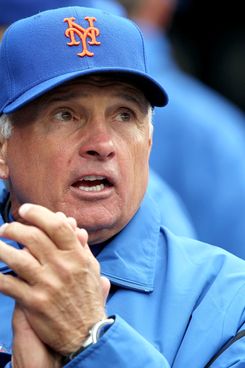 So the Mets lost last night, 5–4, with Troy Tulowitzki delivering the big blow for Colorado — a three-run homer in the fifth off Jonathon Niese that turned a 3–1 Mets lead into a 4–3 Mets deficit. (Colorado would later make the score 5–3, and the Mets would cut the lead to one, but never did tie the game.) And after it ended, Terry Collins, to quote the Post, "went ballistic" in the Mets' locker room, not pointing fingers, according to one player who spoke to the paper, but ripping into his team that's now lost six out of its last seven games.
And it continued in his postgame press conference. MetsBlog transcribed a good chunk of Collins's words, and we've included the whole thing below, so you can get a sense of the scope of Collins's frustration, just eleven games into the season:

"Well, we're answering the same questions every night, pretty much, except for one night. It's time to start making pitches. It's time to start getting a big two-out hit. You know, we're pulling for each other, everyone's behind each other, we've got quit worrying about the negatives and start thinking about what the execution-side needs. Now's the time. We've been in every game, but now we've got to start winning them. … You can't just put your finger on one thing. When you go through a streak where things aren't going good, it's not one thing, it could be the base on balls one night, a defensive play the next night, it could be a strikeout in a big situation or not getting a guy in from third with nobody out or one out. It's not just one thing. I just got done telling them, we're one pitch away and one swing away from being 9-2, and we're not. But, the next 11, we've got to be 9-2. We need to get it going and do the things we haven't done thus far. … We've just got to take the next step. These guys are playing hard. … But, when the other team comes back we need to re-charge ourselves and do things we were doing when we had the lead. … You know, it's a group thing. And I'll take some responsibility, maybe I'm not getting them ready good enough, maybe we need to do a better job in our pre-game meetings when we talk about what we need to do. … We've had chances, but we've got to start getting the two-out hit once in a while. … I want to make sure everybody still realizes this is a 9-inning, 27-out game. And, if the team comes back in the 6th inning and takes the lead, we've still got innings to play. Let's get back in the dugout, get ready and continue to do what we've been doing, get on the mound and if we give up a homer or a base on balls let's get on the mound and make a pitch."
Collins is right that there isn't a single reason that the Mets, who started 3–1, have fallen to 4–7. And therein lies the frustration. The line "I want to make sure everybody still realizes this is a 9-inning, 27-out game," stood out to us, though that really only applies on nights (like last night) in which the team gets deflated by something midway through the game. Most nights, it's just a matter of making that important pitch, or getting that key hit — and, of course, these things are easier said than done. If Collins didn't realize when he took the job that this might be a frustrating season, he surely knows it now. The (potentially) good news: He and his team have two games today — just hours after his locker-room speech — to try and right the ship.