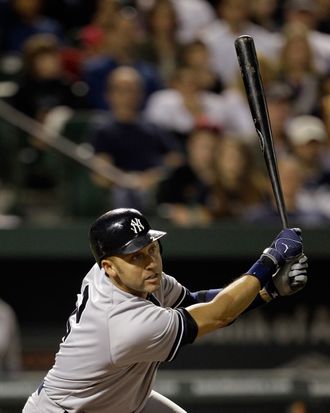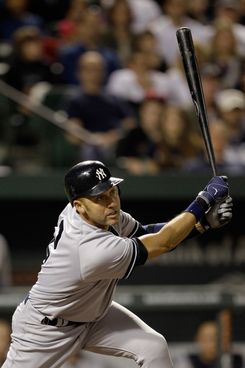 Here's something else we learned this weekend: Derek Jeter is already distancing himself from Ian O'Connor's forthcoming book, The Captain. Two reports this weekend told of how O'Connor's unauthorized biography describes Jeter's icy relationship with Alex Rodriguez (one that has improved a bit in recent years), as well as his relationship with Brian Cashman (which the book claims was seriously damaged during Jeter's contract negotiations during the off-season). Because here's the thing: For all that's been written about Jeter since last season ended — on the wisdom of his most recent contract, for example, or on the physiological changes that an aging shortstop must inevitably deal with — the flaws most often pointed out are baseball ones: He hits too many ground balls, his defense has deteriorated, and so on. These are not things to be ashamed of: Jeter's getting older; it happens. We can debate whether he's overrated or properly rated or overpaid or whatever, but at its core, that discussion has been an evaluation of a ballplayer.
But this book, based on what's publicly known about it so far, gets into a different discussion: a challenge to Jeter's status as the untainted icon. (For more on that view of Jeter, we direct you to this ESPN compilation of quotes about the Yankees shortstop. Sample quote from Reggie Jackson: "He's a good person. A good son. He's a good man.") Which isn't to say that Jeter isn't allowed to have his differences with Cashman, or that he and A-Rod need to be best pals for the sake of Jeter's reputation. But in these reports, Jeter comes off as thin-skinned and willing to cut someone out of his life if they cross him just once. (According to the book, he had to be told by both Brian Cashman and Don Mattingly to "fake it" with A-Rod.) This is a Jeter who reportedly walked out of a meeting during negotiations, furious with how talks had gone public and about Cashman's comments that Jeter should test the market, in particular. (One of our favorite details: that Jeter reportedly talked Randy Levine into giving him an estimated $4.5 million extra during a meeting at Jeter's apartment the day before he signed his contract.)
Look, at some point this year, Jeter will collect his 3,000th hit, and the coverage will look more like that ESPN compilation than any of these reports. But O'Connor's book hits shelves May 16, so assuming we don't already know all of the book's juiciest anecdotes — the book tells of an emotional A-Rod driving to Jeter's house in Florida to beg forgiveness for comments he'd made in Esquire, and about how Jeter kept him waiting while he lingered at a local nightclub — there's probably more of this ahead in the coming weeks. And then, as Jeter approaches hit No. 3,000 and his career is again put into perspective, it'll be right back to talk of Icon Jeter. In the meantime, if Jeter's looking for someone who can relate to being portrayed in a less-than-flattering light in a well-publicized book, we have some ideas of whom he could talk to.