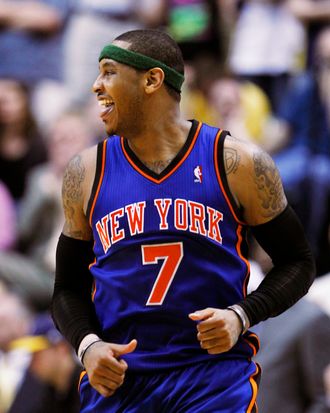 Photo: Darron Cummings/AP2011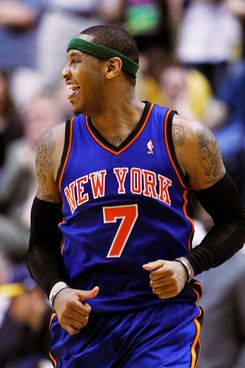 On Friday, we asked whether the Knicks would rather play the Heat or the Celtics in the first round of the playoffs. The general consensus preference seemed to be Miami, mainly because: (a) the Heat have less size inside; (b) the Heat just sorta feel like playoff chokers; and (c) it'd be fun to have everyone in the sports world cheering for the Knicks, for once. But the Heat aren't the ones who have 9–10 since trading away their heart and soul and looked awful yesterday in a blowout loss. That was the Celtics.
Which is good, because the Knicks now seem far more likely to play Boston in the first round than Miami. That's largely thanks to a terrific, thrilling 110–109 win over the Pacers in Indianapolis last night, the Knicks' seventh win in a row, one that clinched the team's first winning season since 2000–01. It was as impressive a Knicks win as any since the streak began, considering they were playing without Amar'e Stoudemire — who's wearing a protective boot and may or may not play tomorrow night against Chicago — and it's due in huge part to, of course, Carmelo Anthony.
Remember when the meme on Anthony was that he was lazy, that he just wanted his money and endorsement deals and didn't care about winning? (This was an actual thing, for a week or so there.) Last night should take care of that for a while. Other than a rough third quarter, Anthony was a monster, scoring 34 points and hitting six three-pointers despite banging his right wrist early in the game. But the reason Carmelo is here could be seen in the final moments. First, there was this cold-blooded jumper:
Then, back on the other end, Carmelo blocked a shot by Danny Granger — who beat the Knicks with a last-second jumper last month — and the clock ran out. The seventh win in a row was clinched and so was, pretty much, the No. 6 seed. The Knicks would have to lose both their final two games (tomorrow against Chicago, who has nothing to play for, and Wednesday at Boston, who might have nothing to play for) and the 76ers would have to win both their final two (home against Orlando tonight and Detroit on Wednesday) for the Knicks to drop down.
And considering the Heat's one-game lead on Boston after the win yesterday — with games at Atlanta tonight and at Toronto on Wednesday — that means it could very well be Boston for the Knicks. We've got a couple more days to figure that out, though. For now, just enjoy this again:
And enjoy the day off. This Knicks business is about to get awfully serious. Prepare thyself.