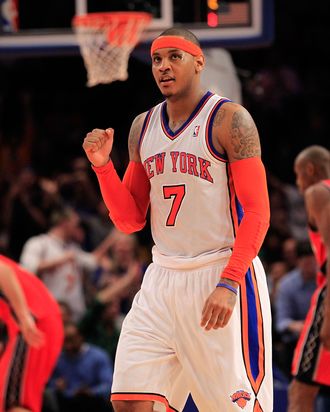 Photo: Chris Trotman/Getty Images/2011 Getty Images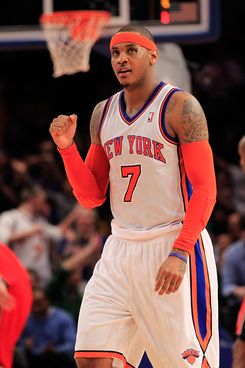 Mike D'Antoni's ever-changing rotation is now even more interesting as the playoffs near and a new-look lineup continues to find itself. As part of our Knicks coverage all season, taking a note from Mark Lisanti's "Mad Men Power Rankings," we've been tracking each player every Tuesday. Come with us for the Knicks Power Rankings!
1. Carmelo Anthony. (Last week: 1) Last week, I implored Anthony to match the level of individual engagement that had mushed the Knicks to a much-needed victory over the Magic. Melo took that plea literally, following his 39-point 10-rebound effort against Orlando with a 39-point, 10-rebound reissue in Wednesday's defeat of the Nets. He deferred a bit to Amar'e Stoudemire in New York's most recent win, but still generated enough scoring, creating, and defense (!) to bring home Player of the Week honors. (Anthony won alongside Zach Randolph of the West, thereby reminding us all about the importance of commas).
2. Amar'e Stoudemire. (Last week: 2) Following one of his best performances in weeks in the playoff-clincher against the Cavaliers, Amar'e nailed his post-game interview, expressing gratitude for his traded teammates, then arching those eyebrows as he looked ahead to the postseason. It served to remind us that, through all of New York's roster re-upholstering and mercurial play, Stoudemire has been the crucial constant. Sure, he's prone to overcooking his offense and under-cooking his defense on occasion, and he does love to hear himself talk. Above all else, though, our begoggled leader has stayed healthy enough to play in all but one game, [knocks on every wooden object within a two-mile radius] posted stretches of unparalleled dominance, and generally been effective when called upon. Stoudemire may have long ago ducked out of the Most Valuable Player race, but he is unquestionably the Knick MVP (and, while we're at it, the MXP). He'll need to exert himself even farther once the playoffs arrive, but for now, Amar'e deserves acknowledgment for anchoring this whirlwind of a roster on its path to the playoffs. Applaud this man.
3. Chauncey Billups. (Last week: 3) His shot selection improved only marginally this past week, but Chauncey casually reminded us of his power in a 17-point — including a trio of deep threes — first quarter against the Nets. His love of reckless transition bombs has earned him the moniker "Chancy Pull-Ups" at P&T, and it'll probably continue to bedevil the Knicks and their fans. Billups is as viable as candidate as any Knick, though, to singlehandedly shoot New York to a playoff victory. In the absence of any heroics, Chauncey's regenerating health, reemerging interest in rim-ward ventures and budding familiarity with his teammates would be just the ticket come postseason. By the way, I'm taking bets on the date on which Billups brings in his championship ring for show-and-tell.
4. Toney Douglas. (Last week: 4) There's a bit in Chris Ballard's The Art of a Beautiful Game about a drill designed by Steve Kerr's friend and coach, Chip Engelland, to help him deal with fluctuating minutes and the perils of coming off the bench cold. They'd sit on the sideline, calmly chatting about lentils or tort reform or whatever, then Engelland would suddenly hop off the bench, grab a basketball, and bark at Kerr to run to an open spot, catch, and drill a jumper. It's a brilliant exercise for the bench gunner in that the shooting form must be hastily reconstructed without any practice shots immediately prior. One is left to wonder if a drill of this nature could benefit somebody like Toney. Douglas is a 40 percent shooter (36 percent on three-pointers) off the bench, but has shot 54 percent (49 percent from downtown) in eight games as a starter, presumably when he hits the court "warm." It seemed like each of those games in which Douglas started for Chauncey Billups featured a big first quarter, including three or four buried jumpers off the dribble. It is at least plausible that Toney is the owner of a master stroke, but hasn't quite learned how to conjure it ad libitum. Barring another setback, [knocks on all nearby trees, for good measure] Billups will surely hold his starting spot, so the Knicks would love for Douglas to hone his instant offense in time for the playoffs.
5. Shelden Williams. (Last week: 7) Including Williams this early in the rankings when he was down in the double digits just two weeks ago feels a little silly. He's by no means the fifth-best player on the team, or even close to that. That said, Shelden has proved instrumental in New York's recent success. Despite a relatively diminutive (very relatively) stature, She-Will's defense and rebounding against opposing behemoths is invaluable, especially with Stoudemire's defensive indifference and Ronny Turiaf's talocrural caprice weakening the Knick interior. He struggles against big men with some range (like the Nets' Brook Lopez this past week), but don't be surprised to see Shelden wrestling with Dwight Howard or Shaquille Jermaine O'Neal in the first round. Against elite teams like the Celtics, Magic, and Bulls, a big rebound or defensive stop could make all the difference.
6. Landry Fields. (Last week: 5) We lament the sometimes indulgent shot selection of Chauncey Billups and Toney Douglas, but they're making up somewhat for the fact that the Knicks aren't getting much offensive production from the shooting guard spot. It wasn't the Landriest week for Mr. Fields, as he posted a pair of two-point outings and bollixed an uncontested dunk on Sunday. (Landry, ever the good sport, chided himself for the blunder.) This is about the point in the season at which you realize that this sensational rookie is just that: a rookie. Landry just cracked the 70-game mark for the first time in his playing career (unless you count that epic beer pong stand back in '09), so forgive him if the legs aren't quite there. And hey, how about that? The Knicks have played 76 games, and Fields is the only individual to appear in all of them. He started in all but one game for a playoff-bound NBA team. Not bad for the 39th pick. Hopefully, the weeks leading up to the playoffs allow Fields to regain some steam and continue to find his place in this revamped offense.
7. Ronny Turiaf. (Last week: 6) Ronny suited up, but did not play, in Sunday's win over the Cavs. No sense in rushing a guy who, like Shelden Williams, provides the kind of size that the Knicks will desperately need in the playoffs. Besides bulk, Turiaf brings some meaningful playoff experience to the fray, but, alas, not an actual ring. In fact, Ronny is one of several Knicks that played previously with an elite team, but arrived either too early or too late to win a championship. (Bill Simmons would call these the "Corie Blount All-Stars" or something). Even without a ring, Ronny has Finals tales and probably some Phil Jackson mantras to impart on his bros whether or not he's healthy. Above all else, though, he's big and can hit people. We all hope that ankle holds up.
8. Anthony Carter. (Last week: 9) Not unlike Toney Douglas, Anthony Carter sort of just does what Anthony Carter do. Roll him out there and he'll give you a few baskets, a few assists, a couple nice defensive plays, two arms' worth of sweet tattoos, and at least one exceedingly reckless pass. It's what he do.
9. Shawne Williams. (Last week: 8) The more Turiaf and She-Wills can bang inside, the happier Shawne will be. The success of those two means Extra E doesn't have to play (start, even) out of position at center and battle with the giants every night. He can just concentrate on running the floor, playing help defense, and, most of all, getting open for those corner threes.
10. Bill Walker. (Last week: 11) Another member of the "Corie Blount All-Stars," Walker arrived in Boston the year after they won it all. While Bill doesn't have any championship experience to share, he does have plenty of offense to offer when he's feeling saucy. After Cleveland's Samardo Samuels reportedly questioned Walker's aggression before Sunday's game, Bill crammed in two rather forceful points at Samuels's expense (note Carter's fancy feed as well). It was part of a 13-point outing that reminded us how potent Bill The Bully can be when motivated.
11. Jared Jeffries. (Last week: 10) Well, as long as Jared stays tall, he'll probably get minutes. His questionable fouling and remarkable ability to tip put-back attempts away from the rim will continue to make those minutes rather interesting.
12. Roger Mason. (Last week: 12) Yet another "Corie Blount All-Star," Mason's stint in San Antonio came a couple years after their most recent championship. At present, it remains to be seen whether he'll appear in the Knicks' championship run. Walker's return to form has shuttled Mason back to the end of the bench, and he didn't spin at all this past week.
Inactive: Andy Rautins, Renaldo Balkman, Derrick Brown