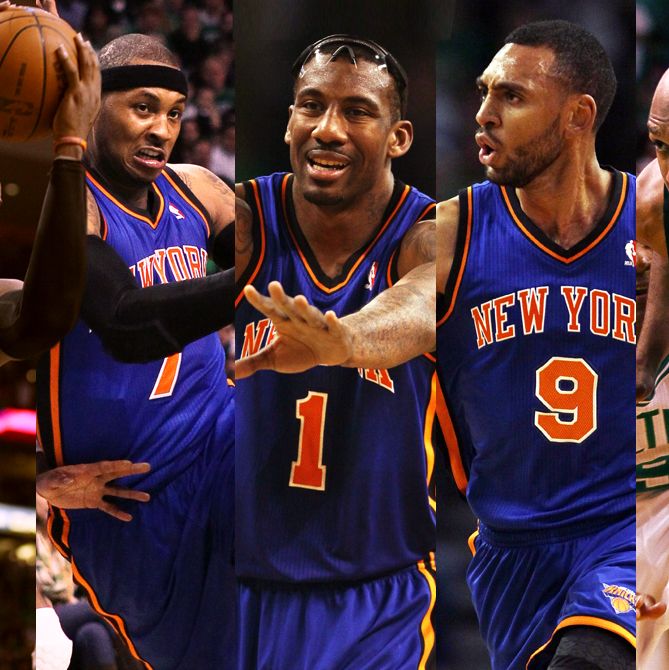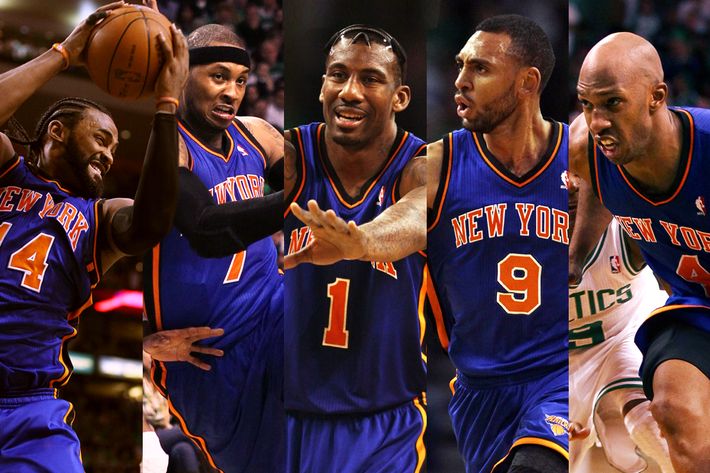 The playoffs have arrived! Mike D'Antoni's ever-changing rotation is now up for its first great test in a first-round series against the Celtics. As part of our Knicks coverage all season, taking a note from Mark Lisanti's "Mad Men Power Rankings," we've been tracking each player every Tuesday. Come with us for the Knicks Power Rankings!
1. Amar'e Stoudemire. (Last week: 2) These rankings are a weekly endeavor, but we've now crossed into the postseason, so those two indifferent losses in games 81 and 82 will be largely ignored, if that's okay. Cool? Cool. With Game 1 behind us and a clearer sense of this matchup's complexion, Stoudemire's importance is readily evident. The Celtics are working with quite a few assets that the Knicks lack, but what they don't have is a big man who can rule the offensive end. Amar'e is just that, as he showed in dazzling stretches of Sunday's loss. For all his wisdom and ruthlessness, Kevin Garnett is also hard-pressed to contain Amar'e off the dribble. Those legs don't strafe like they used to. Glen Davis and Jermaine O'Neal don't have much of a shot, either. So when good timing, good spacing, and sheer willpower intersect, you get moments like these. Amar'e did quite a bit of work off curls and off the dribble on Sunday, and it seems like setting him in motion is the best way to punish the Celtics' geriatric frontcourt.
If Stoudemire really wants to stick it to the geezers, he'll box out once in a while. Amar'e's eleven boards in Game 1 are not to be sneezed at (that would just be rude), but he's one of several that needs to prevent Boston, the league's worst offensive rebounding team, from getting mulligans off the glass.
2. Ronny Turiaf. (Last week: 7) Ronny was slated to platoon with Jared Jeffries and Shelden Williams as part of a "three-headed center," but it didn't go quite like that to open the series. While Jeffries was decent and Shelden didn't play at all (more on them later), Ronny emerged as far and away the biggest, brashest, brainiest head of the three, not to mention the one with the tightest cornrows. He managed to hold Kevin Garnett to 5–14 shooting and deter numerous inside shots (four blocks) without committing a single foul, which is incredible for such a hack-happy fellow. At the other end, Ronny set some husky screens to free himself and others up for easy baskets. Save for a number of surrendered rebounds — a teamwide problem, and a critical one at that — Turiaf's Game 1 performance was near flawless. If he can even come close to matching that output at the five spot going forward, the Knicks' chances of stealing this series from the Celtics look a lot brighter.
3. Carmelo Anthony. (Last week: 1) Even if he shakes out of his series-opening funk (which he will, dammit), Anthony's battle with Paul Pierce may end up being a wash. That in itself is something of a victory, since Pierce is a bona fide assassin. We long for more, though, and know Melo has more in him. For one, the dude's gleeful three-point heaving (you were warned) is cute when it's on target, as in Sunday's second quarter, but gets pretty aggravating when his stroke sours and he ends up 2–8 from outside. With more athleticism and a superior first step, Anthony should be able to create for teammates and get to the rim and the line more often than Pierce, but that wasn't the case in Game 1. Early foul trouble and swiping Celtic hands seemed to bug him to the point that he lingered on the perimeter far too long. On defense, Melo quietly "held" Pierce to 6–16 shooting. While that's great, it's worthy of snotty scare quotes because of Anthony's tendency to lose Pierce through Boston's endless parade of screens. Mike D'Antoni likes his guys to switch if necessary, but it seems like Melo's threshold for foisting his duties on some other Knick is a trifle low. On some particularly troublesome occasions, he got hung up without properly executing a switch (which, to be fair, is not always entirely his fault). Basically, everybody's making a fuss about Carmelo Anthony's decision-making at the end of Sunday's loss, but he struggled with simple feats of effort throughout the evening. We've seen Anthony follow a flaky performance with some refocusing and wielding of his physical gifts, and hopefully we'll see just that from this point forward. It's his best chance to outplay Pierce. Word to Faith No More.
4. Toney Douglas. (Last week: 4) Class, say hello to your new starting point guard! (Helloooo, Mr. Douglaaaaas.) With Chauncey Billups succumbing to a strained knee for at least the next game, Toney will step in to handle the ball. The bad news is that he hasn't looked sharp lately (including Game 1) running the pick-and-roll and threading entry passes. The good news is that he's been excellent in a starting role this season and most definitely feels ready to take the reins again. Though he started shakily and didn't do all that much on Sunday, his two massive three-pointers (yes, we're counting the one that would have put the Knicks up seven with two minutes left but got waved off due to a Stoudemire charge and oh God, my vision's getting blurry) suggest that Douglas is equipped to perform on this big stage. The kid's got gumption. He'll also get more opportunities to face Rajon Rondo and not Ray Allen, whose height caused Toney problems on Sunday. DWTDD in Game 2, Toney. (And as needed thereafter, while we're at it).
5. Chauncey Billups. (Last week: 3) The orthodoxy is that New York needs a healthy Billups to have any shot in this series, but his first playoff game as a Knick did little to corroborate that theory. Chauncey played 35 largely ineffective minutes, presumably on two working legs. He launched untimely, momentum-busting jumpers (those notorious "Chancy Pull-Ups"), turned the ball over thrice, and (nitpicking a bit here) allowed Rajon Rondo to slither in for nine rebounds, including three offensive boards. Whenever he returns, it'd be great for Billups to tighten up his offense a couple notches. Or just hit those reckless jumpers. Whatever. We're not picky.
6. Landry Fields. (Last week: 5) Landry put in excellent defensive work against Ray Allen on Sunday, especially in the game's first half. He's perhaps the only Knick possessing the right balance of size and fortitude to deny Allen the ball or, at the very least, get a hand in his face after he's looped around a maze of off-ball screens. What limited Landry's minutes was his meager offensive output, which amounted to pretty much zilch, save for an ill-fated flurry of attempts to bootstrap his way into the box score in the second half. Really, the Knicks don't need Fields to play too far above his head on offense. If he can spread the floor from the perimeter (he didn't shoot any threes on Sunday) and fill his lanes in transition, that should be fine. With Billups out and Douglas shifted primarily to the one spot, Fields should see more minutes and further opportunities to hound Allen and get open for some opportunistic scores.
7. Jared Jeffries. (Last week: 8) Jeffries played solid defense and led the non-Amar'e Knicks in rebounding in Game 1. His offense, though, gives the rest of the Knicks a headache. His serial inability to catch passes and finish means that the Celtics can pretty much neglect his cuts to the rim and defend ball-handlers and would-be scorers in packs. It'll take an offensive renaissance from Jared or some sort of lineup alchemy by D'Antoni for the Knicks not to run into scoring trouble when Jeffries is on the floor.
8. Bill Walker. (Last week: 11) Well, Bill certainly was ready to go when Anthony hit the bench with two fouls in the game's first two minutes. He scored all seven of his points in that first period, buoying a Knicks offense that sputtered in the early going. He went scoreless the rest of the night but did a decent job defending Pierce as a sub. That works. Some scoring, defense, and any hustle he can muster is just the ticket from Walker, though you'd typically expect it to arrive later in the action.
9. Anthony Carter. (Last week: 10) Carter shot just 1–4 on Sunday (including a vicious toilet-bowling of what would have been a crucial three-pointer) but handled the ball just fine and defended Celtics big and small off the bench. He'll see plenty more minutes with Billups out and hopefully continue to cause havoc in his own little way.
10. Shawne Williams. (Last week: 9) Shawne didn't do much in Game 1: In nine minutes, he blocked a shot, committed two fouls, and contributed one fairly important poop (that's a corner three, in case you're new here) in the third quarter. The matchups don't exactly work in Shawne's favor in this series, but his floor-spreading ability may make him useful in terms of unclogging the middle of the floor.
11. Shelden Williams. (Last week: 6) It's curious that She-Will didn't see any minutes against his former team. Unless that ankle is still bothering him, it might make sense to hand a few of Jeffries's minutes off to Shelden. He's not quite the defender that Jared is, but he can catch a pass, draw contact around the rim, and bury the occasional mid-range jumper. Also, he spent an entire season practicing against these guys.
12. Roger Mason. (Last week: 13) D'Antoni's rotation went just ten deep on Sunday. With Billups out, will Roger inherit some minutes? Probably not, but in a pinch, he'll be the next guard off the bench.
(Inactive: Derrick Brown, Andy Rautins, Renaldo Balkman.)