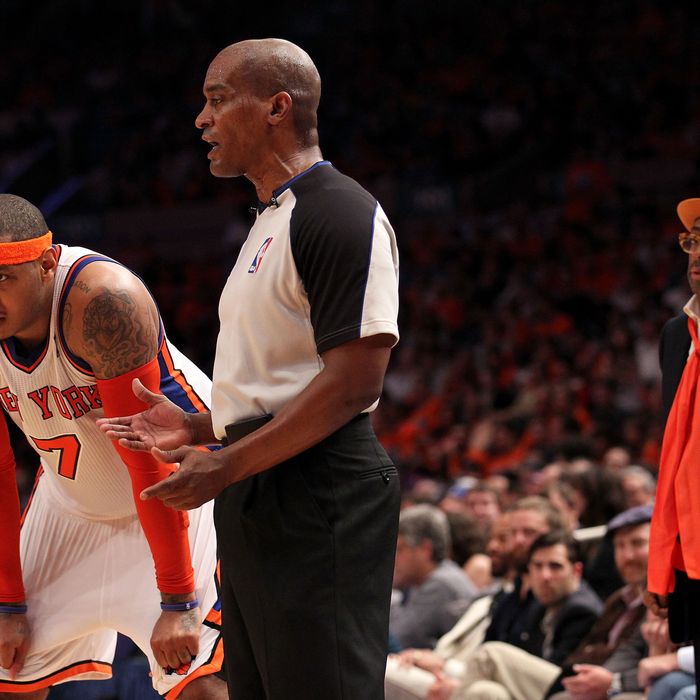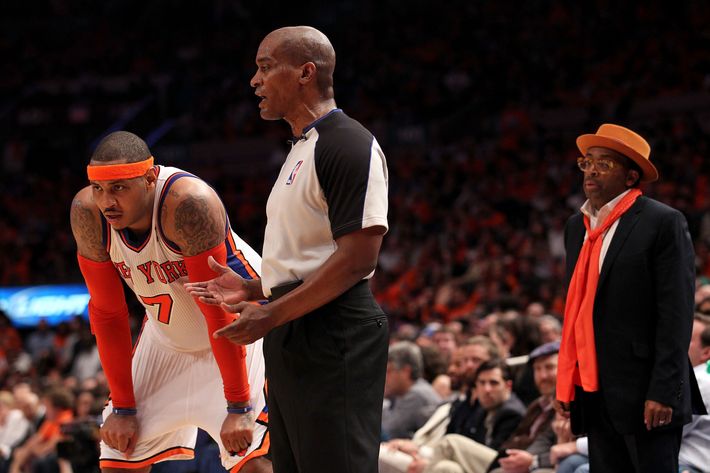 The season has now reached its end, and it's time for some final assessments of Mike D'Antoni's ever-changing rotation. As part of our Knicks coverage all season, taking a note from Mark Lisanti's "Mad Men Power Rankings," we've been tracking each player every Tuesday. Come with us for the Knicks Power Rankings!
1. Amar'e Stoudemire. (Last week: 1) Amar'e Stoudemire was THE addition of the Knicks' summer, and his name pretty much dominated the off-season chatter. As the move took place in the chatty but insubstantial month of July, Knicks fans were left to shout themselves silly all summer long, alternately trumpeting the excellence of having a living, breathing, no-doubt-about-it superstar and whimpering over the uncertainties surrounding New York's suddenly committed $100 million. Would Stoudemire be quite as effective without Steve Nash playing puppeteer? Would he reignite old feuds with Mike D'Antoni? Were his surgically repaired knees and retinas sound enough to sustain? Did the apostrophe go before or after the R? What if you wanted to use the possessive form?
Season 1 of the Amar'e Stoudemire experience provided the answers, and they were mostly satisfactory. For starters: yes, no, pretty much, after, and "Amar'e's," I guess. Amar'e was Amar'e this season. His game adapted somewhat outside Nash's orbit, but his production hardly wavered. We witnessed sweet shooting and flashes of creativity from the elbow, brash, bounding drives into the paint, and fearless thrashing of the rim and those below it, each with about the same rate of success as in previous seasons. Though he missed a few regular-season games and sat much of the Celtics series with a spastic back, those various uninsurable parts held up. Off the court, Amar'e smilingly occupied the public eye and never spoke ill of his fellows, endearing himself to diehards and drive-by fans alike.
Stoudemire didn't show us something completely different — his defense was still problematic, his rebounding still spotty — but, in a new city with new teammates, he was every bit the Amar'e the Knicks expected.
2. Carmelo Anthony. (Last week: 2) Mike D'Antoni didn't bother to get too creative in his handling of Anthony after New York's deadline deal. Without a training camp and months of game action in which he could engage with his teammates, the Knicks just tossed him the ball and asked him to do Melo things. And Melo things he did. Anthony took a whole lot of shots of widely varying quality and success, incorporating the three-pointer into his game more than ever before. Interspersed throughout were spurts of playmaking, some vigorous board work, and even occasional interest in defense. Throw in some signature moments — the game winner over the Grizzlies, the clutch jumper and block in Indiana, pretty much all of Game 2 in Boston — and you've got a pretty impressive mini-season in orange and blue. Far from perfect, but not bad for a new guy thrust hastily into the thick of things.
3. Landry Fields. (Last week: 6) Fields's majesty petered out something fierce after the trade deadline, but don't let that eclipse what was otherwise a remarkable rookie season. This 39th pick started in almost every game for a playoff team, finished among the best rebounding guards in the NBA, and hit some big, big shots in fourth quarters. He vastly outplayed his draft position and made viral gold all the while. The late-season slide raised a lot of questions about how he can be effective in a more lopsided offense, but that's for another day. Fields was among the brightest, most effective Knicks for much of the year, one of the league's best rookies, and by far the Landriest life form in our solar system.
4. Chauncey Billups. (Last week: 5) Chauncey's abbreviated season with the Knicks had its moments but wasn't nearly as convincing as Melo's. A deep thigh bruise caused by Dwight Howard's meddling knee benched Billups during what was perhaps the critical period in his development of chemistry with his teammates. After looking pretty decent in the games leading up to the injury, Chauncey struggled in his return and only gradually restored his effectiveness off the dribble. In the meantime, there were far too many needless turnovers, not to mention scores of "Chancy Pull-ups" glancing off the rim in transition. When improved shooting and better care of the ball guided New York to a win streak, we held out hope that Chauncey's cold-blooded alter-ego, Mr. Bigglesworth J. Shot, might grace us with his presence. No such luck. Billups stunk in Game 1, then strained his knee and spent the rest of the series in a fly suit. It wasn't a terrible run with the Knicks by any means. Billups looked pretty solid when healthy, and that's, as in Melo's case, with minimal time to practice and learn to read his teammates. The fact that he often resorted to reckless, impulsive (and typically fruitless) play when struggling, though, isn't the greatest testament to his resolve. We know that Chauncey, even at his relatively geriatric age, is way better than what we saw in his first half-season in New York.
5. Toney Douglas. (Last week: 4) The good news is that Douglas was one of the few Knicks to improve following the massive deadline deal. (Granted, there weren't many regular Knicks remaining after that trade). In increased minutes, he shot better, dished more assists, and turned the ball over less frequently than he did with the old Knicks. Cool. As a whole, Toney's sophomore season featured some progress, but nothing to suggest that he has the potential for a greater role. He's a decent shooter, but painfully streaky. He can distribute the ball, but rarely with the timing and precision to earn that "point guard" label. He's a defender, but more of the shifty, gambling variety than of lockdown caliber. There's always potential to improve, but for the time being, Douglas has established himself as a talented and likable, albeit inconsistent, sixth man. You can't always predict what Toney Douglas do.
6. Ronny Turiaf. (Last week: 2) When healthy and effective, Turiaf was every bit as important as Stoudemire or Anthony. He was the lone Knicks big man to demonstrate an ability to defend the interior, rebound a bit, and avoid catastrophe with the ball in his hands. Ronny's simultaneous abilities to pass, roll, and finish on one end and thwart would-be scorers on the other made him the ideal complement to Amar'e Stoudemire. Unfortunately, his legs weren't exactly on board. Due to various ills, mostly in his ankles, the furriest Knick played in just 64 games and never really cemented an everyday starting spot. It's a shame, because there were points at which, if you squinted a little, the Knicks looked like a decent defensive unit with Turiaf on the floor.
7. Shawne Williams. (Last week: 10) Here's another guy who, even though his production tapered, must be celebrated for completely obliterating expectations heading into this season. Extra E was a DNP-CD for a full month after being the last guy to make the cut out of training camp. Given a few minutes to prove his worth, Shawne found a niche in the corner and quickly got to draining jumpers ("pooping," to those of you in the know) from that spot. He did so at a preposterous 63 percent in his first full month in the rotation. While that percentage plummeted toward the mean as the year progressed, Williams was able to offer enough on the defensive end (help D, blocks, angry faces) to merit regular minutes and become an important bench cog. That's really something for a bro who barely made the team and was fending off narcs just a year and a half ago. Well done, Shawne!
8. Anthony Carter. (Last week: 9) Carter was unquestionably a throw-in meant to balance salaries and roster spots in the Melo deal, but he ended up becoming a fan favorite and one of the reasons the Knicks even got close to taking a game or two from the Celtics. The squat little journeyman quickly established himself as sort of a mini-Turiaf: a fearless two-way guy who'd unblinkingly harass a ball-handler of any size and create for himself when defenders dared neglect him. That gritty, almost bumptious, demeanor, hewed on the playgrounds of Atlanta, endeared Anthony to Knicks fans, most recently in Game 4 of the Celtics series, when he almost single-handedly willed New York to a comeback. Not bad for a throw-in.
9. Bill Walker. (Last week: 8) Bill, like several others, was never quite a fixture in the rotation. He got 61 games in, though, and occasionally electrified with his ability to score from every square inch of the court if he felt like it. The "if he felt like it" is crucial, because Bill didn't always seem fully motivated to do anything but heave three-pointers and wear cool headbands. Walker is one of those guys who might thrive as a starter on an expansion team or something, but he can't always be relied upon in limited minutes.
10. Jared Jeffries. (Last week: 7) Though usually a helpful defender, the Knicks haven't employed an individual this incompetent on offense since, well, the last time they had Jared Jeffries. The dropped passes, bungled finishes, and inexplicable preference for his left hand made Jeffries something of an enemy to those that failed to grasp his defensive presence and, hell, even the advanced stat bros couldn't quite explain away his calamitous relationship with the ball. Jared had an opportunity to wipe the record clean with time winding down in Game 2 — and let's not forget the put-back he converted before that fateful play — but passed on an open layup, turned directly into Kevin Garnett and … well, I don't want to upset any stomachs. You know the deal. That might have changed the series, but Jared Jeffries' Jared Jeffriesness got in the way, as it did several times after he was reacquired.
11. Shelden Williams. (Last week: 11) It seemed like She-Will had a pretty decent thing going as the Knicks approached the postseason, didn't it? He put in some decent defensive work, rebounded a bit, and even whipped out a funky mid-range jumper on occasion. For whatever reason (possibly something to do with his last-minute ankle injury), Shelden didn't make it into a playoff game. Such is life.
12. Roger Mason. (Last week: 12) It was an odd year for a guy who, let's not forget, was pursued and signed as a free agent over the summer. Roger got minutes early, couldn't perform the one task he was on the court to perform (shooting), and spent months riding the bench thereafter. He returned to the rotation after the trade and made some big shots here and there but never did anything that demanded he play more minutes. Credit Roger with staying prepared and rarely complaining, but this ended up being a pretty rough, albeit low-risk, signing.
13. Andy Rautins. (Inactive) The Knicks' other draft selection, who actually went one pick before Landry Fields (file that away for future trivia purposes), didn't come close to matching his cohort's expectation-blasting. He did what most second-round picks do, if they're lucky: make the roster, practice a lot, play a few minutes of garbage time, tweet, and lip sync. We've seen nothing so far to indicate that Andy has a future as a serviceable NBA player, but we haven't seen anything too damning either. The Knicks are pretty shallow, so any signs of usefulness might be rewarded next season.
14. Derrick Brown. (Inactive) A victim of the times, Derrick never really got a fair shake in New York. He had some spare moments in which to show off his anti-lopine leaping ability but arrived too late and at too crucial a juncture to have a chance to make an impact. It's a shame, because Derrick really can jump high, and his facial hair is rather neat.
15. Renaldo Balkman. (Inactive) Last in the rotation, first in our hearts. I like to imagine that, despite hardly seeing the court in his return to the Knicks, Humpty still enjoyed himself as much as anybody. He certainly dressed well.