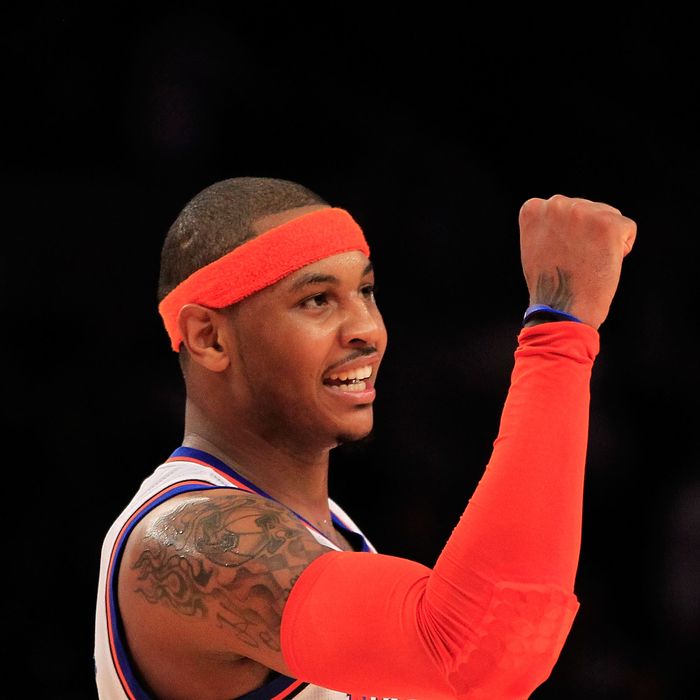 Photo: Chris Trotman/2011 Getty Images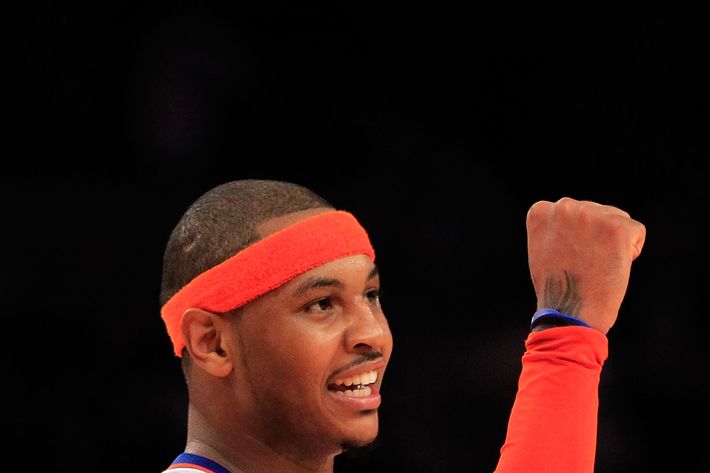 Mike D'Antoni's ever-changing rotation is starting to solidify as a playoff match-up with the Celtics. As part of our Knicks coverage all season, taking a note from Mark Lisanti's "Mad Men Power Rankings," we've been tracking each player every Tuesday. Come with us for the Knicks Power Rankings!
1. Carmelo Anthony. (Last week: 1) Another week, another Player of that Week award for Carmelo Anthony. Ho-hum. Averaging almost a double-double (28.3 points and 9.5 rebounds per contest) and making three massive plays in four wins will do that for you. [Yawns, checks watch]. Seriously, though, a hearty "congratulations" and "keep it up, guy" to Melo.
Meanwhile, the Knicks' first round series with the Celtics begins this weekend, and the men in the green trunks better be ready to adapt to a different, more outdoorsy Anthony. Melo's been pulling from outside way more in April (7.6 three-point attempts per game) than in any other month this season (4.0 attempts in March, no more than 3.1 per game in any Nugget-month). It's worked pretty well for him, too. Anthony's automatic firing has coincided with an uptick in marksmanship so far, as he's connected on 47 percent of his threes in five games this month. Small sample size, sure, but given the downtown practice Melo's been putting in, expect the taking to hold, and hopefully the making, too.
2. Amar'e Stoudemire. (Last week: 2) Last week's rankings celebrated Stoudemire's near-perfect attendance, then he went right ahead and missed two games with a twisted ankle this week. The way he talked about it, though, made it seem like the ankle wouldn't have been enough to hinder him had the games been more important. What remains to be seen is how important the Knicks and D'Antoni and Amar'e and Amar'e's ankle feel the final two games are. New York's first round fate is sealed, but will a recovered Stoudemire get the chance to spin anyway? Play him and you worry about a tweak becoming tweakier; bench him and rust might accumulate.
3. Chauncey Billups. (Last week: 3) Everybody stop hitting Chauncey! Just when he was beginning to roll following a thigh contusion, Elton Brand dealt Billups a mirror blow to the other quadricep. Luckily, Brand's knee wasn't quite as destructive as Dwight Howard's a few weeks prior. Nor was Roy Hibbert's elbow, which bloodied Chauncey's nose on Sunday night in Indiana. Though no major damage was sustained, I demand that Billups either sit the remaining regular season games or be equipped with a suit of armor. It's only fair. Oh, and let it be known that my prediction that Chauncey would bring his championship ring in for show-and-tell was proven fallacious. He's still got plenty of wisdom to impart for next week.
4. Toney Douglas. (Last week: 4) Billups did a pretty splendid job guarding the speedy Darren Collison on Sunday, but one can assume that Douglas will take plenty of possessions on Rajon Rondo starting this weekend. Success on that front will require that Toney determine the correct amount of space to work with, exercise discipline in the face of rampant ball fakes, and weather one shoulder-blasting screen after another as he chases that lil' polliwog in circles. If he's up for it, we wouldn't mind some magic on the other end, either. On Tuesday against the Raptors, Douglas delivered one of his signature offensive surges, hitting six of nine three-pointers and unleashing some wonderful assists off of screens and in transition. The Celtics won't be nearly as inviting as the Toronto defense was, but don't discount Toney's ability to take over a game when he's at one with the hoop. That alone could steal New York a playoff win. Douglas looked pretty clutch on Wednesday as well, draining some big, big shots to evade a Sixer comeback in Philadelphia. He's more than welcome to bring that act with him to Boston.
5. Landry Fields. (Last week: 6) It looked momentarily like Fields would have his hands full with Dwyane Wade in the first round, but it shan't be so. Instead, he'll be tailing Ray Allen, which is something he's done with intermittent success already this season. Mike D'Antoni has also sicked Fields on Rondo at times, though most of those moments came during the tenure of Raymond Felton. There's no doubting that Landry will bust his ass to make life difficult for whomever he guards (one can only hope New York's help defense follows suit), but it's unclear what the rookie will have to offer in terms of offense. He's struggled to hit outside shots of late and has fallen victim to more than his fair share of unfriendly bounces off the dribble. It's not a big deal, but if Fields can regain even the slightest touch for the Boston series, it'll spread the floor and make life easier for everybody else.
6. Shelden Williams. (Last week: 5) New York's center position is pretty much a platoon of Williams, Ronny Turiaf and Jared Jeffries. Shelden's minutes have declined somewhat over the last week, but you've got to assume that his full year playing under Doc Rivers and guarding Kevin Garnett, et al. in practice makes him the most crucial head of the triumvirate. Shelden's mid-range jumper, which has been pretty effective in limited recent attempts, is another asset that sets him apart from the other "centers."
7. Ronny Turiaf. (Last week: 7) Ronny brings his playoff experience and fearlessness to the frontcourt, not to mention the fuzziest beard and biggest body of any Knick. Turiaf is the big man most likely to guard Shaquille O'Neal, (how's that for a yearbook superlative?) should he return to the court without mishap.
8. Jared Jeffries. (Last week: 11) The third, slenderest head of the triumvirate has actually been getting the most minutes as of late. He even hit a three in front of his parents in Indiana the other night. How any of this translates to the playoffs is anyone's guess. In terms of body type, Jared seems the most equipped to defend Kevin Garnett, but his usefulness as a human bayonet shouldn't be overlooked either.
9. Shawne Williams. (Last week: 9) Shawne was unusually potent off the dribble and quiet from downtown this past week, save for a big first quarter against the Sixers. Against the Celtics, though, you hope he returns from those beloved corners of his. Every great playoff team has a guy who defends and hits corner threes, right?
10. Anthony Carter. (Last week: 8) Anthony's hit a big postseason shot at the Knicks' expense before. Hoop law dictates that he must repay us with a big shot for New York, right?
11. Bill Walker. (Last week: 10) D'Antoni's rotation count is expected to drop into the single-digits in the playoffs, but it's hard to imagine Walker being left out, particularly given his love of demolishing his former team. Perhaps this is fantasy, but the last three guys — Extra E, Carter, and Walker — just seem like the type of characters to exert unexpected influence on a playoff series. I expect at least one of them to make waves.
12. Derrick Brown. (Last week: Inactive) It's doubtful that the man some call "UPS" ("Brown," "ups". It's a doozy.) will spin in the postseason, but if Shaq consumes the entire Knick front line or something, the last week showed that New York does have another semi-useful body on the bench in case of emergency. If for some reason he does take to the court, everybody better watch their heads.
13. Roger Mason. (Last week: 12) Even with plenty of garbage time this past week, Roger hardly saw the floor. It's a shame that such a likable bro hasn't been able to make more of an impact, but we can at least be certain that Mason's making the best of his spare time. This excellent interview with ESPN's Jared Zwerling uncovers Roger's deep involvement in the music industry. Mason has had trouble tickling the twine this season, but at least he's been able to tickle…the…ivories. I'll stop.
(Inactive: Andy Rautins, Renaldo Balkman)