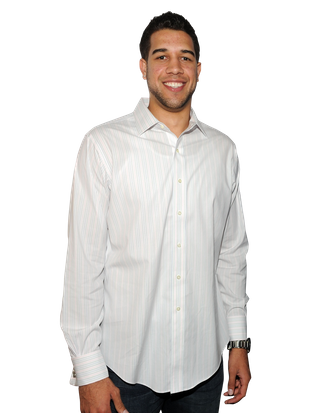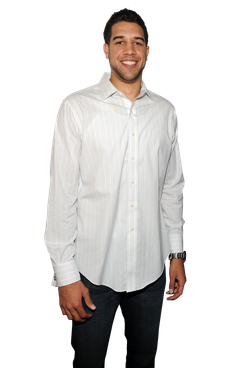 In this season of upheaval and chaos, only one Knick played in every game this year: rookie Landry Fields. Drafted in the second round and widely mocked by draftniks — "drafting Fields is puzzling," wrote ESPN's Chad Ford — Fields made his mark immediately, impressing coaches in summer league and, helped in part by injuries and a lack of options at the position, grabbing the starting spot in training camp. ("I never expected this," says team president Donnie Walsh, who drafted him. "It's amazing, it looks so easy to him sometimes.") He has hit that rookie wall in recent weeks, but he'll still be starting and vital for the Knicks against the Celtics. We sat down with Fields, who discussed his first trip to New York, the madness of playing for the Knicks, and, of course, what it's like having Spike Lee as such a huge fan.
First question: Are you here because of Isiah Thomas? I assume we have him to thank for you.
I've never met Isiah Thomas. I never understand any of that stuff people are talking about.
Did you have any idea what it would be like coming to the Knicks, from Stanford, as a second-round pick? What kind of madness this place can bring sometimes?
I actually had never been to New York City until after I was drafted. I came out here one time when we played Yale, but never actually to the city. So when I got out here that was the first time. I grew up in L.A., so to go to another city that's got the population that it does, the kind of people, it was something exciting to me.
You live in White Plains. Do you go out in the city often?
Not so much. It's my first year: There will be plenty of time for that later. I definitely think it's a lot better for me to be [in White Plains]. I'm kind of just a simple, simple guy. I have to think of myself. It doesn't take much to please me. So I don't need to be out in the city, doing so-and-so and so-and-so with me. I'm cool just hanging out with Andy [Rautins], talking and shooting the you-know-what. I mean, to me, that's fun in itself. I mean, I don't know about other people. I enjoy stuff like just hanging with Andy because then it keeps people on the inner circle with me; that way I don't have to broaden it so much and meet a ton of people and deal. But my financial adviser is in the city, so we'll go in there, me and my best friend on the team, Andy Rautins, just have a dinner with him, show up at his spot. His wife cooks for us.
The videos you guys do are very fun.
They're even more fun to make than watch.
What was it like the first time you realized Spike Lee was wearing your jersey?
Initially, I was just like, "Really, me?" Our equipment manager told me, "Spike was calling for your jersey." All I could say was, "Why? You realize Amar'e Stoudemire is on this team, right?" I'd only met him in layup lines, shaking hands.
What kind of jersey is he wearing? It's not an actual jersey, right?
He has an actual one that I actually played in. But he also has some throwback ones that I don't know where he got. Those things are weird sometimes. And the hats. Man, those hats.
Tom Brady cried because he wasn't picked until the sixth round. How did you handle being picked in the second round?
I didn't feel any kind of disrespect. What helped me out was not seeing my name on any draft boards, or hearing anybody saying I'll get drafted, because that made me work harder to try and get where I'm at. It was strange, because people were down on me because the Pac-10 had a bad year, whatever that means. I think people just don't watch the Pac-10. They're too busy watching Syracuse games, I guess. They're on every night here.
How did you learn you were going to be a starter?
That was a big surprise. Coach called me into his office, and he said, "Usually at this time, when I do this, call someone into my office, I'm cutting them. With you it's the complete opposite. You'll be starting tomorrow.'" I just wanted to make the team. I still kind of don't believe it.
Everyone else has been surprised by your success. Have you been?
I knew I could play, definitely, so that part isn't surprising to me, but getting to the position where I'm at was a surprise, in terms of starting and how many minutes I'm getting. I thought there'd be more people in my way. I really did.