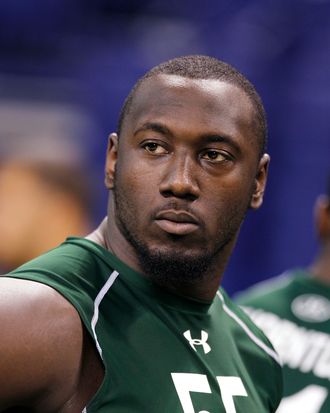 Photo: Joe Robbins/2011 Joe Robbins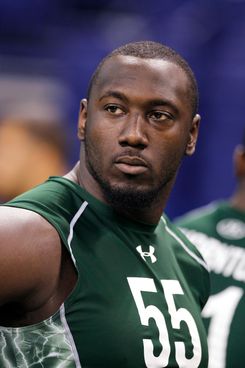 Leave it to Rex Ryan to make a cocky prediction, if a little indirectly, on the occasion of NFL Draft. The Jets — thanks to their appearance in the AFC title game last year — didn't pick until 30th last night, meaning they had to wait more than three hours to make their first-round selection. Said Ryan, smiling at reporters: "You'll be waiting longer next year." Oh, Rex. In any case, with that 30th pick, the Jets selected six-foot-four, 305-pound Muhammad Wilkerson, an All-American defensive tackle out of Temple who recorded 70 tackles and 9.5 sacks during his junior year last season.
Wilkerson's a Jersey native — Linden, to be exact — though he said last night that he didn't grow up a Jets fan. He became the third first-round pick in Temple history, though Ryan doesn't seem concerned that Wilkerson excelled against a lower level of competition in college. (As ESPN points out, five of his sixteen sacks over the last two years came against Kent State.) Said Ryan: "He went up against Penn State. You watch that game and you have no concerns."
Jets fans inside Radio City Music Hall chanted "We want Bowers" last night, signaling their preference for the Jets to draft the Clemson defensive end with the surgically repaired left knee. (He slipped out of the first round entirely.) And Jets, truth be told, probably would have liked to have taken Baylor nose tackle Phil Taylor, but Cleveland traded down and took him at No. 21. But Wilkerson could be a perfect fit for the Jets'$2 3–4 defense — Ryan said he doesn't see him as a nose tackle but think he fits at defensive end — one that could afford to improve its pass rush next season.
Jets select Temple DL Wilkerson at No. 30 [AP via WSJ]
New York Jets Take Temple Defensive Tackle Wilkerson With NFL's 30th Pick [Bloomberg]
NFL Draft: A look at Jets first-round pick Muhammad Wilkerson [Star-Ledger]
Jets draft confidential: Day 2 [ESPN New York]
Jets draft Muhammad Wilkerson, hope to bolster pass rush [Record]
Jets go safe route with Wilkerson [ESPN New York]
Giants' Pick Is Surprise; Jets Get What They Were Looking For [NYT]