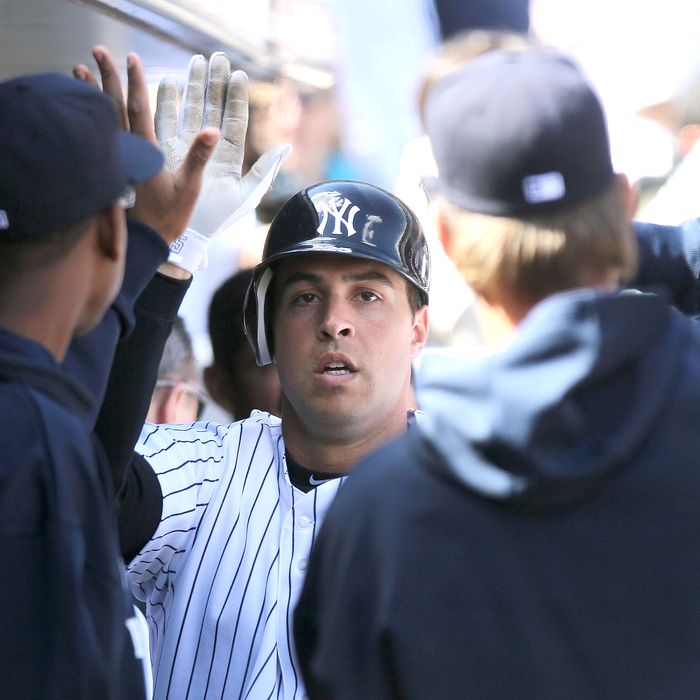 Photo: Nick Laham/2011 Getty Images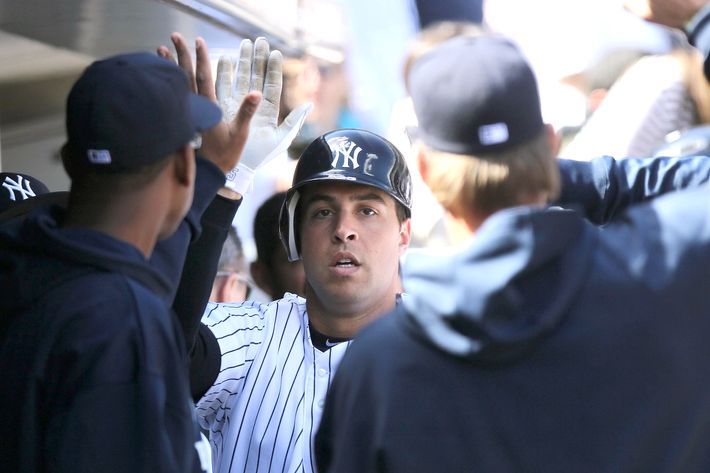 The first weekend of baseball is in the books — both the Mets and Yankees won twice to take their respective series — so what have we learned after three games? These nine things, for starters.
1. Someone at SNY has a sense of humor. As the Marlins celebrated their opening-day win over the Mets, someone inserted a snippet of audio from the TV show Family Guy into the game broadcast. Here's the original scene:
Only the "Opening Day and here's the first pitch" part aired on the Mets' broadcast. An SNY spokesperson tells the Times the employee responsible is being dealt with internally.
2. John Sterling was prepared for Russell Martin's first home run. The Yankees catcher only hit five home runs for Los Angeles last year, so you could have forgiven John Sterling if he hadn't readied his personalized home-run call for the opening weekend of the season. But Martin did indeed go yard, and the Voice of the Yankees was prepared. Martin's catchphrase: "Russell has muscle." We like it! Though as our favorite John Sterling website pointed out, such preparation should come as no surprise; this is, after all, a contract year for Sterling.
3. Someone told Mark Teixeira that the baseball season doesn't start in May. Last year, Teixeira hit two home runs in 81 April at-bats. (He hit .136 for the month.) This year, he's already hit three home runs — one in each of his first three games (the first of which technically took place in March).
4. R.A. Dickey picked up right where he left off. In his first start following his impressive 2010 season, Dickey allowed one run in six innings, striking out seven and picking up the win in a 9–2 Mets rout yesterday. Incidentally, Javier Vazquez, who opposed Dickey for Florida, picked up right where he left off, as well, allowing seven runs (six earned) in two-and-a-third innings of work.
5. Brian Cashman thinks the Mets "abused" Pedro Feliciano. Of course, with a thin market for lefties, Cashman signed him anyway, but he wants it to be known, nonetheless. Mets pitching coach Dan Warthen's response: Feliciano always said "yes" when he was asked if he wanted to pitch, adding, "That was part of the reason we decided to not re-sign [Feliciano] — because we knew we had used him 270-some times in the last three years."
6. Someone in the commissioner's office follows Keith Olbermann on Twitter. After Olbermann posted a photo of Yankees' coaching assistant Brett Weber giving hand signals to players from the stands, senior vice-president of standards and on-field operations Joe Garagiola called assistant GM Jean Afterman to remind her that it's illegal to use hand signals to indicate pitch speeds or pitch types. (Weber was apparently indicating pitch speeds to players who wanted them; Cashman added that during the first inning Thursday, the pitch speed on the scoreboard read 912 miles per hour.) Our question: Why exactly is this illegal?
7. The Red Sox will not go 162–0, nor will they go 160–2. Not to put too much stock into the first weekend of the season — particularly when their opponent was the defending A.L. champion — but when the team picked by 45 of 45 ESPN experts to win their division gets swept in their first series, well, that's just good fun.
8. The Post was maybe a little harsh to the Mets. From the front and back page headlines of Saturday's paper — announcing the Mets' opening-night loss — you'd have thought Terry Collins's club had lost its first fifteen games, as opposed to losing, you know, one game. There's a happy ending to the weekend, of course: The Mets, like the Yankees, won their opening series.
9. Phil Hughes isn't throwing hard enough. Joel Sherman reports today that Phil Hughes, who allowed five runs in four innings of work yesterday, has been struggling with his velocity for weeks now, and that Hughes and pitching coach Larry Rothschild aren't really sure why. Having said that, Was Watching points out that we've been talking about Hughes's velocity, "on and off, since 2007." For what it's worth, his fastball was registering between 87 and 89 miles an hour — no word on whether this was the same gun indicating 912 mile an hour pitches earlier in the series — and, according to Sherman, Hughes admitted he doesn't locate his pitches well enough to excel at that speed.