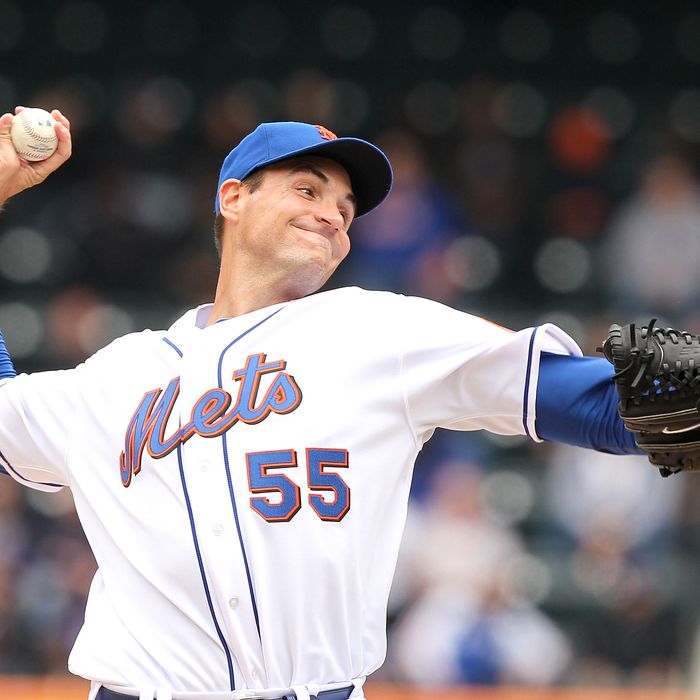 Photo: Al Bello/2010 Getty Images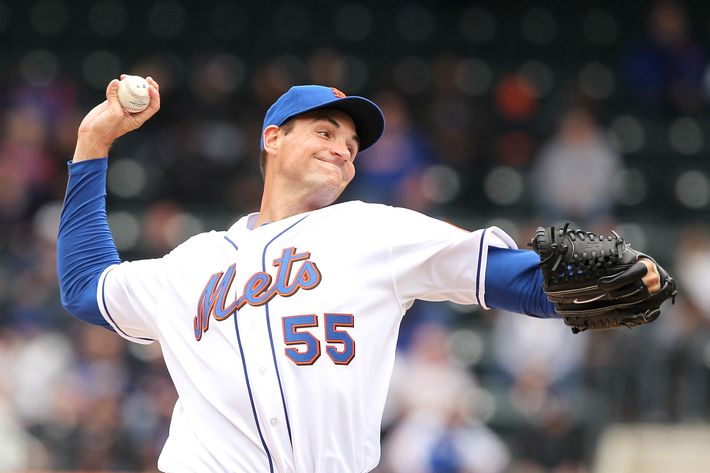 Another weekend of baseball is in the books — both the Yankees and Mets lost sets to division rivals — so what did we learn as the season's third series came to an end? These nine things, for starters.
1. Chris Young is proving to be quite the bargain. Young, who makes a $1.1 million base salary (with the potential for incentives) is off to a terrific start: After helping himself in a win over Philadelphia in his first start, he tossed seven innings of one-hit ball yesterday. He was, however, 0–3 at the plate, dropping his batting average on the season all the way down to .500.
2. The Mets' bullpen, though, has room for improvement. Young didn't get the win in that game, however: D.J. Carrasco couldn't protect the Mets'$2 3–1 lead in the eighth, and Blaine Boyer's outing was such a disaster — the Nationals scored four times off him in the eleventh inning — that the Mets designated him for assignment. Some ugly numbers, via MetsBlog's SNY screencap: In the last three games, the Mets' bullpen has thrown eleven innings and allowed ten hits, eleven walks, and nine earned runs.
3. Joe Girardi really doesn't trust his backup catcher. How heavily will Joe Girardi lean on Russell Martin while his intended backup, Francisco Cervelli, is on the disabled list? Through nine games, Martin has caught every single inning, and his current backup, Gustavo Molina — no relation to the Molina family of catchers — has yet to enter a game. Then again, perhaps this item should be called "Joe Girardi clearly has no intention of letting Jorge Posada catch if he absolutely doesn't have to."
4. The Yankees would really like Pedro Feliciano to get healthy. Boone Logan, the only lefty in the bullpen right now, and someone who's had problems retiring lefties all season, struggled on Friday afternoon (though pitched better yesterday). And while there's no telling how Girardi would have used his bullpen in the eighth inning last night, lefty David Ortiz added an insurance run with a double off Freddy Garcia.
5. The Yankees will keeping throwing pitchers against the wall, hoping one sticks. The newest member of the Yankee organization: Carlos Silva, who'd been cut by the Cubs after refusing a minor-league assignment with that organization. He's on a minor-league contract with the Yankees now, and if he makes the majors, the Yankees will pay him only the league minimum. (The Cubs will pay the rest of his $11.5 million salary.) His numbers from last season: 10–6 with a 4.22 ERA in 21 starts.
6. Tim Byrdak didn't get rickrolled. Back in 2008, the Mets asked fans to pick the team's new eighth-inning song, and, the Internet being what it is (or, more accurately, what it was in 2008), Rick Astley's "Never Gonna Give You Up" ended up with the most votes. So luckily for reliever Byrdak, whose entrance music was decided by readers of Mike Silva's NY Baseball Digest, that meme has died down, and he'll be entering games to the sufficiently badass sounds of "Thunderstruck" by AC/DC.
7. When Wally Backman gets mad, he gets really, really mad. The producers of Playing for Peanuts, a documentary TV series about the 2007 South Georgia Peanuts — a team managed by Backman — posted this unused footage of a miked Backman arguing with an umpire to YouTube this weekend. (Backman, who was in the running for the Mets job during the off-season, now manages the organization's AA affiliate in Binghamton.) As you can imagine, the clip is very much NSFW.
8. Jason Isringhausen is officially a Met, once again. Isringhausen last pitched for the Mets on September 23, 1997 — and hasn't pitched in the majors for anyone since 2009. But after starting the season in AAA Buffalo, Isringhausen has been promoted to the big-league club, along with Ryota Igarashi. Amazin Avenue explains that the Mets will carry eleven pitchers until Jason Bay returns from the disabled list, at which point they'll have to make a roster decision.
9. It's possible to hear an interesting anecdote on Sunday Night Baseball. When the interference call on Kevin Youkilis wiped out a Boston run last night — a run they'd get right back — the commentators in the booth were asked whether they'd ever seen anything like it. Orel Hershiser had: His record 59-inning scoreless stayed intact because of a similar call, he said. Perhaps our expectations for Sunday Night Baseball anecdotes had been lowered over the years, but that's actually pretty interesting.