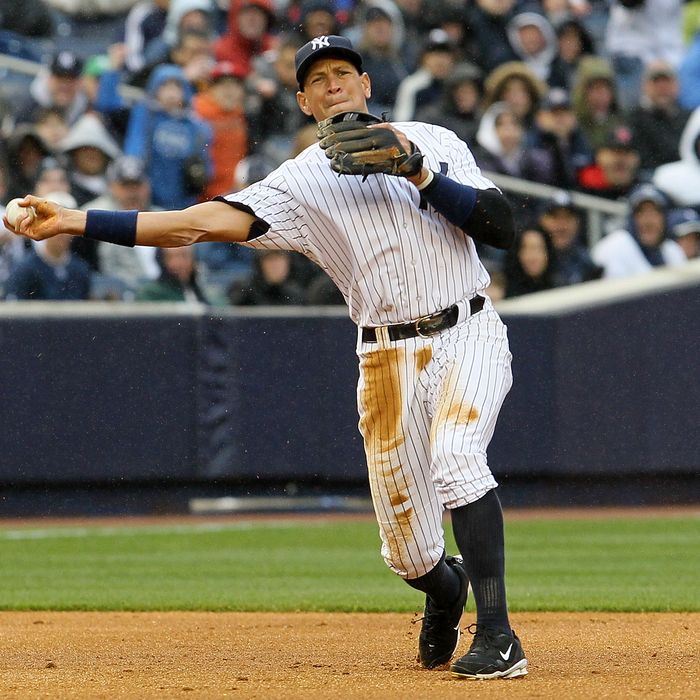 Photo: Jim McIsaac/2011 Jim McIsaac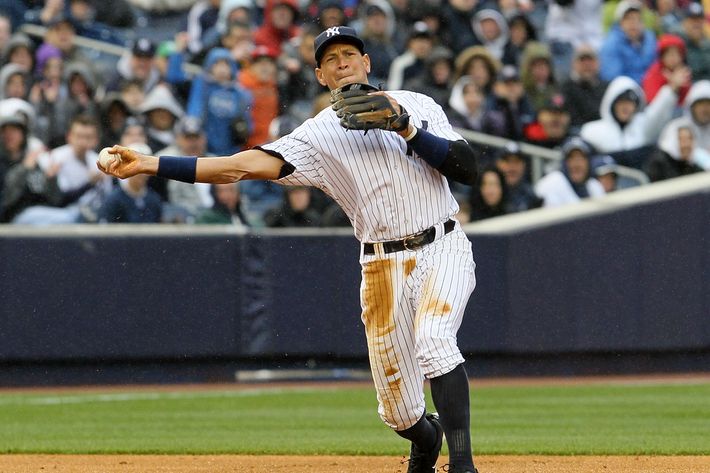 Another weekend of baseball is in the books — the Yankees took two of three from Texas, while the Mets dropped two of three in Atlanta — so what did we learn on the season's third weekend? These nine things, for starters.
1. Anthony McCarron totally jinxed A-Rod. Here's McCarron, sitting in with John Sterling and Suzyn Waldman in the fifth inning on Saturday, after Sterling noted that Alex Rodriguez had made a nice fielding play earlier in the game that he couldn't have made last season: "One of the words I used to describe Alex the other day was 'springy.' He looks like he's bouncing around like a much younger man. Certainly over the last couple of years, because of the hip, he's looked a little stiffer than usual, and I think we're seeing a guy who's in really good shape, obviously, and I think he's finally over that, and it could be a big year for him." Then, two innings later, A-Rod left the game with lower-back and oblique stiffness. (He hopes to be back in the lineup tomorrow.) If it's anything more serious than that, though, this one's on you, McCarron.
2. Speaking of A-Rod, even his backup is getting big hits right now. Eric Chavez's RBI single in the bottom of the eighth last night put the Yankees on top, 6–5, and the subsequent Mariano Rivera 1-2-3 ninth sealed the victory in the rubber game of the weekend set against Texas. CC Sabathia, by the way, left the game with the lead but is still searching for his first victory of the season (despite an ERA of 2.52), after Joba Chamberlain allowed the tying run to score in the seventh.
3. Terry Collins really, really wanted to win yesterday. The Mets had dropped seven straight heading into yesterday's game against Atlanta, and the manager treated said game as much like an all-hands-on-deck playoff game as you can in April: He used starters Chris Capuano and R.A. Dickey in relief of Dillon Gee — they were both scheduled to throw yesterday anyway — and the Mets pulled out a 3–2 win to salvage the last game of the series.
4. David Wright knows how to win a fan for life. Here's video, via Adam Rubin's Twitter, of the Mets third baseman playing catch with some young Braves fans prior to yesterday's game in Atlanta. Pretty cool, huh?
5. Joe Girardi is indeed aware that Gustavo Molina is on the team. The Yankees' backup catcher saw his first action of the season on Saturday in the Yankees thirteenth game of the year. Molina finally got a start over Russell Martin and caught Freddy Garcia (who threw six shutout innings) plus three relievers in the Yanks'$2 5–2 win.
6. Speaking of catchers in the Yankees organization, Jesus Montero is off to a hot start. His stats through eight games: a .421 batting average, a home run, three doubles, and two lines shaved into his head out of boredom.
7. The Mets weren't happy about Saturday's doubleheader even before they lost both games. The Mets had just played a doubleheader on Thursday when rain wiped out Friday's contest and meant they'd have to play yet another twin bill on Saturday. Unsurprisingly, the Mets weren't pleased and told the commissioners' office as much, filing a complaint about the Braves decision to reschedule the postponed game for Saturday. (The games themselves didn't turn out to their liking, either: For the second time in three days, they lost both ends of the doubleheader.)
8. Chris Young proves the Mets can't catch a break. Here's something the Mets' rotation could have done without: Young, who allowed just two runs over twelve and a third innings in his first two starts, has landed on the disabled list with biceps tendinitis. The move is retroactive to last Monday, and he's expected to resume throwing tomorrow.
9. Boston, unfortunately, appears to be righting their ship. The Red Sox won back-to-back games for the first time all season on Saturday and Sunday, and they just finished off a 9–1 Patriots' Day thrashing of Toronto, in which Daisuke Matsuzaka — last seen allowing seven runs in two innings to Tampa Bay on April 11 — tossed seven innings of one-hit shutout ball.