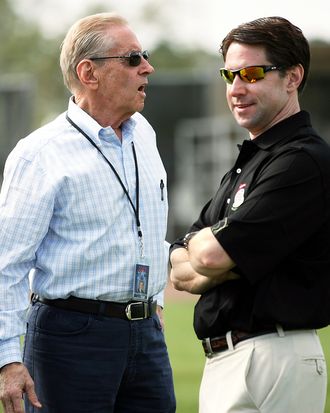 Photo: Marc Serota/2011 Getty Images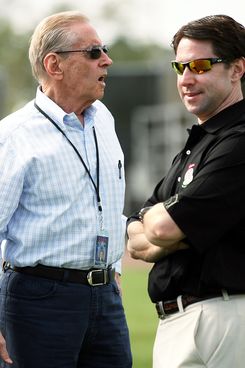 Another weekend of baseball is in the books — the Mets swept their series with Arizona, while the Yankees swept theirs with Baltimore — so what did we learn over the past couple of days? These nine things, for starters.
1. Jeff Wilpon ordered a hit on a toolbox. Prior to the Mets' current four-game winning streak, Jeff Wilpon, the organization's COO, set about changing the team's luck. Via the Times: "Wilpon issued a simple decree: Get rid of Stanley.'" Stanley is a toolbox in which the Mets kept items needed in the bullpen, like medical supplies and fingernail clippers. Or should we say, Stanley was a toolbox: Warthen asked each player to donate an article of clothing or piece of equipment to place inside Stanley, and then they ceremonially beat the bejesus out of the thing with baseball bats. The Mets will use a pink backpack to carry these items now, while Stanley rests in pieces in inanimate object heaven, alongside the fax machine from Office Space.
2. John Sterling went easy on the shtick Saturday. When Buddy Carlyle closed out CC Sabathia's first win of the season on Saturday night — a 15–3 rout of Baltimore — the Yankees announcer skipped his usual "Ballgame over/Yankees win/Thuuuuuh Yankees win" call in favor of the simpler, less intense "Ballgame over/Yankees win." He didn't eliminate his shtick altogether, though, since this was also a game in which the Yankees hit five home runs, allowing him to break out his "Back to back, and-a-belly-to-belly" call, as well as his personalized one for Russell Martin, which now, naturally, includes a few words in French.
3. Speaking of those home runs on Saturday, Joe Girardi really enjoyed the meaningless one in the ninth. With the Yankees up by ten runs in the ninth, Orioles pitcher Josh Rupe threw high and tight to Russell Martin — who'd hit two homers on the night — nailing him between the fives on his uniform. Cameras caught Mark Teixeira yelling at Rupe from the bench, but it was Brett Gardner, the next batter, who made the loudest statement, hitting his first home run of the season (and ninth of his career), which prompted Joe Girardi to pump his fist as if the Yankees had just rallied to tie a playoff game. Said Girardi afterward, of Gardner's home run: "It was beautiful."
4. Freddy Garcia still has not allowed a run as a Yankees starting pitcher. One of the winners of the preseason Rotation Derby is proving that he is indeed deserving of a starting job, so far: Garcia threw six more shutout innings yesterday, and in two starts now, he's thrown twelve innings, allowing no runs and just four hits. (His one earned run — the one responsible for his 0.69 ERA, came during a relief appearance in Boston on April 10.)
5. The guys who demolished the toilets in old Yankee Stadium have a sick sense of humor. Was Watching posted a clip this weekend of Yankee Stadium's demolition, filmed for an upcoming episode of the National Geographic Channel's Break It Down. (The episode about old Yankee Stadium airs this Thursday at 10 p.m.) And there's more clips on the show's website, including this one, in which workers take a sledgehammer to the stadium's urinals and — hopefully not giving Yankees-Steiner any ideas — jokingly offer to bottle up whatever they've pumped out of them.
6. Bob Ojeda doesn't want to hear about R.A. Dickey's mountain-climbing plans. This actually happened last week, but it didn't come to our attention until Bob Raissman wrote about it in yesterday's News. During the Mets' nationally televised game on Fox against the Braves, the booth of Tim McCarver and Matt Vasgersian asked Dickey about his plans to hike up Mount Kilimanjaro in January for charity. (Writes Raisman: "Dickey, as usual, came off genuine and likeable.") But Ojeda, speaking on SNY's postgame show, didn't approve. Said Ojeda: "When you got one of your pitchers talking during the game about what he's going to do next winter, that's inexcusable. He continued: "If R.A. didn't know what they were going to ask him that's fine. You answer the question. It's a great cause, it's a great thing he's going to do, but then you got to spin it back to baseball," adding, "He's not schooled enough in media."
7. Mariano Rivera is not Mr. April. Mariano Rivera blew his second consecutive save yesterday, allowing the tying Baltimore run to score in the ninth before the Yankees won the game in eleven. It's the first time he's blown consecutive saves since April 2007, and via ESPN, of the nine times Rivera has blown back-to-back save opportunities, five of them have come in April.
8. Jason Pirdie finally has his first career home run. The 27-year-old recorded four at-bats in ten games with Minnesota in 2008, made one appearance as a pinch runner in 2009, and didn't play in the big-leagues at all last year. But yesterday he hit his first career home run, into the Mets' bullpen. Said the outfielder, who got the call up on Friday when Angel Pagan was placed on the disabled list: "You dream about this."
9. At least our fair city's baseball teams had a good weekend. Because really, it's hard to imagine a worse weekend otherwise, either for the city's basketball fans (who saw the Knicks swept out of the playoffs yesterday) or its hockey fans (who saw the Rangers eliminated with a Game 5 loss to Washington on Saturday). But the Yankees and Mets did their part for our city's sports morale, each sweeping their respective weekend series, even if the Yankees' sweep only included two wins. Once dust clears on the Knicks' season and they make some personnel decisions — and once the NFL finishes its draft of players who may not make their pro debuts for a while — baseball will have the spotlight pretty much all to itself. The long summer begins today, more or less.