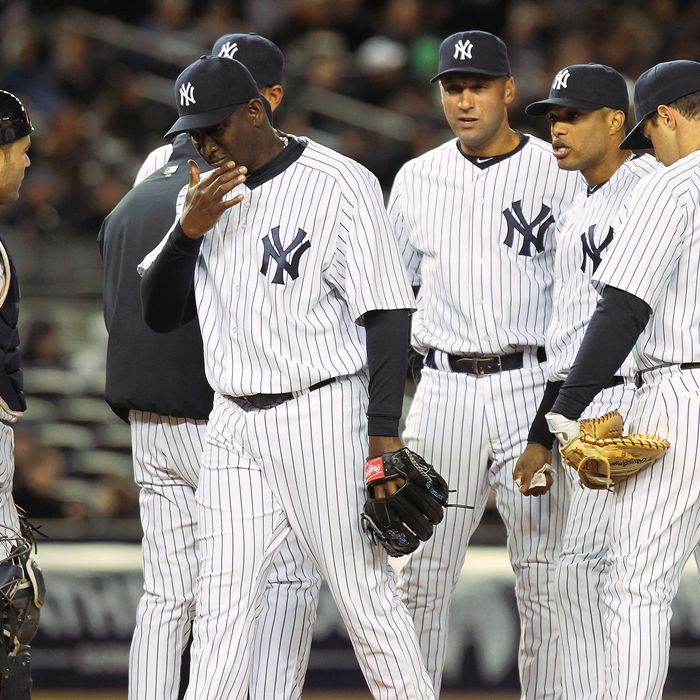 Photo: Nick Laham/2011 Getty Images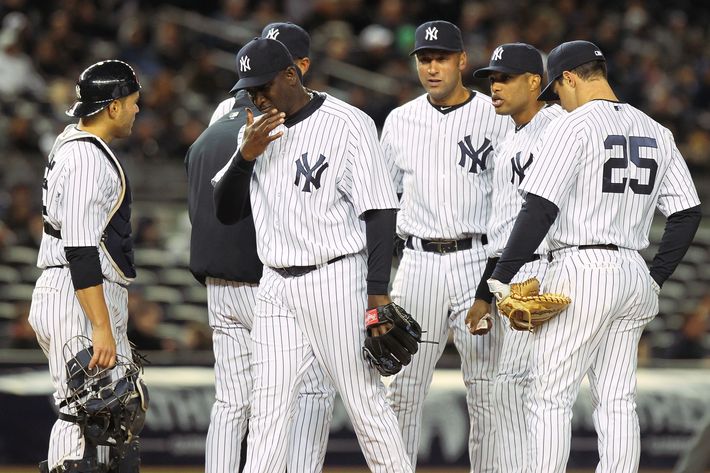 Twenty-four hours ago, the Yankees' bullpen was considered such a strength that ESPN was seeking suggestions for a nickname, while Michael Kay, up in the YES booth, was trying his darnedest to make "JoSorMo" happen. But after an eighth-inning hiccup last night, we've got our first two bullpen-related mini-controversies of the regular season: one regarding why Rafael Soriano was in the game to begin with, and one regarding how Soriano reacted to it all.
On the first point, Joe Girardi opted to pitch Soriano (who'd thrown nineteen pitches the night before) instead of David Robertson, who was warmed up and more rested, in the eighth inning last night, apparently unwilling to let the save rule dictate how he uses his relievers. Of course, we're talking about this today because Soriano allowed a hit and three walks before Girardi pulled him for Robertson, who then allowed the Twins to tie the score. (Minnesota would win, 5–4, in ten.)
How upset you are with Girardi today depends on why you wanted him to bring in Robertson in the first place: If it's because Robertson was well rested and that Soriano, who's admitted his fastball isn't where it needs to be because of the cold weather, had pitched the day before, then you're probably pretty angry today. (Soriano, in 336 games as a reliever, had never surrendered three walks in one outing, as he did last night.) But if you wanted Girardi to bring in Robertson because you felt the four-run lead was comfortable enough that the Yankees wouldn't need to use one of their elite, back-of-the-bullpen relievers, your problem today shouldn't so much be with Girardi but with Soriano, who was ineffective despite that comfortable lead. (And if it's some combination of the the two, then you can spread the blame around, we suppose.) Girardi's reasoning for using Soriano, by the way: "Because he's our eighth-inning guy and you can't assume."
Then after the game, Soriano left without talking to reporters. Here's Joel Sherman of the Post:

After his first meltdown as a Yankee, which led to a 5-4 Minnesota triumph in 10 innings last night, Soriano vanished. He never came to his locker. A flustered Yankees media relations official conceded Soriano probably dressed quickly and departed, leaving others to explain his ineffectiveness.

This would not be quite as big a deal if Soriano's reputation were closer to pristine. But in previous stops in Atlanta and Tampa Bay, he was known for being prickly, reclusive, determined not to be used in any way, but how he thought fit. Last year he expected, for example, to be deployed only for a full inning in save situations.
And here's where Soriano went wrong: It's not so much that the media didn't get to ask Soriano about the game so they could report his thoughts on the game; it's the very act of standing them up. Mariano Rivera wouldn't do that, the columns will say. (Actually, Sherman's column already has said it.) And, less than a week into the season, Soriano's "prickly, reclusive" reputation is getting press. Needless to say, we weren't talking about that 24 hours ago. But to be fair, we won't be talking about it the next time he throws a perfect eighth inning, either.