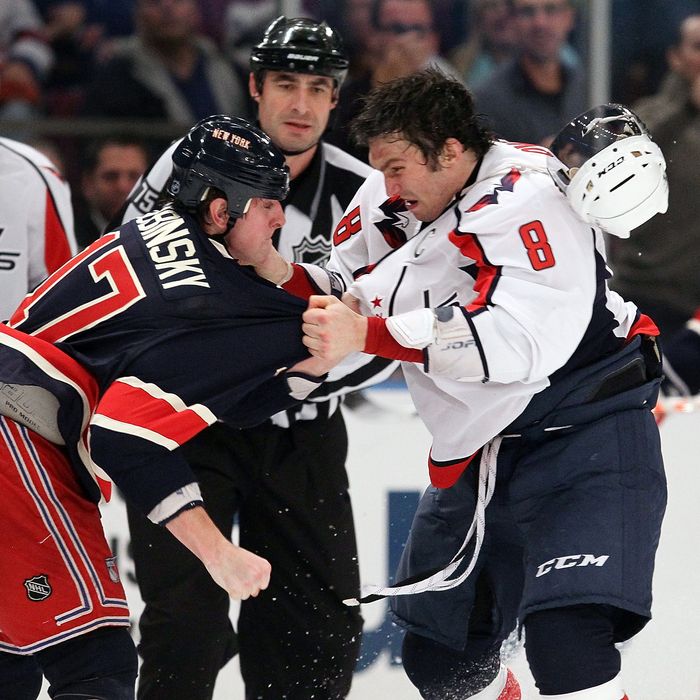 Photo: Jim McIsaac/2010 Getty Images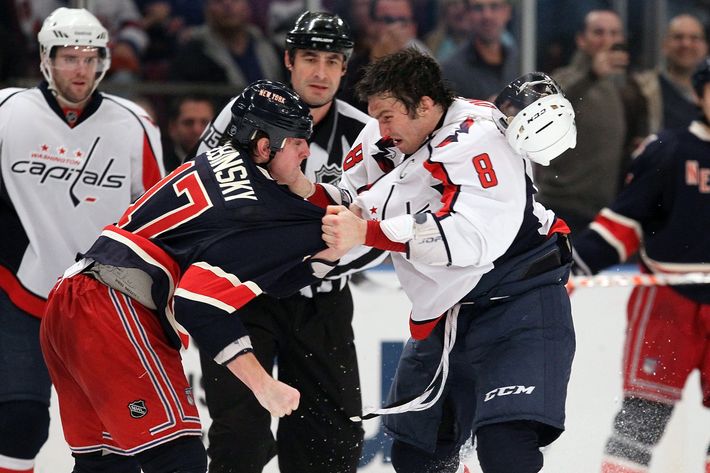 It was just two years ago that the Rangers and Capitals met in the first round of the playoffs, as they'll do again beginning tonight in Washington. That series — a pretty epic one, as far as conference quarterfinals go — saw John Tortorella suspended for squirting water at a fan behind the Rangers' bench, saw the Rangers — a No. 7 seed that year — jump out to a 3–1 series lead, and ultimately saw Washington storm back to win the series in an exciting Game 7. Two years isn't a particularly long time, and many of the principals from that series will be in uniform tonight — Ovechkin, Lundqvist, Semin, etc. But this year's Capitals and Rangers are very different teams than those 2009 squads, and this time, the Caps face even more pressure to avoid a first-round upset.
Bruce Boudreau's Capitals — a team that scored a league-best 318 goals last year (it was tops by some margin) — play a more defensive-minded game now. (This Times article on Alex Ovechkin's commitment to defense appeared as the lead story on the paper's website for a time last night. Perhaps this series, between a team in the league's biggest market and perhaps its biggest active star, might attract the eyeballs of more than just the usual hockey diehards?) The Capitals actually scored fewer goals than the Rangers this year — albeit thanks in no small part to the Rangers outscoring them 17–6 in four head-to-head matchups.
Meanwhile, the Rangers — who in the first months under Tortorella had no real identity to speak of in 2009 — have established themselves as a blue-collar, fore-checking group that does its work along the boards and behind the net in the offensive zone. The jerseys are the same, but the teams that wear them — or more accurately, the styles of the teams that wear them — really aren't.
Which brings us to tonight, and to the series in general. The Rangers — a No. 8 seed with a young core of players — don't have much to lose, all told, especially compared with the Capitals, a team that enters every season with Stanley Cup dreams, lost in the first round to a No. 8 seed last year, and has won just one playoff series during the Alex Ovechkin era. They've won their division four years in a row now and need a deep playoff run more than any team this side of Vancouver.
The Rangers, really, have nothing to think about besides executing a game plan, one that will presumably include getting pucks at the net no matter the angle, staying out of the penalty box, and committing to the fore-check for 60 minutes. And they've held their own against the conference's top teams this year, and against the Capitals in particular. (They won three out of the teams' four meetings, two of them in routs.) They've had a problem with consistency of late, and as we wrote yesterday, the play of certain members of this team can swing the series one way or the other. But we've thought for months that this team is capable of giving a high seed fits in the first round, and tonight — unfortunately without Ryan Callahan — they'll finally get a chance to try.
The Capitals, of course, will have a game plan, too, but they have all the pressure here: to not squander another year of Alex Ovechkin's prime when they're a legitimate Cup contender, to avoid a repeat of last season's disastrous first-round exit, and to justify Boudreau's changes to the style of the team's play. We learned two years ago when these teams met that a one-game series lead (or even a two-game series lead) can disappear quickly. But a Rangers win in Game 1 would plant in Washington's head — and in the heads of their fans — that the worst-case scenario can indeed play out.