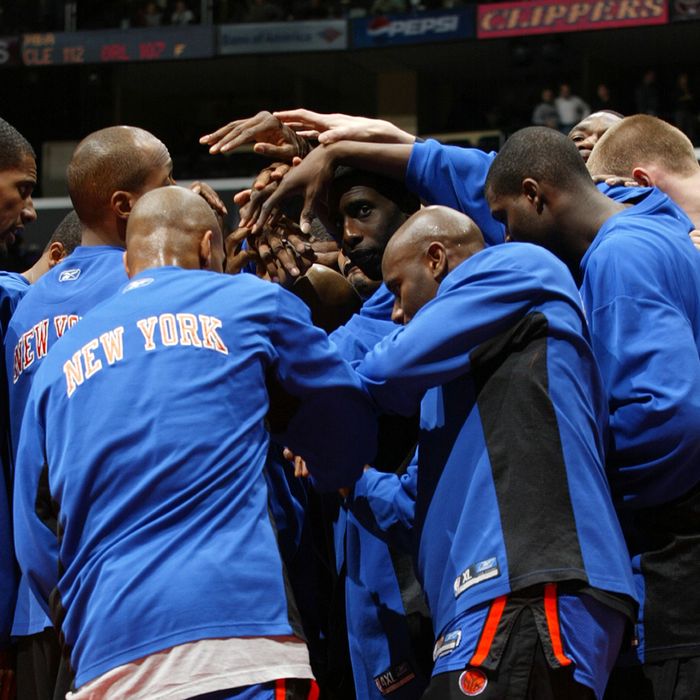 Photo: Lisa Blumenfeld/2004 Getty Images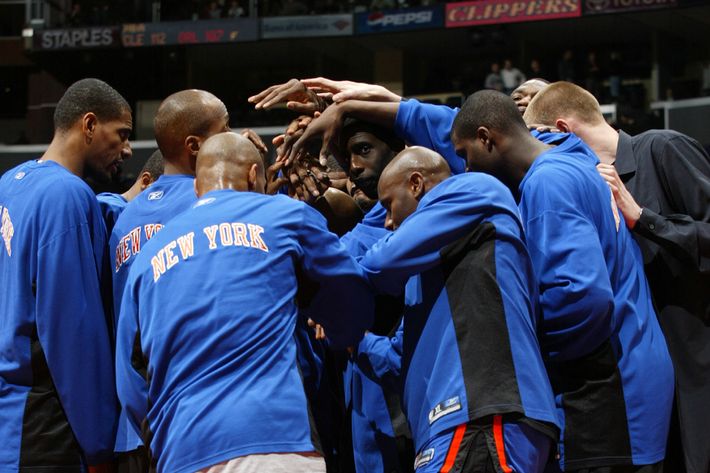 Assuming the Knicks' series against the Celtics begins Sunday — which is likely — it will have been 2,549 days since the Knicks last played in a playoff game. (It has actually been 3,641 since they won one, but let's just focus on attendance rather than proficiency, for now.) The world has changed in rather dramatic ways since April 25, 2004; for example, back then, we were involved in only two wars. As the Knicks' first playoff run in seven years begins in just a few days, we thought we'd take a look back to that game, that day, that end of an "era." Imagine watching that game, having no idea that it would be seven years until the Knicks appeared in the playoffs again. This is what it was like to witness.
Thus, 10 Factoids About the Knicks' Last Playoff Game, a 100–94 Loss to the New Jersey Nets:
1. This was the Knicks' starting lineup: Shandon Anderson, Anfernee Hardaway, Nazr Mohammed, Kurt Thomas, and Stephon Marbury. The bench players to appear in that game: Frank Williams, Michael Sweetney, Vin Baker, and DeMarr Johnson. Only two of those men (Mohammed and Thomas) are still in the NBA.
2. During the series, back when he gave interviews (and back when fines for tampering were less prevalent), Knicks team president Jim Dolan vowed the team would go after Kobe Bryant in the off-season. "Maybe we can get Kobe, Tracy (McGrady)," Dolan said. "That would be some charisma, wouldn't it?"
3. The Knicks actually led 88–87 with 4:49 — they went ahead on a Vin Baker dunk — but wouldn't notch another field goal until there were fourteen seconds left.
4. The fourth-most minutes in Game 4 belonged to point guard Frank Williams — whom the late, great Ralph Wiley once called "a scrunched-down, longer-armed version of [Walt] Frazier" — who scored eleven points and hit two three-pointers. After the game, he would play in only nine more games in his NBA career and was arrested two years ago for having "78 grams of marijuana, a digital scale and a .40-caliber handgun" at the residence he shared with his younger brother.
5. How long has it been? From the AP recap: "New Giants quarterback Eli Manning, the No. 1 pick Saturday in the NFL draft, got a big cheer in the second quarter when shown in the crowd."
6. It was the final playoff game for Hall of Fame coach Lenny Wilkens, who is still second all-time in coaching victories. He finished 80–98 in playoff games — he won an NBA title with Seattle in 1979 — and was fired 39 games into the next season. He was replaced by Herb Williams and, the next season, Larry Brown. And then Isiah Thomas.
7. Oh, yes, Isiah. These would be the only four playoff games he would ever be involved with as an employee of the Knicks (assuming, of course, you don't currently consider him an employee of the Knicks). Those four playoff games cost Jim Dolan more than $200 million, not counting legal fees.
8. Of the Knicks who played in that Game 4 loss, only three players would be on the team a year later: Marbury, Thomas, and Sweetney.
9. Tim Thomas tried to fight Kenyon Martin during the series by calling him "Fugazy." There was a time in human history that Tim Thomas could start feuds.
10. After the game, the Knicks vowed they would return, that they were ready to make another run at it next season. "We're not trying to get to the Nets' level," said Houston. "They haven't won a championship. We want to win a championship. And we have the talent to do it."