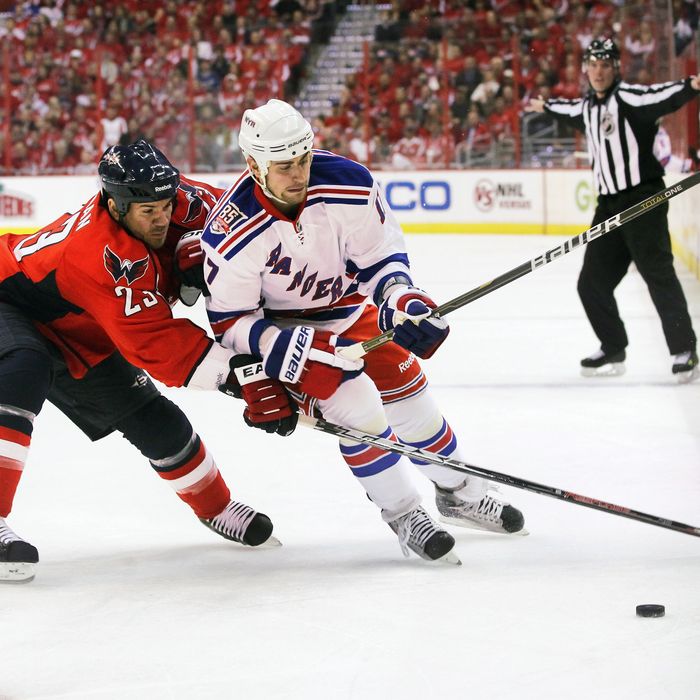 Photo: Bruce Bennett/2011 Getty Images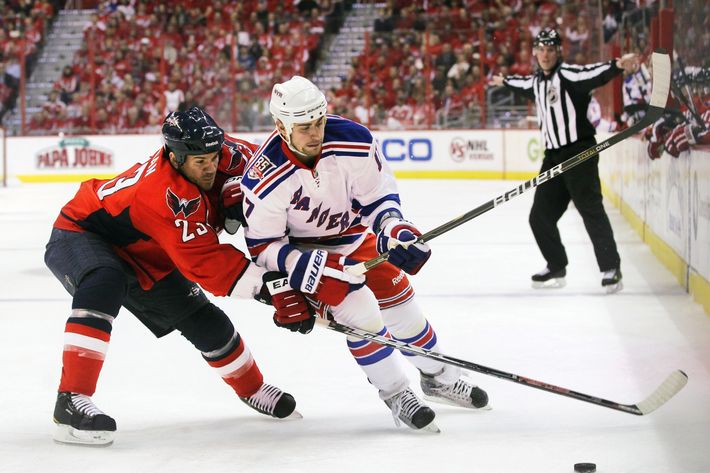 It's an overstatement to say that the Rangers entered this postseason with absolutely nothing to lose — there's a playoff series at stake, after all, and there's no reason to think they can't, at the very least, give Washington a hell of a fight. But on the other hand, they're not supposed to beat the top-seeded Capitals in a seven-game series (not that they'd ever admit that), and in the grand scheme of things, one hopes (expects?) that this young team is building toward something, down the line, a little grander than sneaking into the playoffs. Which is a long-winded way of saying: As of Wednesday morning, the Capitals — a team that has consistently disappointed its fans in the playoffs during the Alex Ovechkin era, sometimes in epic fashion — had all the pressure on them. As we wrote before the series began, that's just fine for the Rangers. They had to worry about a hockey game; the Caps had to worry about a hockey game, and a bunch of other stuff too.
Now things have changed, a little. Surely the Rangers understand the hill they'd need to climb if they fell behind two games to none. A win in either of the two games in Washington would give them the home-ice advantage — for whatever that's worth; they earned more points on the road this year — sending them home all even to what one expects would be a frenzied Garden on Sunday. But a loss — well, a 2–0 hole means they'll be counting on the Capitals to collapse for a second year in a row. John Tortorella doesn't think their backs are up against the wall — and do watch the video of him saying so, if only for the exchange with Larry Brooks — but tight-knit group or not, falling behind 0–2 is a lot scarier than returning home all even. Minutes from victory, they squandered their chance to steal Game 1. They get another chance tonight.
The big, broad keys to victory for the Rangers are pretty simple: They'll need to generate more offense (or, even more specifically, they need to generate offense and cash in on their opportunities), and they'll have to spend less time in their own zone and limit the Capitals' chances (and their quality ones, especially), so as not to require Henrik Lundqvist to stand on his head as he had to Wednesday night. They came pretty close, all told, to winning that first game, despite the lack of scoring and the reliance on Lundqvist. Close won't do it two games in a row, though.
Erik Christensen might skate with Marian Gaborik and Vinny Prospal tonight — Gaborik occasionally finds chemistry with Christensen, who Tortorella admits isn't exactly getting ice time because of his defense. That combination would allow Artem Anisimov, in theory, to center Brandon Dubinsky's line. (The moves to start Game 1, of course, were the domino effect of losing Ryan Callahan, who'd thrived with Dubinsky and Anisimov on their most consistently productive line.) Sean Avery will play, too — that's good news for the forecheck, if not for Mats Zuccarello, who will sit. And the defense corps will remain the same.
Like we said yesterday morning, this Rangers team has proven to be resilient. Tonight's the biggest game of the year. They're all the biggest game of the year now.