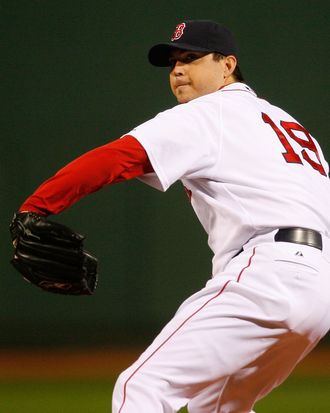 Photo: Jim Rogash/2008 Getty Images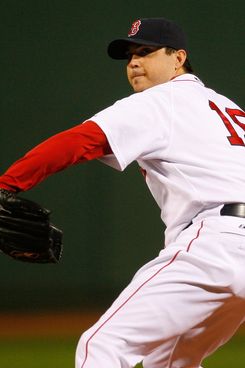 Like we wrote on Friday before this weekend's Yankees–Red Sox series began — back when we could still enjoy the fact that Boston was winless on the season — a win on Opening Day would allow Red Sox Nation to take a collective step back off the ledge, while a series win would cause the panic level to dip even further. And so the Red Sox did win on Opening Day, and thanks to yesterday's 4–0 shutout victory, won the series, too. Well played, Theo.
Last night's win must have been particularly satisfying, what with Josh Beckett pitching like an ace again — he started the season in the No. 4 position in the Red Sox rotation — holding the Yankees' offense to just two hits over eight brilliant shutout innings. Or with Dustin Pedroia collecting three more hits to cap a series in which he went 9-for-13 (walking twice, to boot). Or with Jonathan Papelbon pitching the second of his two perfect innings in the series and striking out four of the six batters he faced on the weekend.
The Red Sox offense managed only one run (a run they had to score twice, thanks to Kevin Youkilis's interference on the base paths) off CC Sabathia, who allowed plenty of baserunners but pitched out of trouble again and again. But Marco Scutaro's two-run double off Joba Chamberlain finally provided them with some breathing room, and suddenly the Red Sox season is back on track — or at least, it no longer feels like it's spiraling out of control. Oh well.
Let fans of the 1–8 Rays panic now, instead.