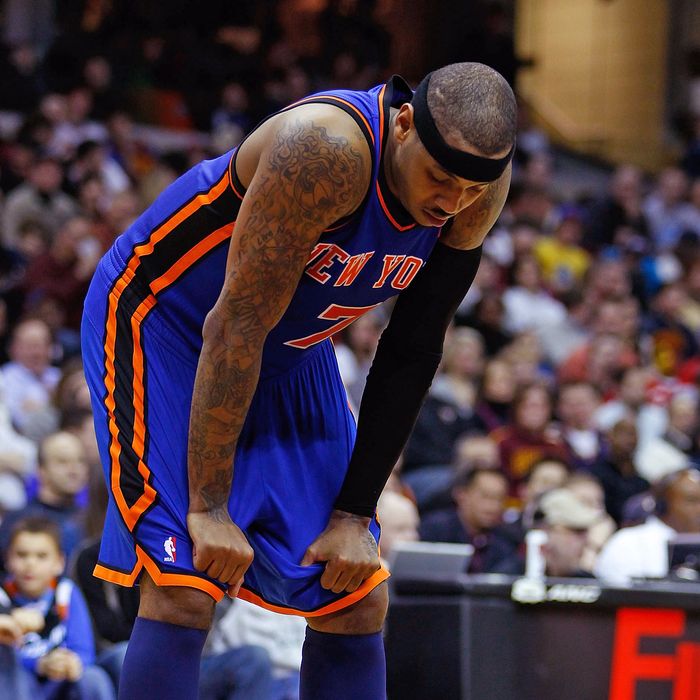 Photo: Jared Wickerham/2011 Getty Images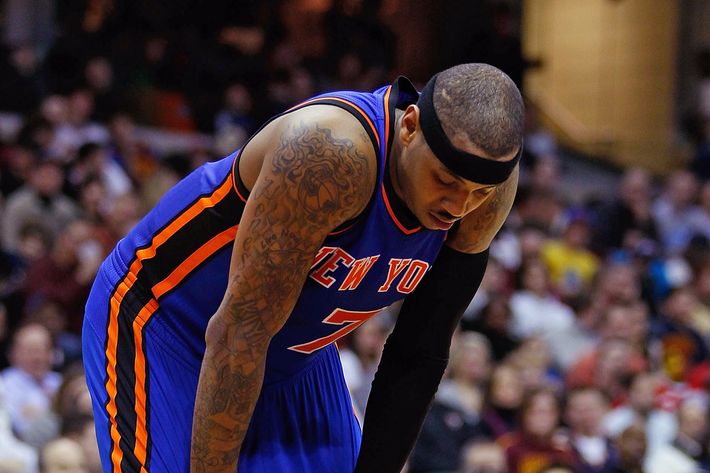 Before we get into the details of the Knicks' tough, tough 87–85 loss to the Boston Celtics in Game 1 of the Eastern Conference quarterfinals, everyone take a deep breath. After seven years away from their last playoff game, and ten years away from their last meaningful one, the Knicks packed a decade's worth of drama into one evening. "Playoff intensity" is such a common refrain this time of year that it's easy to forget just how crazy it truly can get. This is what it means to be relevant, folks: It means screaming and hangnail biting and pants-wetting and shitshitshitSHIT. It was almost too much to take at times. And there are at least three more of these.
There are two ways to look at the Knicks' loss, neither of which is particularly heartwarming at this late hour. The first is the easy, knee-jerk one: The Knicks got screwed. After Toney Douglas's massive, no-no-no-YES! three-pointer with 37.8 seconds left and a "someone should probably guard Kevin Garnett, right?" inbounds dunk just 0.5 seconds later, Carmelo Anthony was called for an odd offensive foul call that hadn't been called all game and is almost never called in the waning seconds. Then, as Douglas was chasing down a cutting Ray Allen, Kevin Garnett quite obviously tripped him on a screen to get Allen open. If you call one, you have to call the other. But truth be told: No referee in the world would have the cojones to call Garnett's trip under those circumstances, in Boston, in an atmosphere like that.
In other words: This is the playoffs. This is what happens in the playoffs. Knicks fans better become accustomed to it.
The second way is considerably more depressing: For all the positives of having Carmelo Anthony on your team, tonight we saw the downside (or one of the downsides, anyway). Anthony was lousy most of the night, shooting 5-for-18 from the field, and he was brutal late, including an awkward three-pointer as time expired to cost the Knicks the win. Anthony has said he loves taking the last shot because it means more to beat a team that is specifically trying to stop you, but tonight was the flip side: Sometimes he's shooting when he really shouldn't be. You must have preternatural confidence to be the player Carmelo is. But there are nights when that confidence betrays you. Carmelo, to put it mildly, cost the Knicks the game tonight.
Especially considering how unbelievable Amar'e Stoudemire was, particularly in the fourth quarter. (Of all his highlights, this was our favorite.) Stoudemire was dominant late and quite obviously the Knicks' best option down the stretch. But tonight — and every night — Anthony thought he was. Tonight, he was wrong. He was very wrong.
There were many, many positives to take from the game, particularly the Knicks' first-half defense, which was as roving and suffocating as we'd seen it all season. The Celtics were on their heels, even late, and looked to be the old team, wobbly, waiting for the knockout punch. But the Knicks could never quite provide it. And now, Chauncey Billups, who had a rather lousy game but is still the third-best scorer on the team, with the most playoff experience, could quite possibly be out for the rest of the series with what looked to be an ugly knee injury. It's not gonna be easy to steal a game from the Celtics this series, in Boston no less, but tonight was a terrific opportunity. They missed that opportunity. There might not be many more.