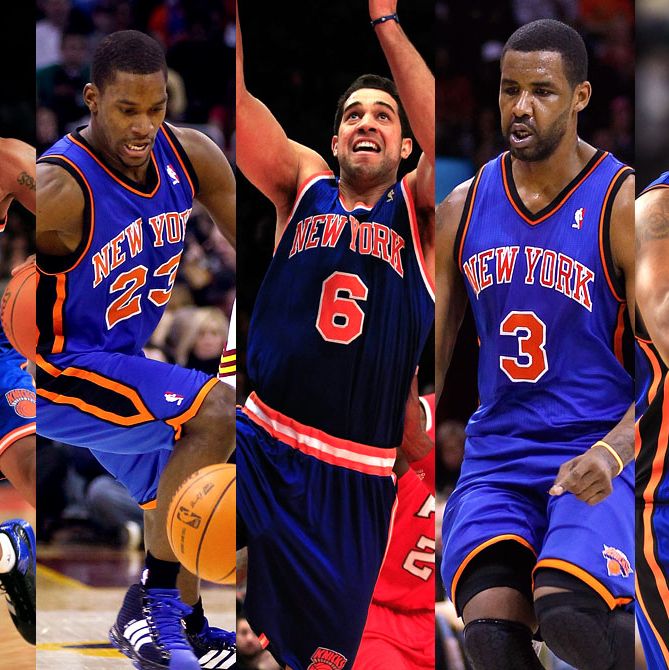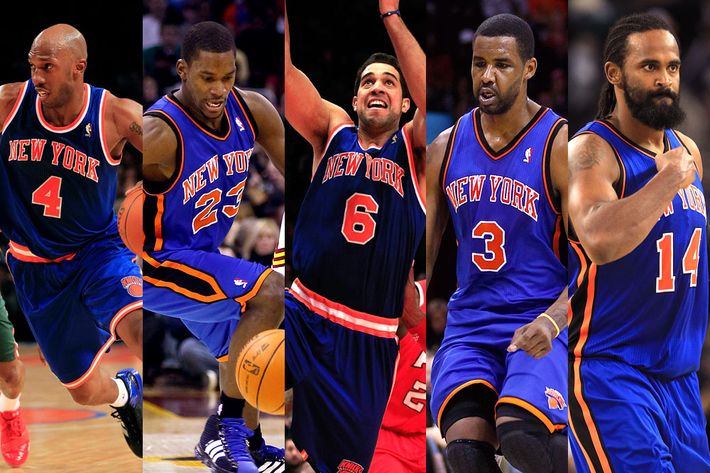 If you are wondering how important Carmelo Anthony and Amar'e Stoudemire are to the Knicks' chances of beating the Boston Celtics in their first-round playoff series, wonder no longer: They are very important. But they are not the only important players: There are many others! This preview is awesome.
All right, all right, we'll stop goofing around. Obviously, Anthony and Stoudemire are the centerpieces of everything the Knicks do; if either one of them has an off game on any particular night in the playoffs, the Knicks are going to lose by a lot. But even if they're both spectacular, it's far from guaranteed the Knicks will win. So, who will make the difference for the Knicks in this series, and why? These five players.
Chauncey Billups. All right, so Billups has played in more All-Star games than Carmelo, so it's probably not fair to put him down here: He's obviously of vital import. But Billups is particularly key against the Celtics — in a way he wouldn't have been against the Heat — because he's the guy who has to guard Rajon Rondo. The Celtics point guard hasn't been nearly as aggressive since Danny Ainge traded away his binkie Kendrick Perkins, but he has a definitive speed advantage against Billups, who is 10 years his senior. Billups will have to maximize his offensive efficiency to make up for (yet another of the many) defensive disadvantages the Knicks face. Certainly, Billups shouldn't be intimidated in the playoffs. There are seven human beings currently in the NBA who have won an NBA Finals MVP; Billups is one of them.
Toney Douglas. Oh, those halcyon days of December, when the Knicks had 3-point shooters at just about every position, with another 84 dozen waiting to come off the bench. Now, other than Carmelo, the gunner with the most minutes will be Douglas, who has been terrific over the last fortnight. He's also become one of the few true "combo" guards in the NBA, able to take over the point for stretches without matters breaking down. Douglas needs to drain three-pointers in this series the way he has in the season's final weeks.
Landry Fields. Is it the imaginary (as far as we know) rookie wall? Or his inability to get into a groove with Chauncey and Carmelo? It's probably both, but Landry hasn't been Landry for a month or so now. (He's still the only Knick to play every game this season, and he has started all but one.) He showed some signs of life in the final-game loss to Boston, and he'll be chasing around Ray Allen for 36-some-odd minutes every game in this series. Some of those pull-up jumpers we've seen lately might come in handy as well.
Shawne Williams. One does not come across creatures like Shawne Williams often in one's travels, no matter how vast one's quest. He's a three-point specialist who, because he also happens to be tall and a little meaty (and is surrounded by Knicks who are neither), ends up guarding the other team's big men. Extra E is will be helped out a lot if Shaquille O'Neal remains hurt, if just because it's easier to make three-pointers when you don't have 11 fouls. It has been a while since Williams was hitting three-pointers at a crazy 60-some-odd-percent rate, but he's still gorgeous from the corner. If he can get those shots off, the Knicks will have one more weapon against the mean, mean Celtics defense.
Ronny Turiaf. As much fun as it is to watch Ronny on the bench making crazy faces —
— the Knicks need him on the floor, and healthy. He's a big body, obviously, but he's also more comfortable on the offensive end, as pointed out by Buckets Over Broadway. He sets picks, he knows where to stand and move, he even tosses in a funny jumper every once in a while. The Knicks are starving for large humans who have some semblance of an idea of a notion of a thought about offense, at least slightly. Turiaf, amazingly, is the best guy they have that fits both parts. Coach Mike D'Antoni, noticing this, is starting him in Game One rather than Shelden Williams. We just sorta like having him out there, ourselves.
For a great detailed breakdown of each team's strengths and weaknesses, by the way, you should totally check out Sebastian Pruiti's breakdown on NBA Playbook. And prepare thyself.