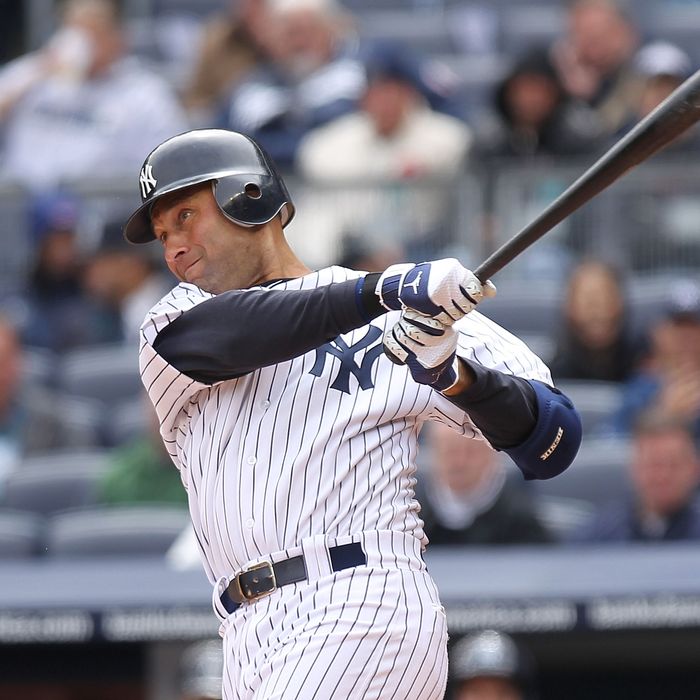 Photo: Nick Laham/2011 Getty Images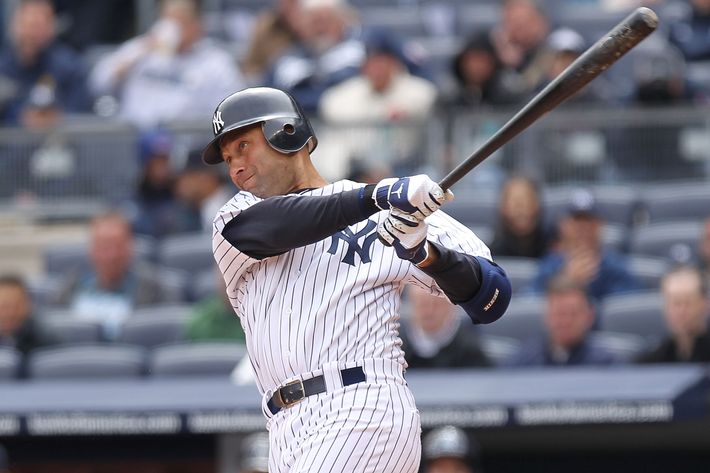 We spent much of the off-season trying to talk ourselves into believing that — even if the Yankees might not know what to do with 39-year-old Derek Jeter in 2013 — he'd have something of a bounce-back season in 2011, at least. He's just a year removed from an outstanding 2009 season, we'd tell ourselves, and even for a season in which he'll turn 37, statistical projections weren't overly harsh. PECOTA, for example, projected a somewhat improved .281/.350/.389, and Bill James's projection was even more optimistic, with a slash line of .295/.365/.410.
And so now, nine games into the season, we're confronted with a new question: What to make of his first 40 plate appearances? Forty plate appearances, after all, is a drop in the bucket over the course of a baseball season. But having seen his defense decline in recent years — and having seen his offense plummet last season — a slump like the one Jeter's going through to start 2011 plays to the worst fears of Yankees fans.
Through nine games, Jeter has nine hits in 34 at-bats (a .206 average), one extra base hit (a double), and five walks (his OBP is .300). Of the 29 balls he's put into play, 23 of them (79.3 percent) have been hit on the ground. He's hardly the only big name to struggle out of the gate (the Times reminds us that Albert Pujols is off to a dreadful start), nor is it the only time Jeter's ever started slow: The Times also reminds us that he batted just .200 through nine games in 1998. (He'd go on to hit .324 that year and finish third in the MVP voting.) The problem is, new stride or otherwise, 2011 Derek Jeter isn't Albert Pujols, or 1998 Derek Jeter, or even notorious slow starter Mark Teixeira, whose struggles early last season weren't necessarily feared to be a permanent condition.
Joe Sheehan nails it in his newsletter today:
After a career spent being lauded as extraordinary, in this Jeter is ordinary. He's just like hundreds of late-thirties baseball players who have lost the fraction of a second of reaction time or bat speed or both that represent the difference between being a major leaguer and being a minor leaguer. I cannot emphasize enough just how small a difference we're talking about here. The difference between being good enough and not isn't heart or desire or dedication or work ethic, although those things can close the gap. The difference is biology, physiology, musculature. It's these tiny edges one guy has on another, and the edges don't last forever. Almost every player crosses the line at some point. It is quite possible that Jeter has done so, moving in microscopic increments over the past three years, and is no longer on the right side of it.

So maybe Jeter has crossed that line. Or maybe evaluating anything after 40 trips to the plate is absurd. The problem is, factoring in everything we know about Jeter and how players age, we fear that it might be a little bit of both.