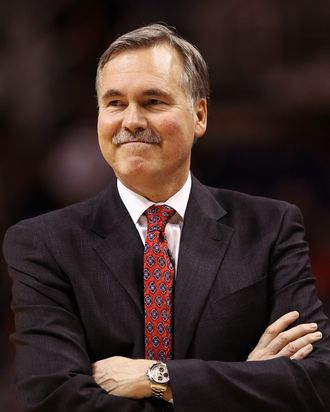 Photo: Christian Petersen/2011 Getty Images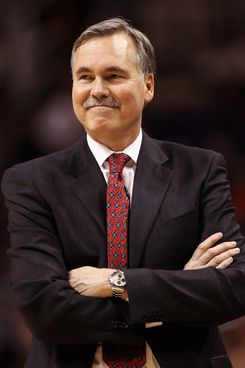 There might not be a worse team in the NBA right now than the Toronto Raptors, a team that is shorthanded from a roster that wasn't that great to begin with. They have precisely one week left in their regular season, and then they all get to go home and sleep for the summer, and, considering the looming NBA labor woes, probably even longer. They had little interest in playing basketball last night, and it showed, with a 131–118 Knicks win. That doesn't mean the win wasn't a nice one for the Knicks anyway.
Toney Douglas was the super stud last night, scoring 28 points, just two off his career high. The Knicks blasted out to a 78–54 halftime lead, and even though the Raptors briefly cut it to four in the fourth quarter, the game was never really in doubt. It was the Knicks' fourth straight win, and it put them over .500 again, mercifully.
The team was without Carmelo Anthony in the fourth quarter, who was resting his knee. He says it's fine, there's nothing to worry about, which is good, because otherwise there would be tears and garment-rending.
Also, Derrick Brown played and did this:
This four-game win streak hasn't exactly been against titans of industry — after the Magic win, the Knicks beat the Nets, the Cavs, and the Raptors — but it was a four-game win streak nevertheless. It has also put the Knicks within striking distance of the sixth seed in the Eastern Conference, with a key matchup in Philadelphia tonight. They're half a game behind the 76ers right now, but even if they win tomorrow, they still have a far tougher schedule down the stretch. (If the 76ers win, the Knicks are likely locked into that No. 7 spot.) We're not sure how much it really matters whether the Knicks are No. 6 or No. 7 — we'll be looking at their potential first-round opponents on Friday — but it's nice to have something to shoot for, something to play for down the stretch. The Knicks have a chance to go into the playoffs feeling terrific about themselves. It'd be nice to keep it going.
But honestly: The Knicks are in the playoffs, and two days wasn't enough to make us stop being excited, and a little bewildered, by that basic fact.