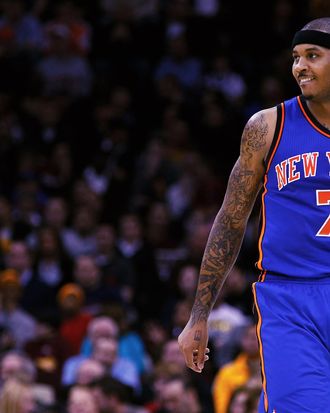 Photo: Jared Wickerham/2011 Getty Images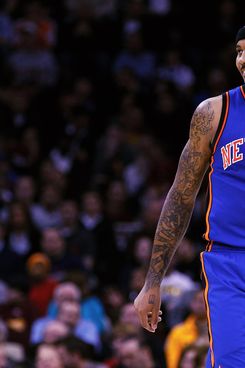 It makes perfect sense that the Knicks, a team full of disparate parts that has been playing together for only a month, would perform in such a bipolar fashion. For the first three quarters of their game against the 76ers last night, the Knicks played like a team that wanted to nail down a No. 6 seed, with a free-flowing offense, a red-hot Carmelo Anthony, and even some nice defensive pressure. Then, in the fourth quarter, they laid their head to rest, the offensive freezing in place, everything stagnant and inert. Then Toney Douglas and Anthony drained two huge three-pointers, and the Knicks had a 97–92 victory. Watching the Knicks gives a person whiplash these days.
It's the fifth win in a row for the Knicks, and one win in their last four games will assure them of at least a .500 season. Last night was their 40th win, which passes 2003–04's 39 as the most wins the team has grabbed in ten years. Two more wins put the Knicks above .500. These are not small matters.
The wins also put the Knicks a half-game up on the 76ers for the No. 6 spot in the Eastern Conference, though it far from assures them of the spot. The 76ers have three games left, all at home, against Toronto, Orlando, and Detroit. If they win all three, the Knicks, who will hold the tiebreaker because of a better divisional record, will have to go 3–1 in their last four, with only one home game (Chicago) and three road games (New Jersey, Indiana, and Boston). The Bulls, Celtics, and Pacers have all clinched a playoff spot, so they might not be playing 100 percent … but with niggling injuries to Amar'e Stoudemire and Chauncey Billups, the Knicks might not be either.
So last night's win did not assure a No. 6 seed, which is fine, because the No. 6 seed probably isn't going to make that much difference anyway: The Knicks will get the Celtics or the Heat in the first round. We'll look at which team is a more desirable matchup tomorrow, but for now, let's enjoy a five-game win streak, right when the Knicks needed it most. Actually, that's not true: Five-game win streaks in the playoffs are a lot better. But let's not talk about that yet.