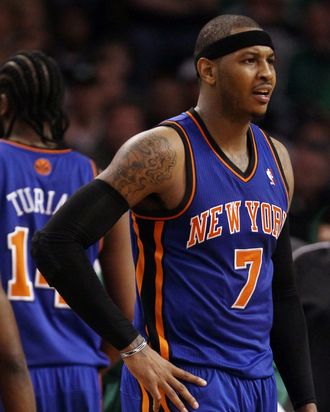 Photo: Elsa/2011 Getty Images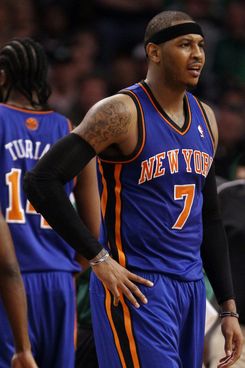 So many frustrating things happened during the Knicks' Game 1 loss to the Celtics that we'd sort of forgotten about a major one until ESPN's John Hollinger mentioned it in his "PER Diem" column this morning (subscription required): The Knicks might have won by double digits if they could have grabbed a damned offensive rebound.
Here's Hollinger:

Boston got 15 offensive boards out of 36 misses (41.7 percent), essentially winning them the game on the offensive glass. What makes that so shocking is that the Celtics were far and away the league's worst offensive rebounding team in the regular season, often barely bothering to contest boards and instead running back on D. Boston got only 21.1 percent of its own misses in the regular season, compared to the league average of 26.4 percent; in Game 1, the Celtics doubled that rate.
[Bangs head against wall.]
So, Game 2 is tonight, and offensive rebounding is just one of the matters to worry about. (You know who could help out a lot with that, though? Landry Fields. Remember when we were discussing him as one of the best rebounding guards in the NBA? Though we suppose it's difficult to have much energy to rebound when you're chasing Ray Allen around for two hours.) The major concern is the expected absence of Chauncey Billups, pushing Toney Douglas into the starting lineup and giving more minutes to that oh-so-grizzled Anthony Carter.
On one hand, Douglas's ascension is a legitimate concern. This is only his second-ever playoff game, and he's not exactly the ideal distributing point guard. He also has played more than 36 minutes only three times all season.
On the other hand, there is this:
(We love that guy.)
Knickerblogger also points out that the Knicks need to pick up the pace; games as ugly as Game 1 play right into the Celtics' hands.
But, not to be all tabloidy about it … but Carmelo Anthony really needs to have a huge game. Remember, the justification for the Carmelo trade — other than the likely fictional notion that it'll get Chris Paul or Dwight Howard here — was all about the playoffs, how the Knicks needed that one guy who, when the defense was suffocating come playoff time, could create his own shot and get the tough buckets. That guy was Amar'e Stoudemire on Sunday night. That guy needs to be Carmelo Anthony, and soon. This is what Carmelo wanted. He now has it.
Heading into the series, the hope was that the Knicks could steal a game in Boston and bring a tied series back to a frenzied, manic Garden on Friday night. They missed a chance to do that Sunday. But if they can pull this off tonight, no one will remember the Kevin Garnett trip or the Anthony offensive foul or that lousy last-second shot. A loss doesn't destroy the Knicks' hopes, but a win tonight erases the slate and gives the Knicks every advantage in this series. The Knicks can still take control of this series and give the Garden a weekend of intensity it hasn't seen in more than a decade. It just takes one. It just takes tonight.