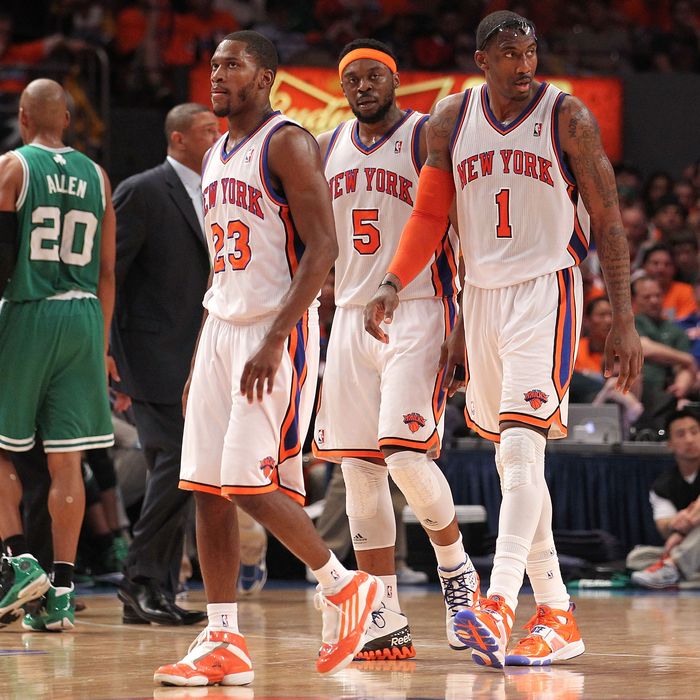 Photo: Nick Laham/2011 Getty Images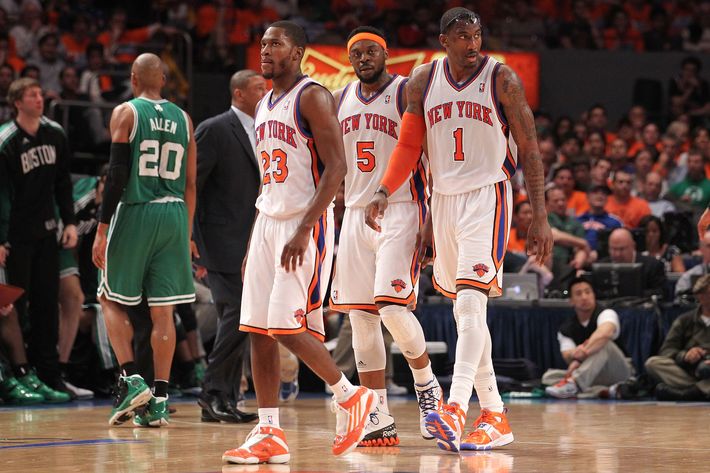 Suffice it to say, the Knicks' series against the Celtics was not ideal. Try as one might to find the positives — Carmelo's Game 2, a don't-quit attitude, Anthony Carter's giddy second half yesterday — the simple fact is that the Knicks were swept, again. They have lost their last ten playoff games. This season was the most exciting Knicks season in a decade, and it still ended with a whimper. That says more about the last ten years than it does about this year. But still.
So, it'd be nice to kick one's feet back, lick one's wounds, and relax a bit, chill out after a nutzo season of activity. (That's what Carmelo Anthony is doing, after all, along with finding a place to live and taking stock of a fevered three-month rush of madness.) But the Knicks have no such luxury. They have two major decisions they have to make this week.
The first is one that would seem the easiest: extending Donnie Walsh. They have until Saturday to pick up Walsh's option on next season, but according to several reports, Saturday is a bit of a fake deadline. As long as Walsh wants to come back — and if his health holds up, it sounds like he wants to finish a job — the Knicks are likely to give him a two-year extension sometime in the next fortnight. This is obviously terrific news, but again, when dealing with Jim Dolan, it's best not to count one's proverbial poultry. It'd be nice to see some sort of announcement in the next day or two, just so this doesn't turn into a thing.
That's particularly important because of the other issue that must be settled this week: whether or not the Knicks will buy out Chauncey Billups. Whatever frustrations and fears Knicks fans might have about Billups — the guy wasn't exactly lights out the last few weeks, before his injury — it appears likely he'll be the starting point guard on opening night next year. The Knicks can either pay him $3.7 million to go away, or $14.2 million to play. That $9.5 million might sound like real savings, but, as SB Nation's Tom Ziller points out, it won't be enough to bring in another point guard and someone big and meaty underneath the basket. The path of least resistance is to sign up Billups for next year and cross your fingers … or at least try to trade away his salary-cap space at the deadline.
Of course, with the lockout looming, no one has any idea what the heck is going to be happening with the league next year. But it sure was more fun talking about next year than the weekend, wasn't it?