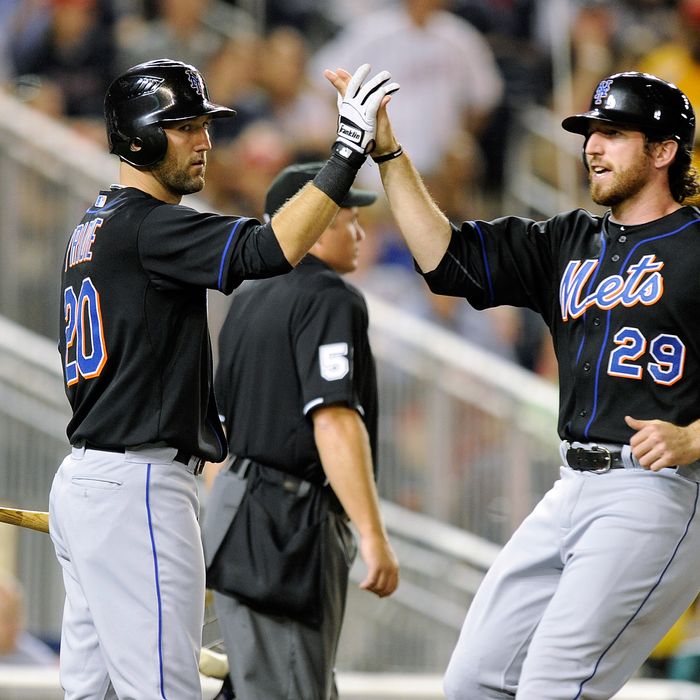 Photo: Greg Fiume/2011 Getty Images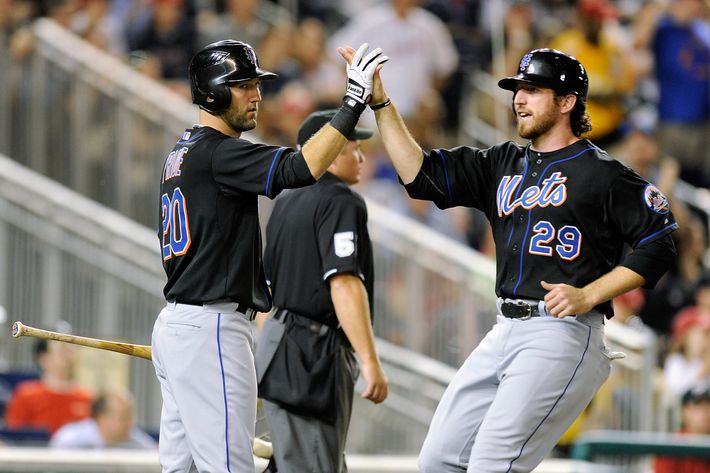 The New York Mets won their fifth straight game last night, beating the Washington Nationals 6–4. The Mets aren't going to win their division this year, and this season is going to remain a testing ground, a petri dish, an ongoing experiment in new players, new things, and waiting-for-contracts-to-expire. It doesn't really matter that the Mets have won five in a row. But it's nice, isn't it, having the Mets not being the kicked dog every night? Even when the eyes are on the long term, even when it's a season in transition, even when there are no big dreams … it just feels better to be decent, to not be a joke. Someone has to still watch these games, after all.
On a day that it became more clear that Johan Santana is not going to play any meaningful role in 2011, the Mets climbed — the word is probably climbed here, right? — within a half game of the Nationals for fourth place in the NL East. Heck, put together another five-game win streak, and we'll start talking about wild-card standings. That's what May is for, after all.
We know we've said this before, but with Jason Bay (currently hitting .368) back, this lineup doesn't look so shabby, you know? Reyes/Pagan (when he returns)/Wright/Beltran/Bay/Davis/Thole/(whoever's at second) … you could do a lot worse, all told. That's a fun lineup to watch hit. That's not crazy. This is a fun little stretch coming up here, with two more against the Nationals and then three games with the Phillies, including the Sunday-night game on ESPN. If there is a time to be hot, it's now.
And we wrap up this little Mets nugget with a fun tidbit of random arcania: Balloting for the 2011 All-Star Game in Arizona opened yesterday, and look who's there on the ballot at second base for the Mets: It's Brad Emaus, of the 36 at-bat, six-hit, one-RBI Emauses. Of the "having already gone through two teams since leaving the Mets" Emauses. We owe it to America to vote Emaus.