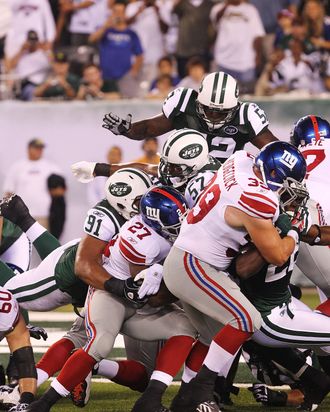 Photo: Al Pereira/2010 Al Pereira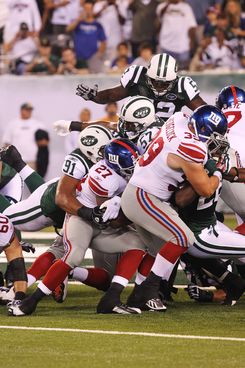 The NFL released its 2011 schedule last night, and such an event might have been accompanied by even more fanfare if there was any guarantee that all (or even any) of the games would actually be played, what with the lockout threatening the season and all. But assuming — for the sake of this post, at least — that the 2011 slate of games is played in its entirety, the Jets, based on teams'$2 2010 records, have the third-most-difficult schedule (tied with six other teams), while the Giants have the nineteenth most difficult (tied with three other teams).
Some highlights from the local teams' schedules:
• The Jets and Giants play each other this season — on Christmas Eve — in what could be a critical Week 16 game. (Contrary to speculation, they won't play each other on the tenth anniversary of the September 11 attacks.)
• Both teams, though, will open the season on September 11: The Jets at home against the Cowboys, and the Giants on the road in Washington.
• The Jets have five prime-time games on their schedule, including three games on Sunday Night Football and one on Monday Night Football. For the second straight year, they'll play on Thanksgiving night, as well. They'll also play a Thursday night game at Denver on November 17. The Giants, meanwhile, have four prime-time games: two on Sunday night, and two on Monday night.
• The Giants host the Cowboys on New Year's Day, which means, among other things, that the NHL's Winter Classic — which still hasn't taken place in the area — can't be played at the Meadowlands this year. (Now if they'll only take our advice and stage the thing at Citi Field.)
• The Patriots get their first shot at avenging their playoff loss to the Jets — in as much as you can avenge a playoff loss during the regular season — when they host Rex Ryan's team on October 9. (That game marks the last of three straight road games for the Jets — the longest such stretch this year for either of the local teams.) The Jets and Pats play again at the Meadowlands on November 13.
• The Patriots will also get their first shot at avenging their Super Bowl loss to the Giants — in as much as you can avenge a Super Bowl loss during the regular season — when they host Tom Coughlin's club on November 6.
• Speaking of the Super Bowl, the Giants host the defending champion Packers on December 4.
And again, it's possible none of these game will happen. So in that case, you know, never mind.