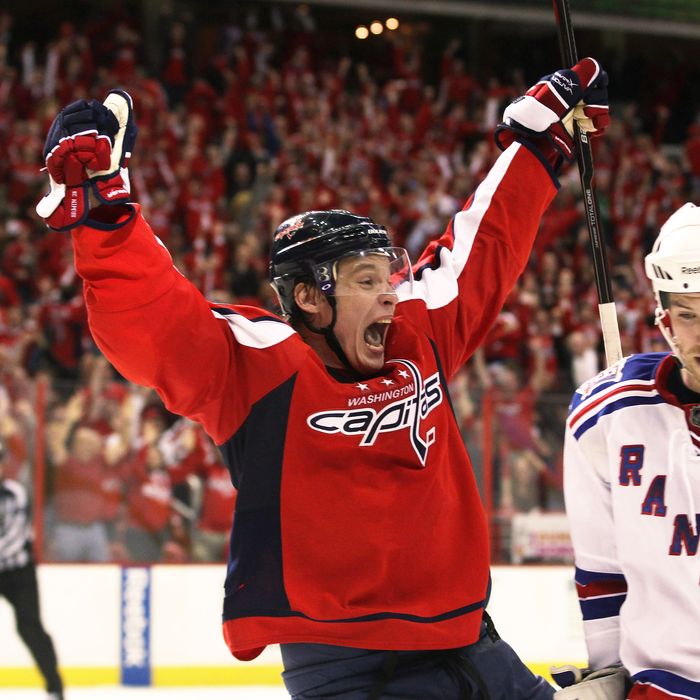 Photo: Bruce Bennett/2011 Getty Images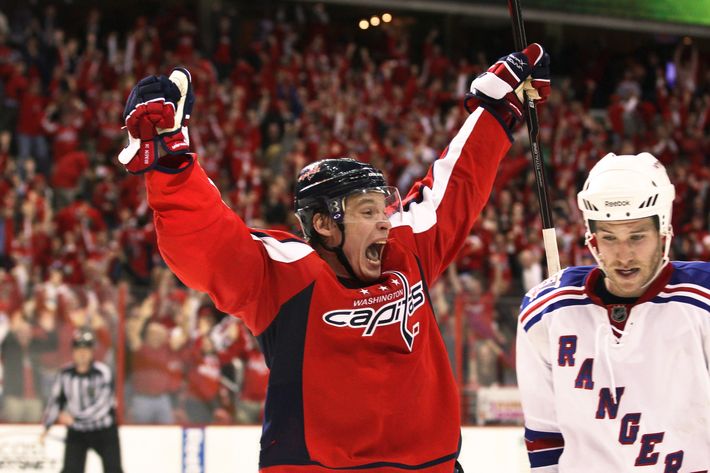 It's funny, almost: The Rangers played some of their best hockey last night after Matt Gillroy, in his first career playoff game, gave the Rangers a 1–0 lead off a perfect feed from Wojtek Wolski. To that point, the Rangers hadn't necessarily played a bad game — they entered the third period knotted at 0, after all — but they'd relied too heavily on Henrik Lundqvist (and his crossbar), beginning more or less when the Rangers took a too-many-men-on-the-ice penalty, 5:31 into the game. The Rangers, at times at least, got their fore-check going (Brian Boyle's line, in particular), and they were 6:16 from stealing Game 1 and putting even more pressure on Washington — a team that's got plenty of pressure on it already.
Then Washington crashed the net and Alex Ovechkin stuffed a puck behind Henrik Lundqvist to tie the score — "intent to blow," sadly, didn't come into play here — and send the game to overtime. By this point, even the Rangers playing in their first playoff games (and there was a whole mess of them) surely understood how playoff hockey differed from anything else they've ever experienced: At its best, it's tightly contested, meaning the team that makes the most of its opportunities will succeed. Last night, that team was the Capitals.
Marc Staal — as reliable a player as the Rangers have — started the game-deciding sequence by turning the puck over on a clearing attempt when he couldn't find a forward to pass to. Jason Arnott, who kept the puck in at the blue line, then found Alexander Semin, who fired a perfect shot from the high slot past Lundqvist, to end the game with 1:36 remaining in the first overtime. Semin had gone fourteen playoff games without a goal; needless to say, the Rangers would have a much easier time in this series if he stayed quiet for a little while longer.
Each team in this game scored a pretty representative goal: The Rangers' lone tally came when Brandon Prust — the unsung hero on the play — raced to win a puck behind the net to the right of Michal Neuvirth. He then moved the puck behind the goal to Wolski — this team, of course, likes to go to work behind the net — who made a quick pass to a cutting Gilroy, in the lineup to provide offense in a series in which it very well may be at a premium.
The dangerous Caps, meanwhile, won the game by pouncing on a Rangers mistake. They applied pressure on Staal in the Rangers' zone, kept the puck in at the blue line, and moved the puck quickly: a perfect pass from Arnott, and an even more perfect shot from Semin. Washington has tightened up their defense this season, but they're still skilled enough to score a goal like that — making something out of what should have been a routine play (Staal later said that if he had time he'd have brought the puck behind the net) in just a matter of seconds.
It's a pretty crushing way to open the playoffs: After all, they were a little over six minutes from a hard-fought victory and the confidence that comes with it. This game was tight enough that the easy observation is that this could prove to be a long, exciting (read: nerve-racking) series. And it very well may be. But now the Rangers face a critical Game 2 on Friday. This team has been resilient all year. Now, they pretty much have to be.