Photo: Bruce Bennett/2011 Getty Images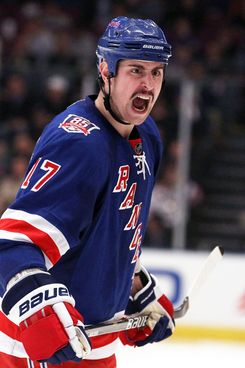 John Tortorella made a guarantee yesterday, technically. Not a Messier-esque "We'll win tonight" proclamation or anything. Not even something that Washington's coach could use as bulletin-board material in the Caps' Verizon Center locker room that presumably gets the Bruce Boudreau Dressing Room Seal of Approval. Here's what Tortorella said, via the News: "We'll be ready to play Saturday. I'll guarantee that. We'll be ready to play Saturday." Here's the thing, of course: We knew that already. The Rangers' problems in this series haven't been the result of a lack of preparation, or sufficient motivation, or anything like that.
Let's remember: The Rangers, all told, haven't played that badly in this series. There hasn't been a game yet in which they haven't shown up to play (which is more than we can say about the final weeks of the regular season). There are concerns, to be sure — the power play, to name but one — but no one expected this team to play flawless hockey. (And it's not like we didn't have concerns about the power player going into the playoffs. One figures that it's past the point of being fixed by a little practice, and that now it's more a question of execution.) We knew the deal heading into this series: Washington possesses the more-dangerous offensive weapons and an improved defense, and the Rangers will try to make up for their relative shortcomings in talent with forechecking and crashing the net. As we learned on Wednesday, the difference in a close game can be something as fluky as a player not long ago benched for failing to back-check chipping at a puck in the defensive zone when his goaltender was trying to freeze it. They've lost three games by a total of four goals, two of them in overtime. So if it wasn't clear after Game 3, it was certainly clear after Game 4: To win, they'll need to play complete 60 minutes (and maybe even more). Let the Caps surge for even a few minutes, and even a comfortable lead can disappear.
Washington surged to open the third period in Game 4, and it changed the whole complexion of the series. Even two days later, it still stings. And give Washington credit for making adjustments when necessary, be it pairing Alexanders Ovechkin and Semin in Game 1 to generate offense, or returning somewhat to their pre-2011 style of play to do the same in Game 4. One gets the feeling that if Brandon Dubinsky's goal in Game 3 hadn't come so close to the end of the third period, they would have found a way to tie the score, no matter how well the Rangers played in that game. This Capitals team — the one that's trailed in the third period in two of their three wins — is proving tough to put away.
And yet, Rangers fans hold out hope that the Caps will have as much trouble closing out the Blueshirts as they did in the first round last year against Montreal. The Rangers have played well enough to believe they can extend the series in Washington tomorrow and return home on Monday with a chance to force a Game 7. But they also now run the risk of repeating their 2008 series against Pittsburgh — a series that was closer than its finish in five games might indicate but that nonetheless would become a mere footnote to the Pens' run to the finals. Facing elimination, the Rangers will be ready to play tomorrow. But, we're sure, the Caps will be ready, too.