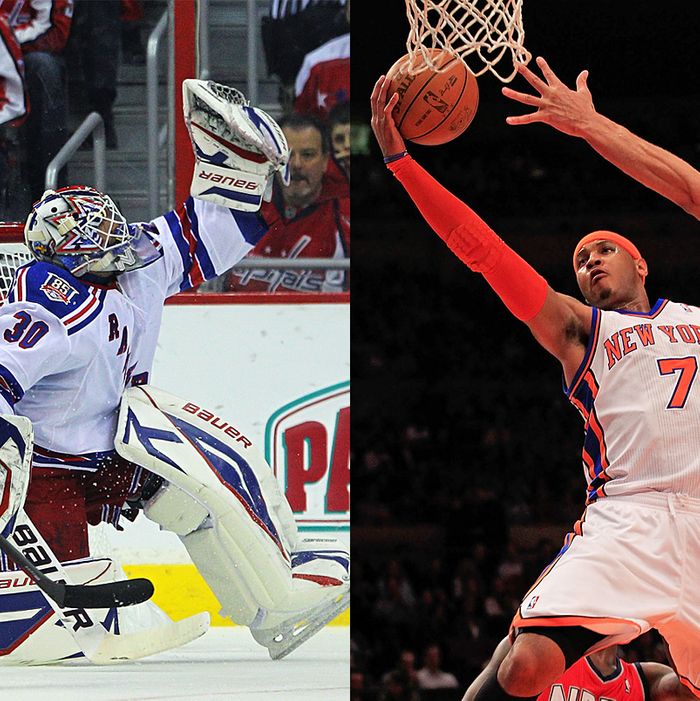 Photo: Bruce Bennett Images, Chris Trotman/Getty Images/Getty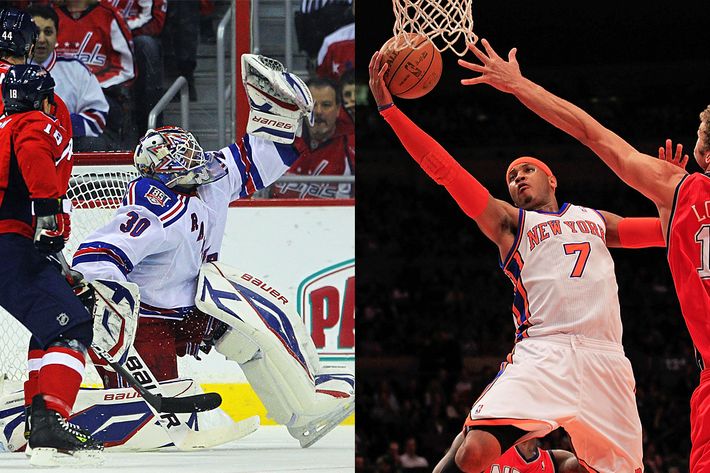 It's been fourteen years since both the Knicks and Rangers qualified for the playoffs in the same season, but next week, both teams will host games at the Garden in their respective postseason series. We've looked at the key players for both teams, previewed these conference quarterfinals, and, in the case of the Knicks' series, reminded you that it's time to start hating the Celtics again. The Rangers' series against Washington — one not many experts picked for them to win — is already underway: They dropped Game 1 on Wednesday, and play again tonight before returning home on Sunday. The Knicks, meanwhile, get underway Sunday night from Boston, and will host their first playoff game since 2004 on Friday night. But what happened this week that didn't involve watching a video game play itself?
The Yankees lost on Sunday night at Fenway, and Derek Jeter and Phil Hughes have struggled in the early going. That said, they beat the Orioles twice this week, and A. J. Burnett currently has more wins than the Boston Red Sox.
The Mets, meanwhile, have lost five in a row, and their bull pen's been a concern. Even a clubhouse meeting in which Terry Collins reportedly ripped his team couldn't keep them from dropping a doubleheader to the Rockies.
Carmelo Anthony topped the last regular-season edition of our Knicks Power Rankings.
Nordiques Nation invaded the Prudential Center in Newark.
We learned that plans for the Jackie Robinson Museum are back on track.
The editors of the Yankees Baseball Reader picked the five best pieces of Yankees writing ever.
And we chatted with Landry Fields about his rookie season.
That's it for us. Have a great weekend.