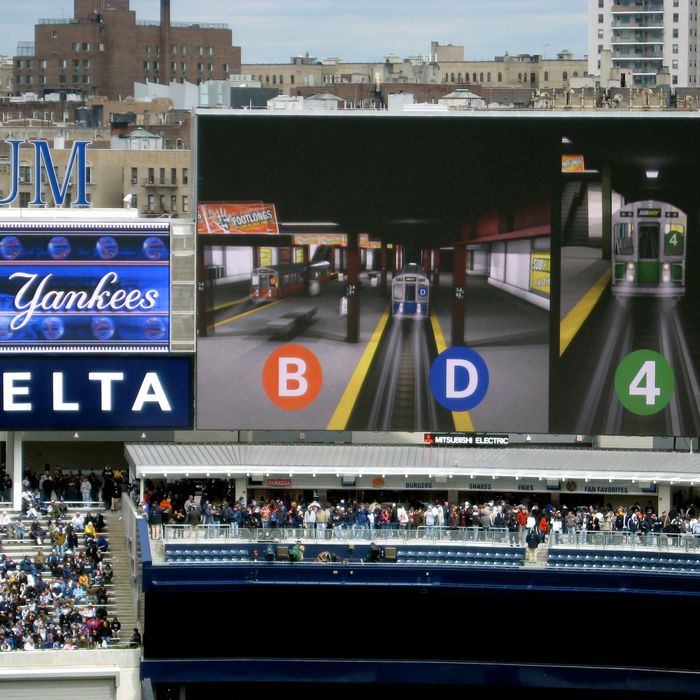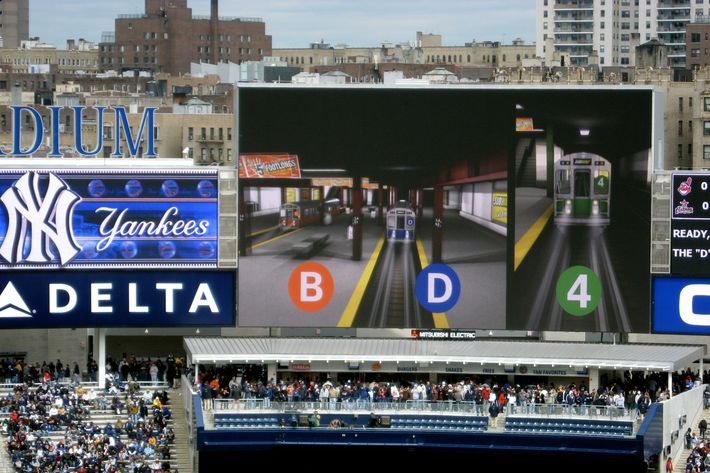 For the first five games of the season, the fourth-inning scoreboard subway race at Yankee Stadium featured not the B, D, and 4 trains, but trains called Road Gray, Midnight Blue, and Pinstripes. According to this morning's Daily News, the MTA had allowed the team to use its train's names as long as the segment wasn't sponsored by another company. And so when the Yankees brought on Subway — as in the sandwich shop — as a sponsor, the MTA contacted the Yankees to discuss a potential change in their arrangement. It turns out, though, this wasn't so much the case of the MTA looking to cash in, as much as it was the Yankees maybe assuming the MTA wanted to cash in.
Again, via this morning's News:

The Yankees, presumably believing the MTA was looking for a piece of the sponsorship pie, never returned the call, opting instead to drop the names of the train lines in favor of the team-related colors.

"They assumed erroneously that we were looking to cash in on their sponsorship," said an MTA official. "We weren't."

The MTA planned to propose a cost-free alternative, asking for a tag line at the end of the segment reading, "The Yankees and the MTA urge fans to take the train to Yankee Stadium."
But fear not, subway aficianados: Word came this afternoon that the Yankees and the MTA have indeed reached an agreement, and that the race should be back to normal for tonight's game against the Twins. Now, perhaps, they can get to addressing the real problem with the race: Why in the hell is the D train logo blue?
Yankees, MTA reach agreement to return B, D and 4 trains to Great New York Subway Race at Stadium [NYDN]