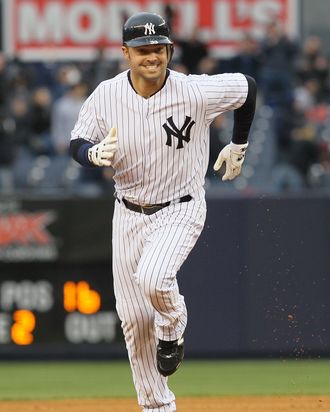 Photo: Jim McIsaac/2011 Jim McIsaac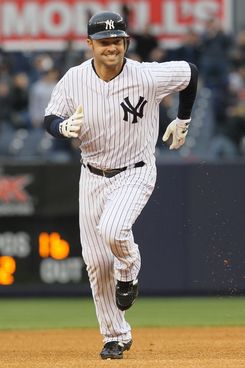 The Yankees had dropped two of their first three games to the White Sox this week, though it was hardly because of their starting pitching: A.J. Burnett threw eight great innings but earned a tough-luck loss on Monday, Ivan Nova earned a no decision on Tuesday after allowing just one run in his longest outing as a major-league starter, and Bartolo Colon turned back the clock Wednesday to throw eight innings of one-run ball in a Yankees win. In those three games, though, the White Sox pitching held the Yankees to just five runs on thirteen hits.
And so last night, they got a solid start out of CC Sabathia — he allowed three unearned runs over seven innings, striking out six and walking one — but saw their offense explode as well, particularly during a six-run fifth inning, in which nine straight batters reached base before the White Sox could record an out. (They'd go on to win 12–3.) With Derek Jeter getting the day off and Mark Teixeira nursing an injury, the Yankees used a batting order that began with Curtis Granderson, Nick Swisher, Robinson Cano, and Alex Rodriguez. But Joe Girardi said that using Granderson and Swisher in the first two spots was a one-night-only thing with Jeter out of the lineup. (Kevin Long, speaking to Joel Sherman, didn't dismiss the idea of using such an order, but we believe Girardi here: He'll surely give Jeter much more time to find his stroke at the top of the order than he gave to Gardner, particularly now that Jeter has eight hits in his last five games.) Swisher, by the way, snapped an 0-for-19 slump last night with three hits, and his seventh-inning home run ended a streak of 75 at-bats without a long ball, the longest such streak of his career, according to Elias.
On nights like this — when the Yankees explode for a dozen runs — they'll win no matter what their starting pitcher does. But right now, those starting pitchers are on a pretty nice little roll. We know it's the kind of thing we should enjoy while it lasts — especially considering the makeup of this particular rotation. (And trust us, we are enjoying it.) But as we learned last night, winning's a lot easier when those starting pitchers get run support, and lots of it.