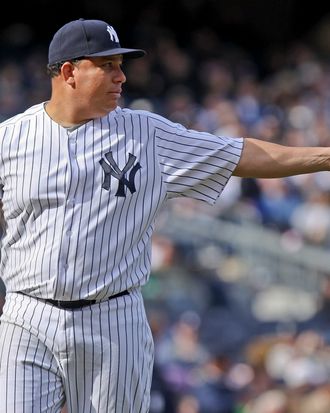 Photo: Nick Laham/2011 Getty Images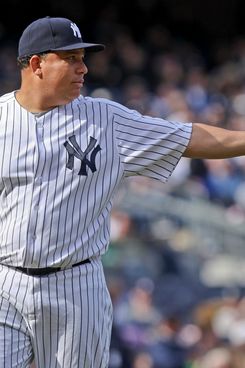 Back during spring training, when the Yankees were deciding who would crack their starting rotation, it worked against Bartolo Colon that he hadn't pitched since 2009 — not to mention that he hadn't made more than fifteen starts since 2007, or more than twenty since 2005. Which is to say: Colon pitched well in spring training, but no one really knew how much the Yankees could count on him this year, or for how long. But now that they have little choice but to find out, they surely like what they're seeing.
Last night, Colon threw eight brilliant innings, allowing just one run and striking out seven in a 3–1 win over the White Sox. It's the first time Colon's thrown more than seven innings since 2007, and with 26 strikeouts this year to just six walks, he's sixth in the league in strikeout-to-walk ratio. (We don't know whether to apologize for the time machine crack we made when the Yankees signed him in January, or look into the possibility that he actually has made it 2005 again. And yes, we are aware that this exactly isn't how time machines operate. Let's just move on, actually.) The Yankees last night scored three runs in the first inning and then relied on Colon — and Mariano Rivera, who pitched a perfect ninth — to protect the lead.
And they'll be relying a lot on Colon now. When Ivan Nova and Freddy Garcia earned the final two starting jobs, Colon made the team as something of an insurance policy: He impressed enough in the spring that the Yankees were willing to keep him on the major-league roster should a starter go down, and it didn't take long for that to happen. And now it appears that starter, Phil Hughes, will be out for a while: The righty is headed to St. Louis to see a specialist who will determine whether he has a circulatory condition called thoracic outlet syndrome. You can read the medical definition of the condition here, but here's a general description, via the Times: "In thoracic outlet syndrome, blood vessels traveling through the space under the collarbone and the top of the rib cage may experience pressure if the opening is too small." Surgery isn't always necessary, though if it is, it could require the removal of a rib.
So while the specifics of Phil Hughes's future are very much in doubt, this much is not: He's not pitching for a while. Which means the Yankees need Bartolo Colon in their rotation. More specifically, they need the Bartolo Colon of old in their rotation, and last night, they got him.